Emms, if the Denim you saw at your LYS is the same as I saw at mine, then it's not the same as this... though I drool over the stuff as well.
This is an inexpensive (nearing cheap) cotton, fairly hard stuff, that is sold on cardboard tubes like the finer crochet cotton is. I bought it... oh, several years ago, at least... I can't remember the project I had in mind for it... =l=
Okay, so I managed to clear some space in front of my printer... in between rows, which is why the body is complete. Does anyone else pace their housekeeping around knitting?
So here it is, with the yarn barely visible in the back. My LYS was nice enough to let me use their ball winder so I wasn't hauling around a hollow tube in my bag. (I practically live out of my bag on my "jaunts". Space is a premium.)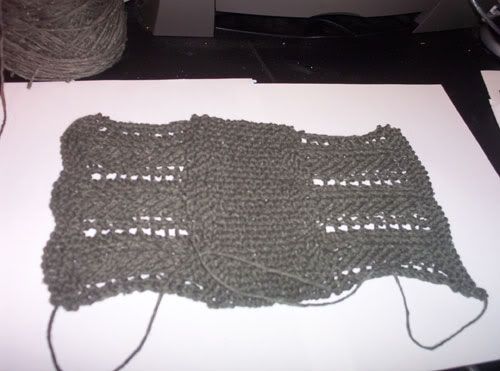 I don't know if I'll be done with it tonight -- there is still more housework waiting -- but definitely by the end of the weekend.
Mitz