alright, here we go. i hope the picture works, bear with me!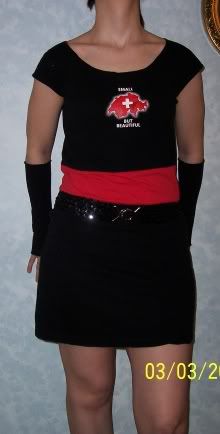 it says, ironically over the chest, "small but beautiful", haha. and i tried to touch up the image with red acrylic paint where it had cracked.
i like it a lot and it looks good on your body! hotness, lady!!! red and black is my alltime favorite color combo... and it looks like you got some sweet accesories going... woo woo!
That boogie dancing dress is so hot!! I've got a big black t-shirt that I found at Goodwill that says in big white print "Knobs and Knockers" Dublin, Ireland. The damn thing just amuses me and this may be the perfect project for it!! Thank you for the inspiration. Muah!

knobs and knockers you say? ummm, AWESOME! DO IT!!!
makes me think of that movie bedknobs and broomsticks...
*starts to wonder if Angela Lansbury is still alive?*