Hello! It looks like you are off to a pretty good start! I encountered the same problem with my first hardcover book and several books after that. You have to toy around with it some to see what works for you, but here are a couple of my suggestions - I hope they work (and apologies if you already know some of this stuff).
First, you're right about having the right amount of pages. Too many or too little will indeed funk a book up. It's usually a good idea to fold all of your signatures and press them overnight. When you revisit them the next day, you might find that the stack has shrunk quite a bit and you'll probably have to add some more signatures to fill it out. If you just jump the gun and don't press the pages before sewing everything together, they will flatten later inside of your book and form horrible gaps between the signatures.
Also, I find it's a good idea to make lots and lots of signatures with smaller numbers of pages per signature (this will reduce the gappage). For my recent books I've been doing about 20 signatures with 4 sheets of paper per signature. The downside is that if you pull your thread too hard whilst sewing, it might rip through the pages, since there are so few.
As for your specific problem, I've looked at some of my store bought journals and noticed that they leave a bit of a gap between the spine and coverboard. This extra little bit has made a pretty big difference for my books. I usually glue the endpage to the cover first (the endpage has already been folded in half). Then I use my bone folder to further define the crease (where the endpage is folded in half) between the cover board and the spine, right where that extra little gap is. Then I glue the end page to the text block. Just remember that if you leave that gap, you might have to make your text block pages a little wider than usual to compensate (or cut your cover board down a tiny bit). Also, I exaggerated the size of the gap in the diagram - it doesn't have to be that large.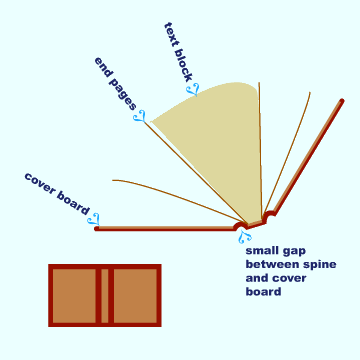 I'm sorry if this is confusing - hopefully the wee diagram will help. Feel free to ask any questions, and experiment and look at any hardcover books you might have at home.
Good luck!