So for the January/February Birthday swap, Snowyangel sent me some catnip filled cat toys...and I thought I'd share those and my cat reactions with you...
First off, my cat Gale, is very mello. She is a great cat and pretty much just sleeps all day....usually on my bed, sometimes in the sun.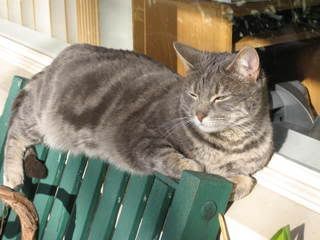 I got home last night from work at midnight, and was excited to see a package for me! I cut the corner of the mailing envelope off and it fell on the ground. Now my normally mello cat starts to smell just the paper and starts to tweak out....and manages to run into our indoor clothes rack and gets a clothespin stuck on her face. (it was the funniest thing ever, and don't go hating about how it was mean for me to take a picture...)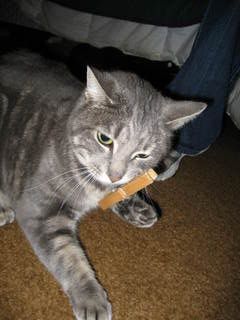 Clearly I didn't want her up all night so I put the rest of the envelope away.
This morning, I let her play with them...and I've never seen her so all over the place. It was great! Thanks Snowyangel!!!!