I got married today two years ago, in 2012, and just realized I never posted my wedding pictures! Wanted to share, I guess better late then never. (note that the pictures don't correlate with the text- I was got frustrated with photo bucket and just stuck them in randomly....)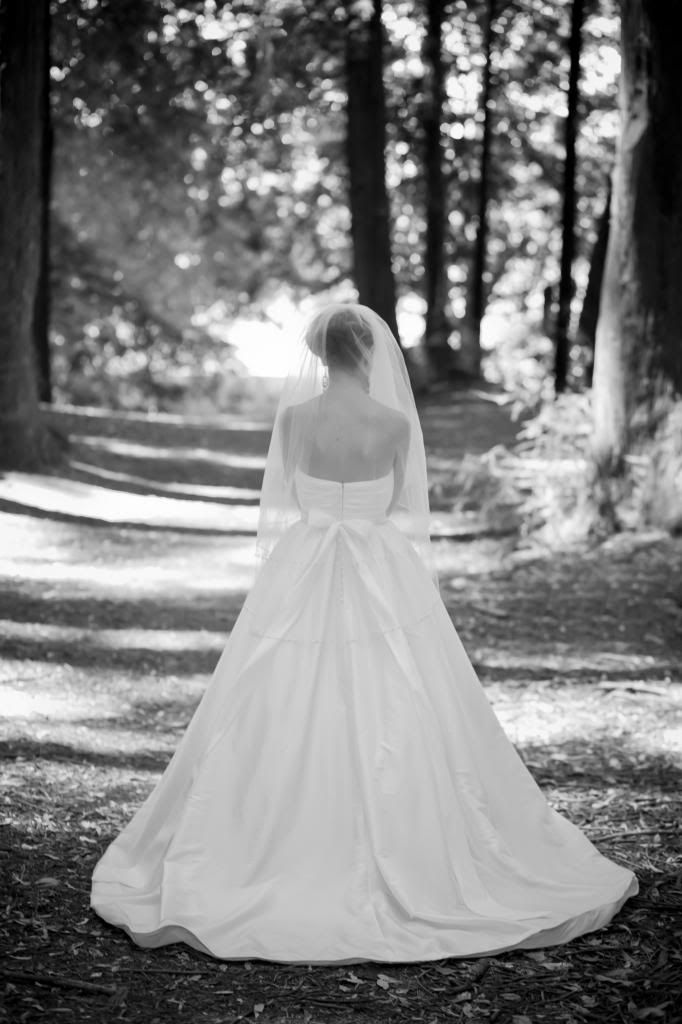 We had a budget of around $5,000, which I know is way more than some budget weddings, but it was still significantly less than the "average" wedding. I live in California's "wine country" which means budget weddings are pretty non-exisistance, so we cut costs by doing almost everything ourselves and thinking outside the box of the traditional venue (winery). To get a sense of the wedding culture of my area: I BRIEFLY had a conversation with a well-established wedding planner in the area and when telling her I wanted to get married at a park, she said "oh no, you can't get married on dirt!" End convo, enter the long process of planning details!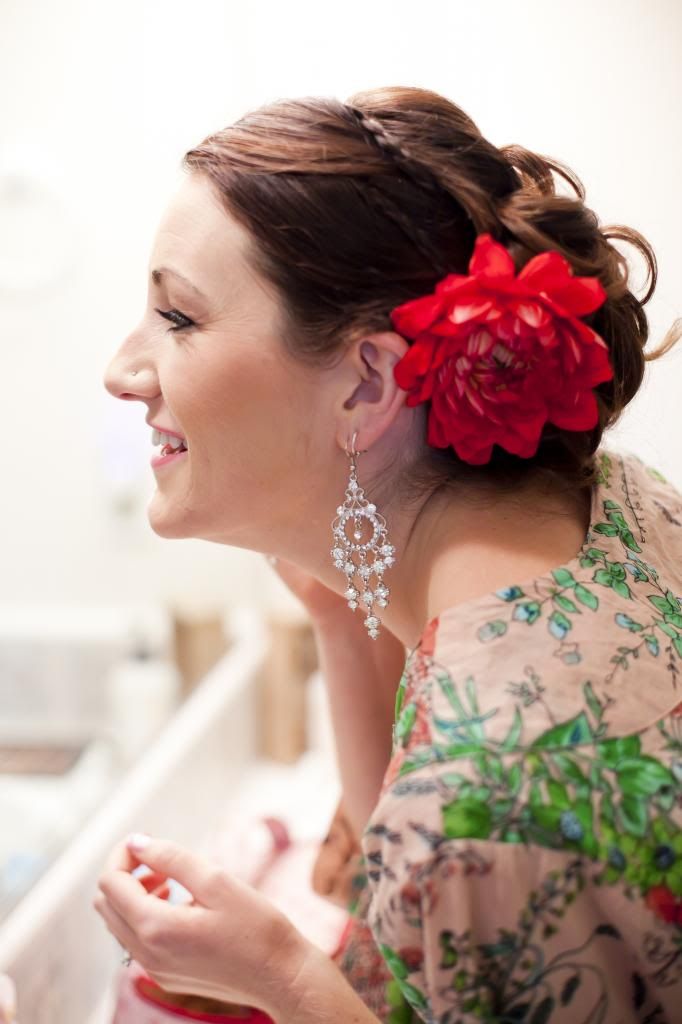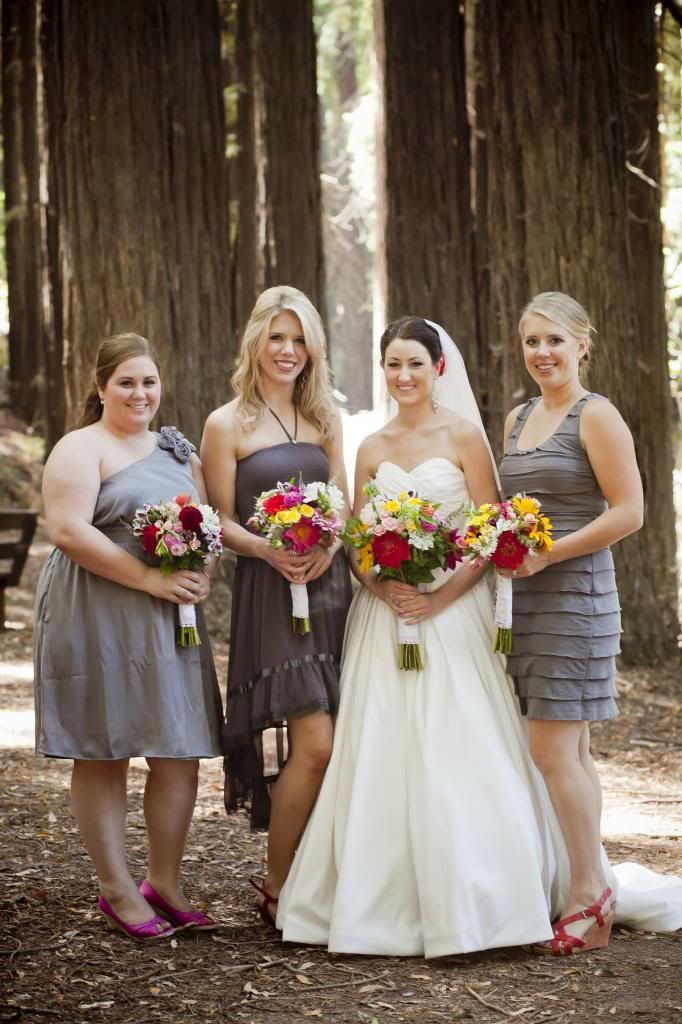 I had a 10 month engagement. When I got engaged and started planning, I had just lost my job, and had very little extra funds, but then about 4 months in, I got two jobs and our budget was able to have more wiggle room. Photos are really important to me, so hiring a photographer was the first thing I did. I choose an amazing local woman, Michelle Feileacan (if you're in Sonoma County- she's great!), who did lots of outdoor weddings. I saved funds by choosing a small package, and then adding on an extra hour to make sure I got first dance captured. All photos are done by her. We found an officiant who was just starting out in her business and was only $100, and she helped us write the ceremony and our vows. We had a caterer, but saved by on food by doing salads and other served cold things via buffet. We did appetizer cheese and crackers and veggie crudités ourselves. Drinks were self-served iced tea, water, wine and beer.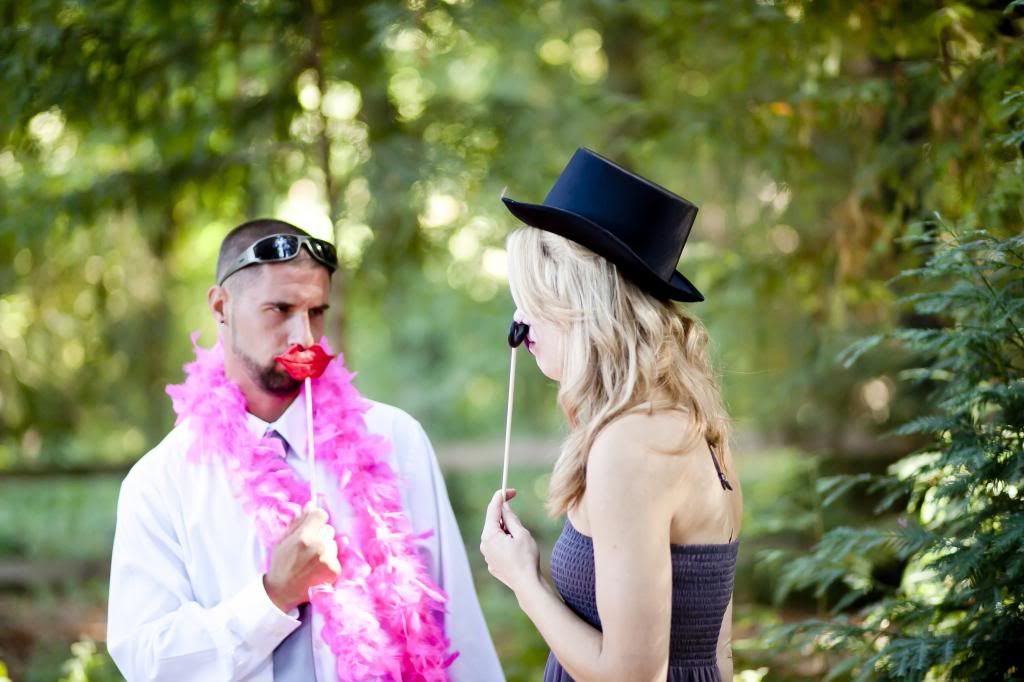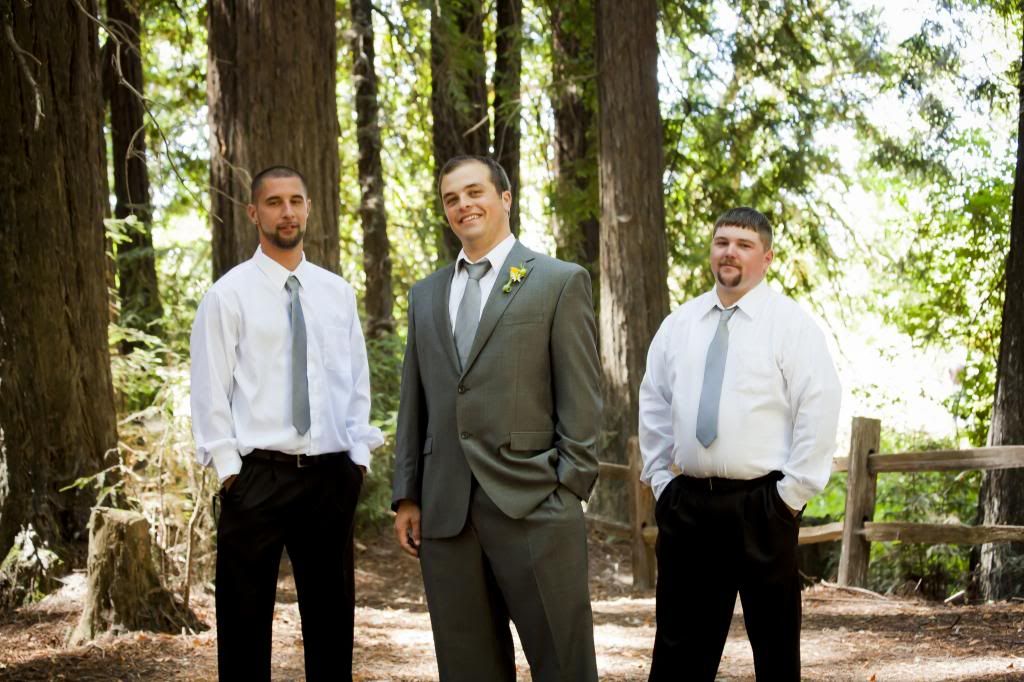 I had sewed a dress to completion, which I posted here a few years ago, but had a total mental breakdown about 2 months before that I was missing the whole shopping/friends/"say yes to the dress" experience, and went and purchased one. I loved it, I felt special, and don't regret the money that I spent on it. I asked my 3 bridesmaids to find a gray dress and colorful shoes they would wear again, and my husband had a gray suit. His men wore black pants, white shirts and gray ties. I borrowed my MOH's veil, and got super glitzy, super cheap, earrings from Forever 21.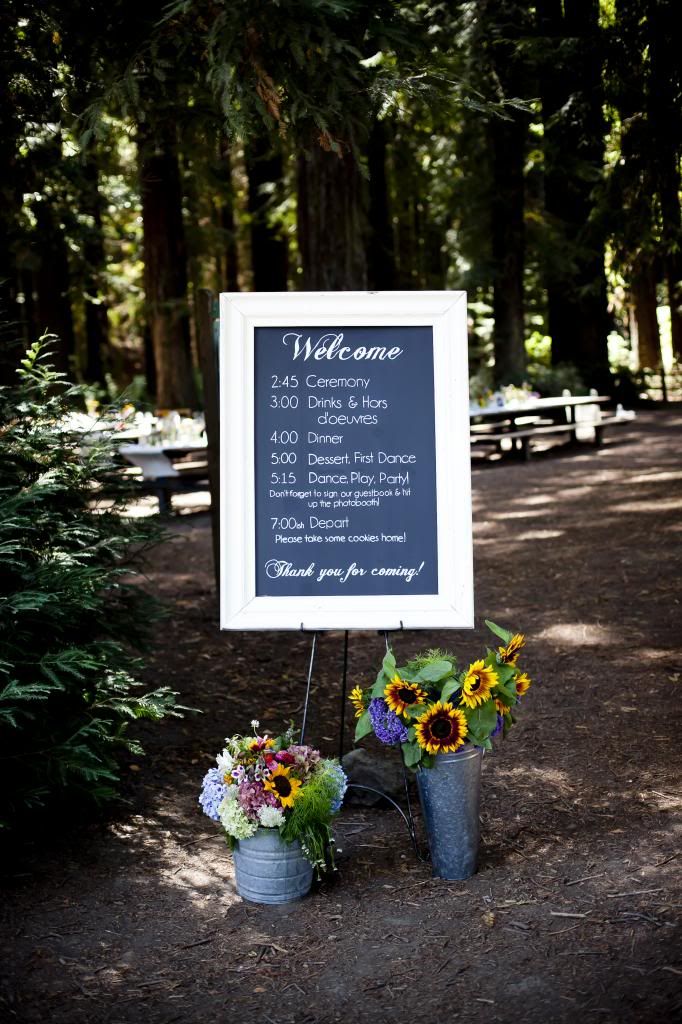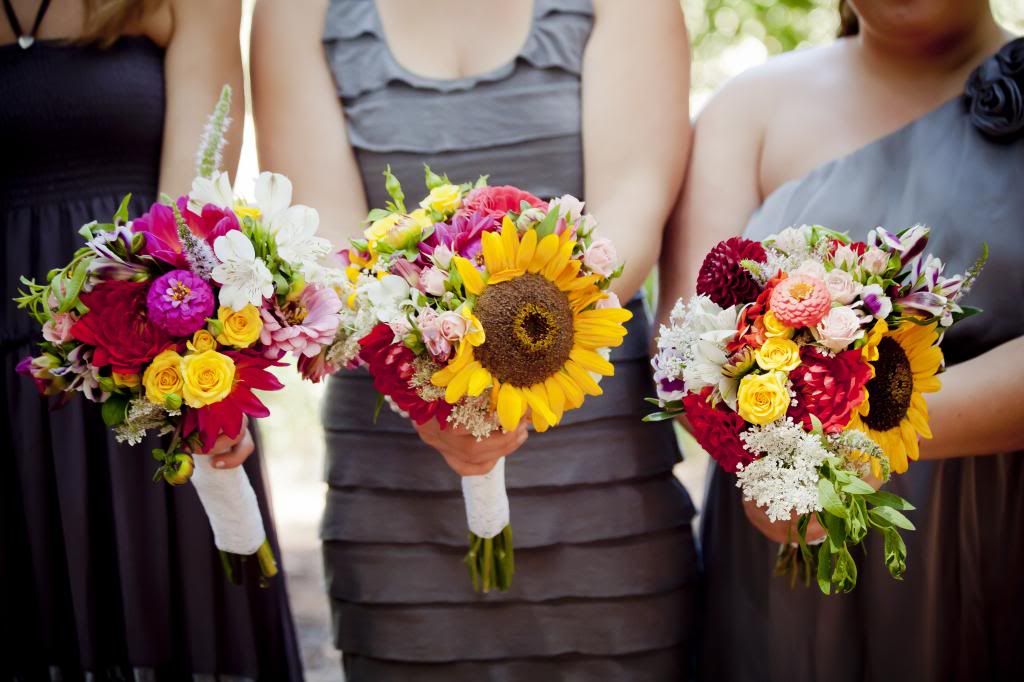 Venue was Riverfront Regional Park, operated by the county. It was around $50 to rent the picnic ground, and another $50ish to get a "special use permit" to have the ceremony in a different part of the park. The park is beautiful, a grove of redwood trees in between a lake and a vineyard, so I really didn't need much decorations. I was going for simple with the color coming from my flowers.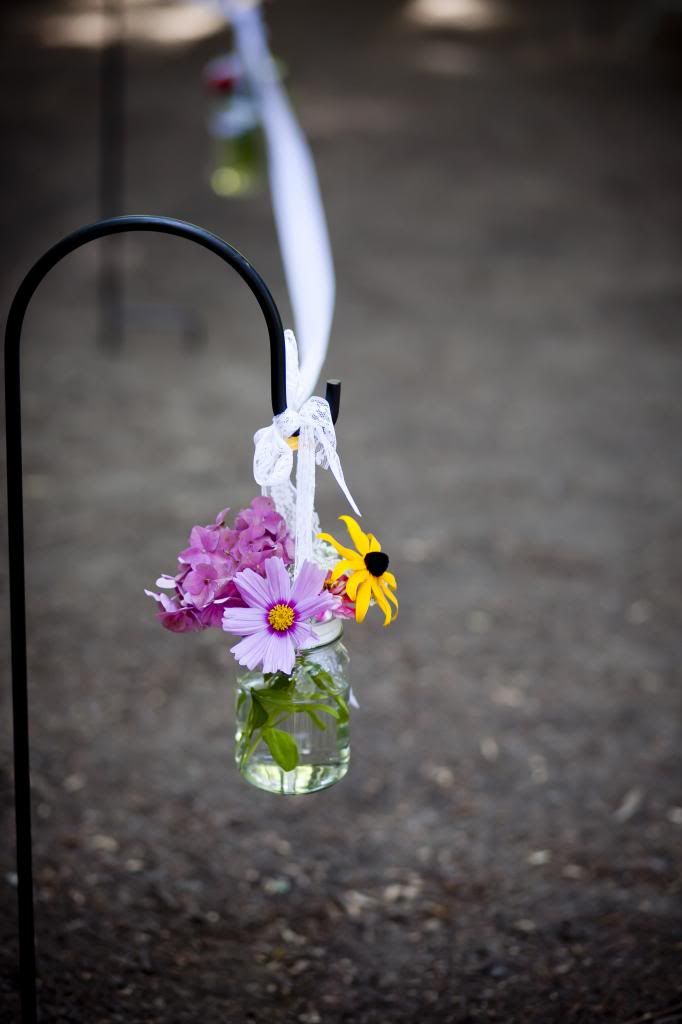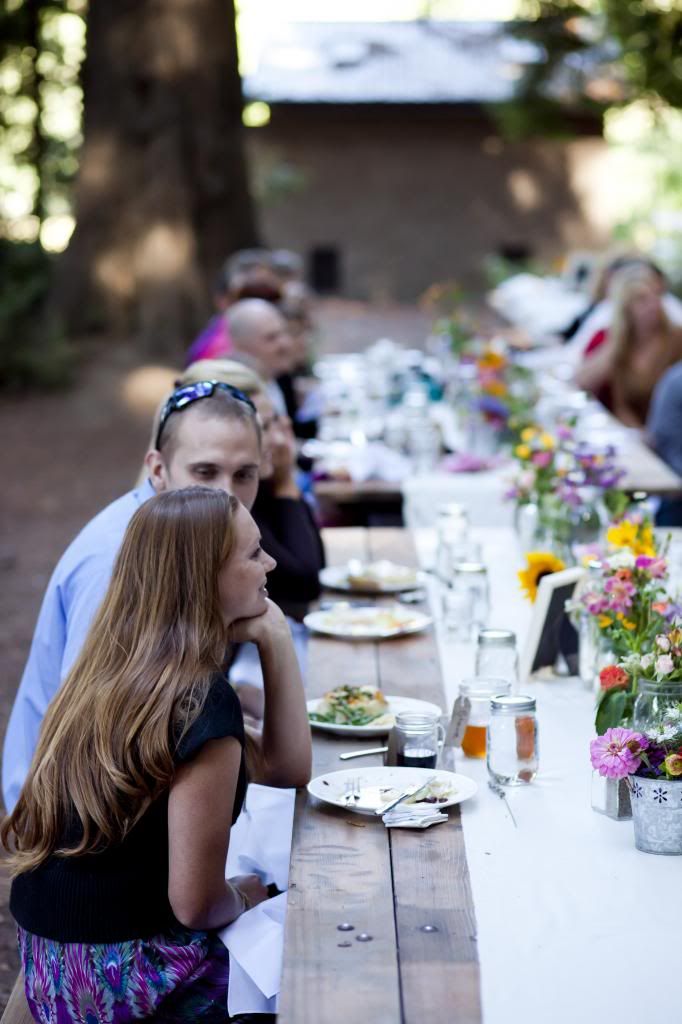 I got ready at my husbands grandmother's house, who lived nearby, and did my own makeup. One of my bridesmaids was in cosmetology school so she did my hair.
There were existing picnic tables for the reception, and I brought in folding chairs for the ceremony. There is no electricity at the park, so my music was from my iPhone, hooked up to computer speakers, hooked up to an inverter hooked to a car battery. It was all piled in a red wagon and pulled though the park. A friend was enlisted to change playlists depending on what was going on (pre ceremony, procession, first dance, etc.). I walked down the aisle to an instrumental of "Here Comes the Sun" and our first dance was to "Grow Old with You" by Adam Sandler from the Wedding Singer.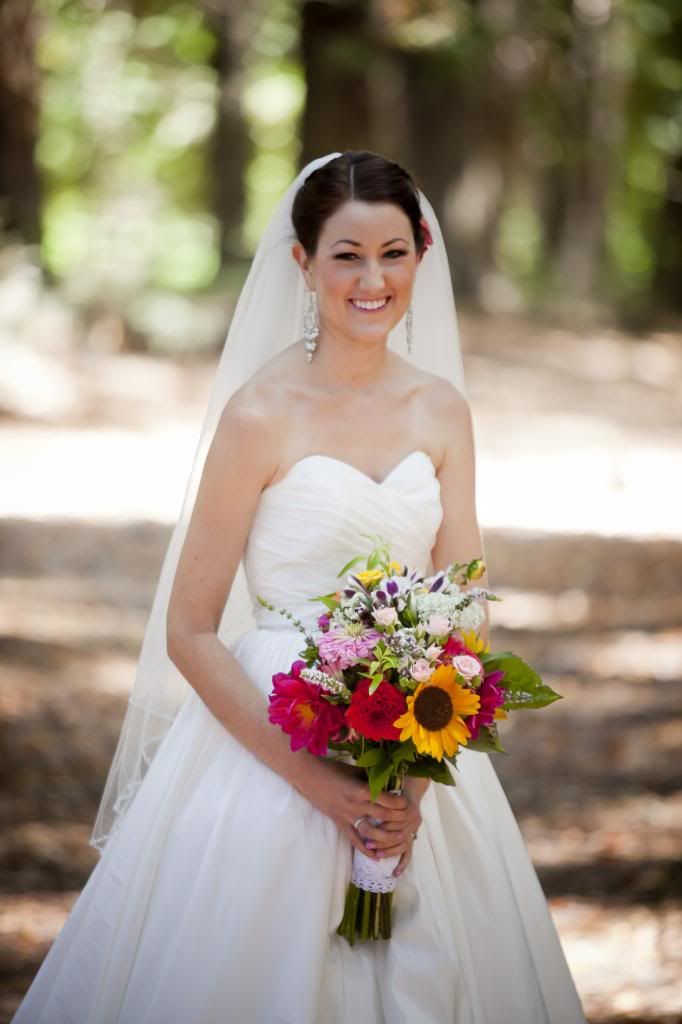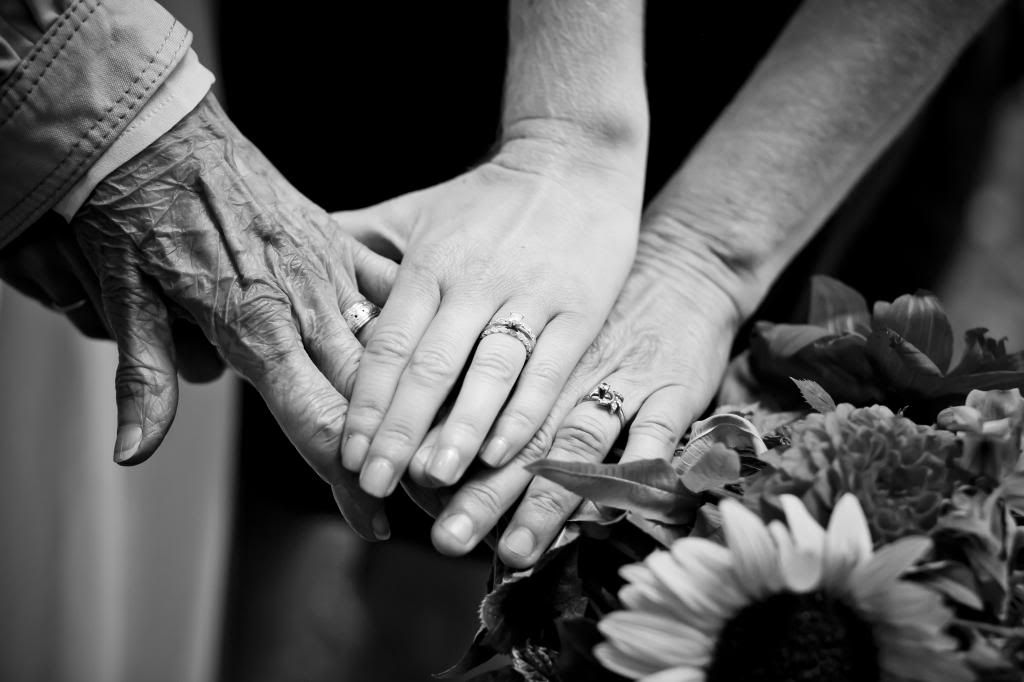 I regularly visited thrift stores and got yards of lace for very cheap, which I used it to wrap my bouquets, tie on assorted things, and use to mark the aisle. I am an avid preserve and canner, so I already had billions of canning jars, which were used for flowers and drinking glasses. I regularly posted on freecycle to get other clear glass jars from assorted foods and drinks, which I collected over the months and used for flowers. I bought muslin when it was on sale and with coupons from Joannes and used that for table runners. Napkins were purchased from a party rental place's end of year- clear out inventory sale, for less than they would have rented for. I made a variety of signs by spray painting thrift store frames and painting on the glass with chalkboard paint. I had an extra table so I made a display of photos of both me and the husband, and us growing up by gluing clothespins to dowels and sticking them in the flower vases.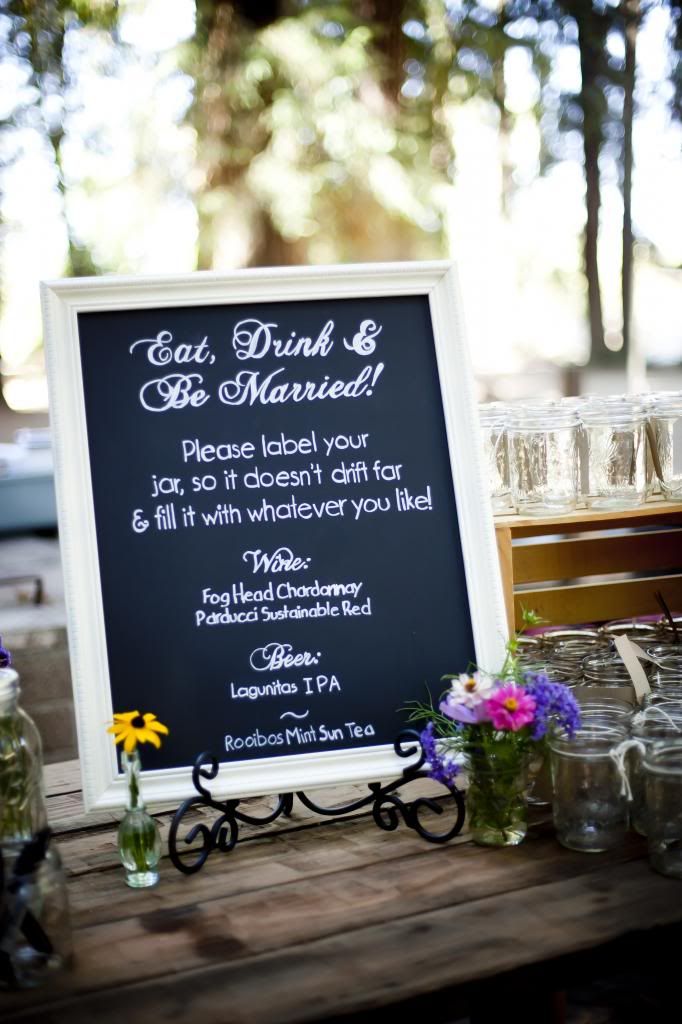 My biggest accomplishment was growing my flowers, in my own garden, at friends houses, and asking my neighbors to donate anything blooming from their yards. Queen Anne's lace grows wild here as a weed, and I spent a few hours on the side of the road collecting as well. I had a great, colorful mix of zinnias, cosmos, sunflowers, and herbs. I spent about $50 from local flower vendor on big daliahs for the bouquets and my hair piece. The night before the wedding, my bridesmaids and I made the bouquets and filled the millions of jars for the tables. Another one of my bridesmaids had done a few floral design classes for fun at the JC a few years ago, so she was a huge help. She made one boutonniere, just for my husband. My bouquet was GINORMOUS, and so heavy. Something I didn't think about while building it!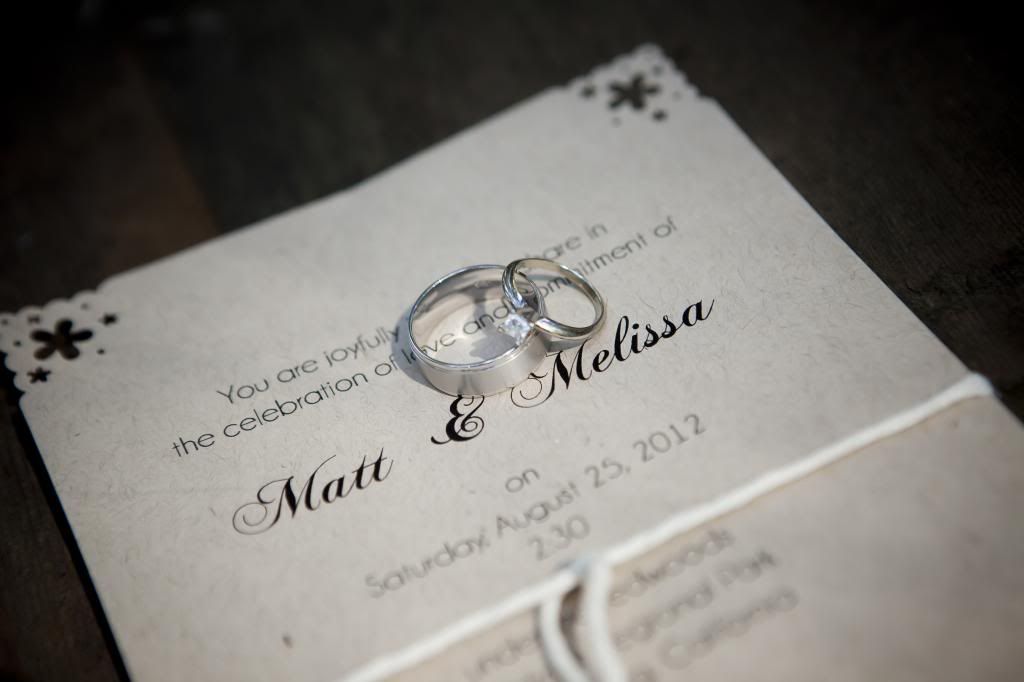 Invites were designed and printed by me, on papers from the Paper Source, and then punched in the corner with craft punch. While I'm not at all a graphic designer, I had some previous experience using photoshop and inDesign from past jobs, so I downloaded the trial version of the Adobe programs and created the invites within that trial period. I had a flat card as the main invite in brown kraft card stock, an RSVP post card in the same paper, and a info card with a map and website, etc., on cream. All three got stacked and tied together with bakers twine.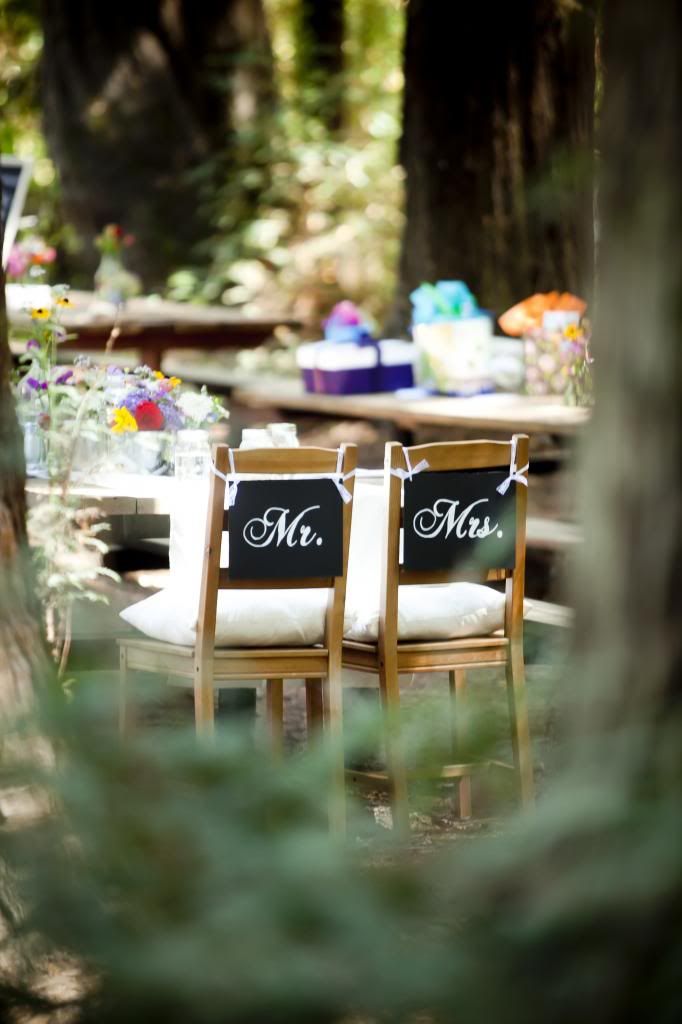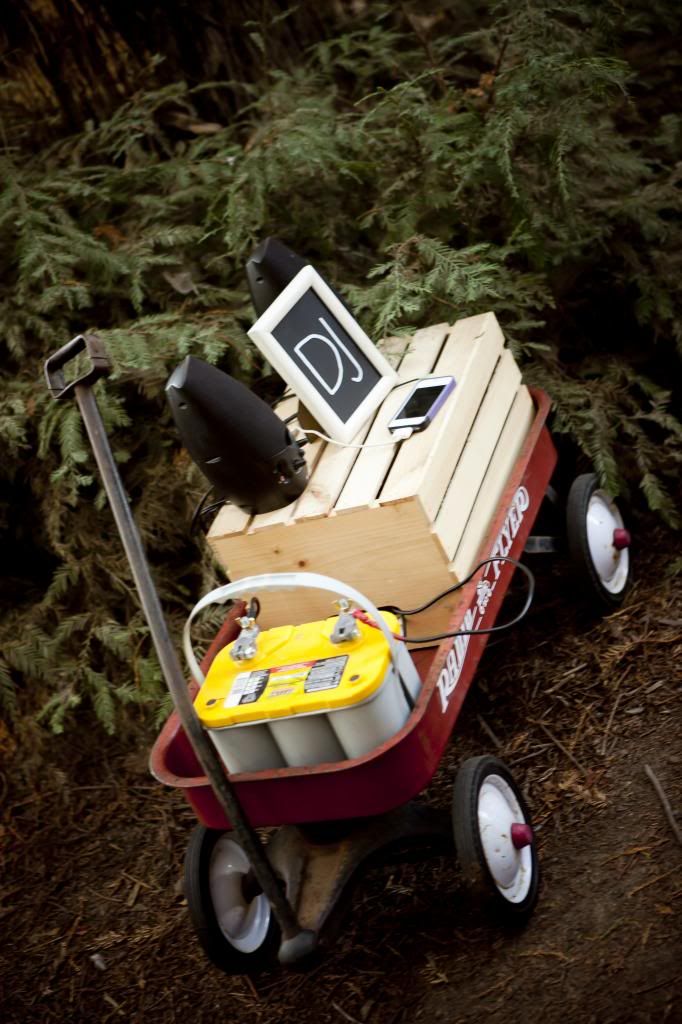 I met my husband (who was a baker at the time) at a bar & restaurant I managed. He would bring in cookies at the end of the day for the staff who then gave him free beer. When I started there, and he sat down, I asked one of the other girls "I like cookies? who's he?". So to honor that, and because we could make them ahead of time, we had cookies instead of cake, and had them arranged on platters found at thrift stores and stands made from plates and candle holders. We made extras and had guests take them home as favors.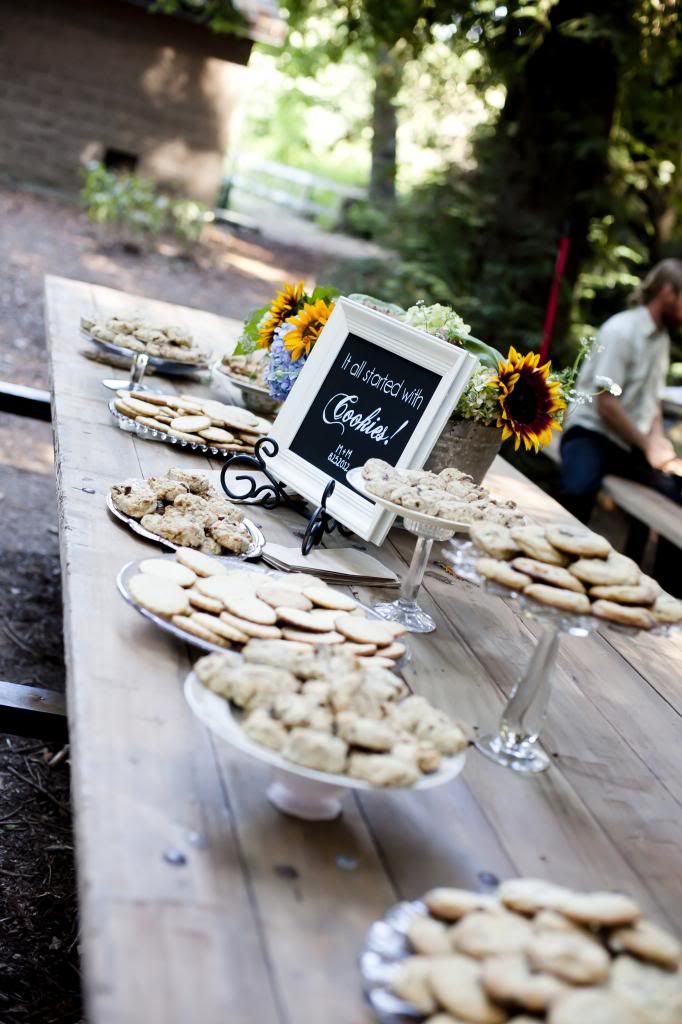 For my guestbook I set out card stock that coordinated with my invite paper and asked people to write notes for date ideas or give us tips for a great marriage. The park had a horseshoe pit, so we brought those along, as well as a volleyball pit that I turned into a badminton game. I created a photobooth by having a camera on a tripod and a remote shutter. I created lip and mustache props from fimo clay, and found a top hat and a boa on sale after Halloween.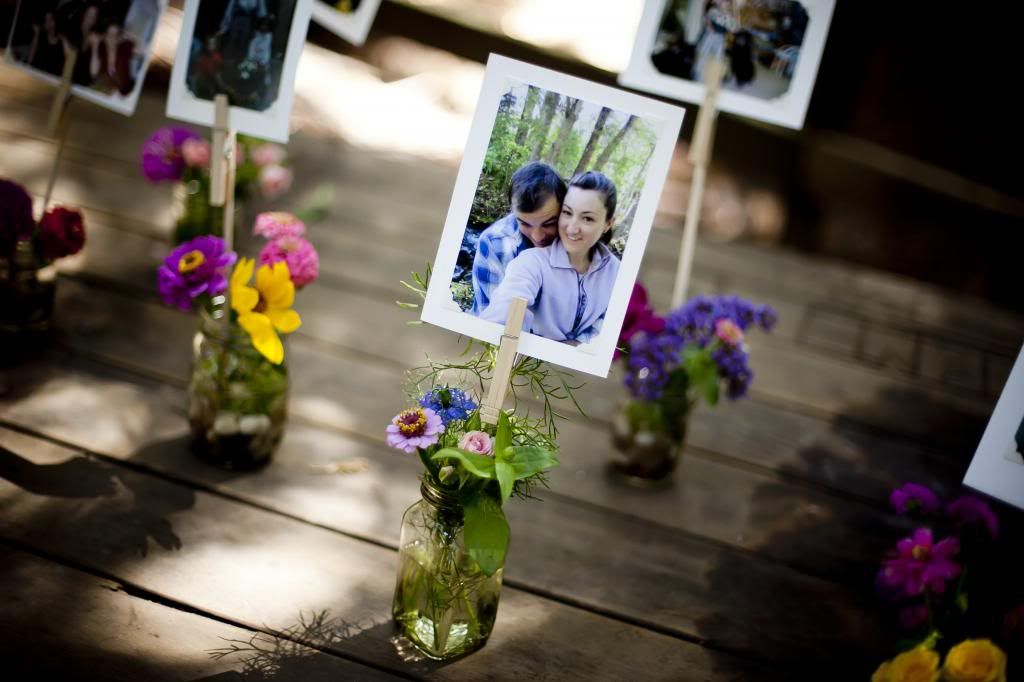 If you have any questions, please let me know!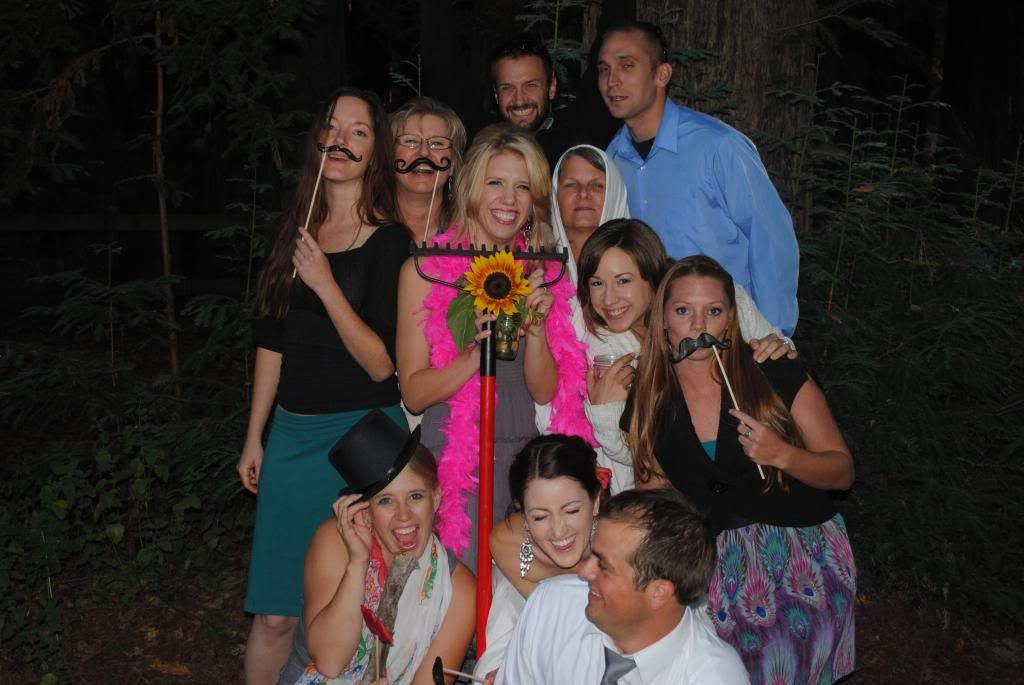 -at some point, someone found a rake and brought that in as a prop. Not taken from the photographer....