Hey everyone!  I can't believe that once again I'm starting the Fiber Friday!  this week i'm kind of cheating too, because I only have something knitted from my handspun, and something on my bobbin:
on the bobbin, burning embers.  its pretty thin, but I plan on navajo plying this and making into sock yarn.  sorry about the pics, i couldn't for the life of me get one with really good lighting.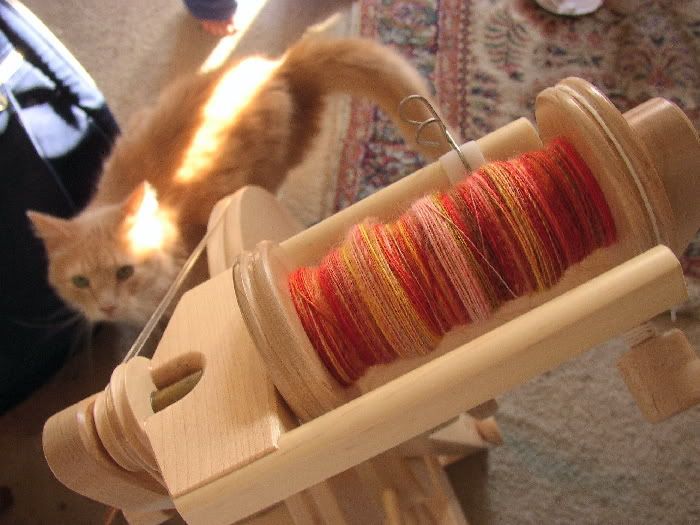 hurry up spring armwarmers from SnB Nation.  unfortunately you can't really make out all the fun cabling because the yarn is pretty darn busy, but i can't help myself i just love knitting cables.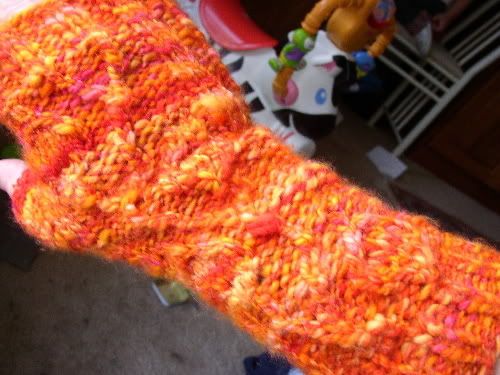 its funny, but normally I'm a cool-colors kind of person. but for some reason, i really like spinning warm colors (at least, so it seems from the above examples). i think because they are so cheerful and upbeat, it is wonderful to see them slip through my fingers.
I've been trying to get some UFOs finished because I'm going to be starting the Secret of the Stole next week.  Thats probably all the knitting I will get done between now and the end of November, when the last clue is given. 
lets see those yarns!