(1) I'll start off with my most recent one. i just started & finished this one last night. Unfortunately i have a huge ass and it's a bit too snug in the hips so it's gonna be sold. but i'm really proud of the way it came out. still debating on whether or not i should put a zipper in the back. what do you guys think? it would be only 5 or so inches long, opening from the bottom.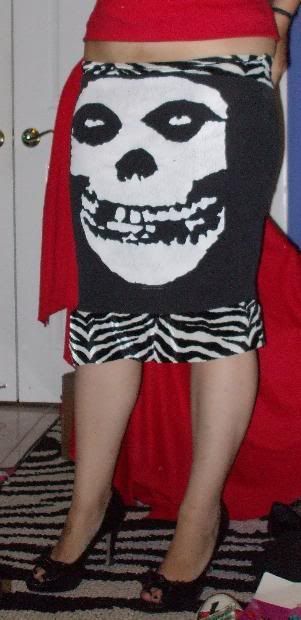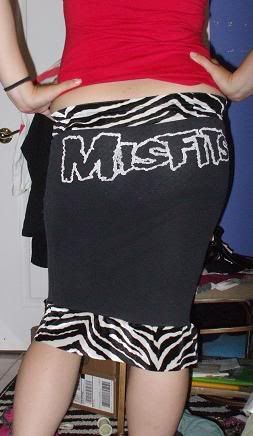 (2) this dress i made a couple weeks ago to attend a show... only to find out i'd have to take the bus home at like 4am. & thats not happening so it's been hanging up with the rest of the stuff i've made.
it's still really unfinished. I was going to put a band of polka dots around the top... but it came out all runched up. i guess i have to cut the fabric at a curve? and also was debating ruffling the bottom or something? (im obsessed with ruffles lately!)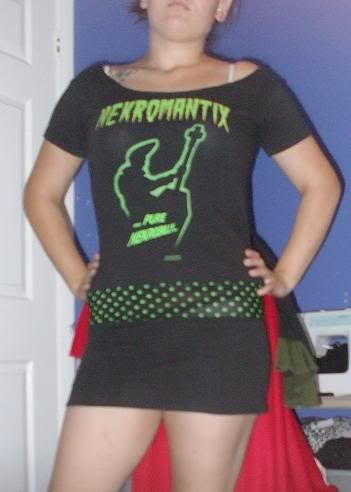 (3) now, this dress, i started making about 2 1/2 years ago... but life has distracted me and finaly i finished it back in Feb. it started out of course as a ginormous t-shirt. then i cut it into a pillow case, then a skirt (pretty much a pencil skirt), then it kinda sat around for a while, and i FINALLY finished it up. the ruffles came out horrible but my friends think it's amazing anyway. someday i'll actually wear it out.. *sigh*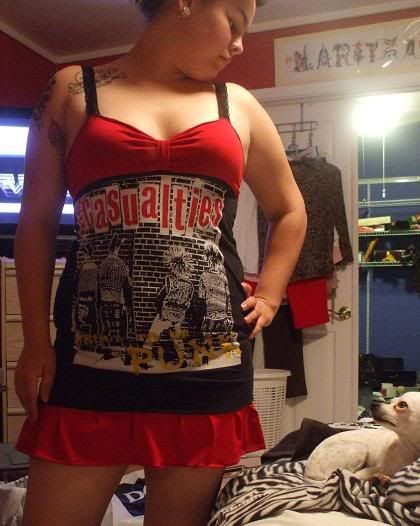 (4) oh wow, here's another one i found. i made this a couple years ago. the band is a buncha friends of mine and they're young kids so they couldnt afford shirts. i decided to stencil one. they were so excited about it. i wasnt. soo i cut up the shirt into this!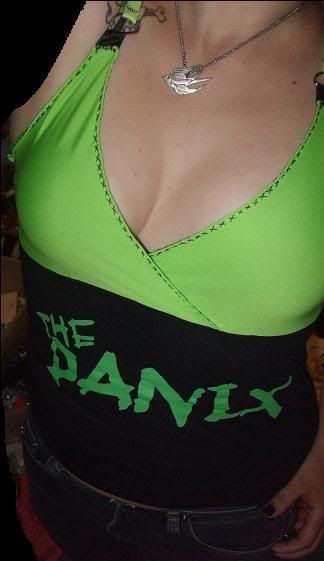 i should take better pictures but you get the idea. the edges of the top part had to be done by hand because my machine hates sewing spandex. i made the stitches little X's. All the guys were AMAZED when i wore this to their show.
(5) and lastly this discharge dress i made over the summer. took a lot of work. these ruffles came out perfect but i havent been able to make em as good since =(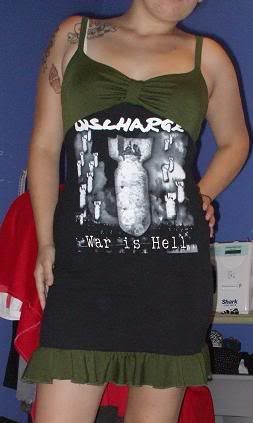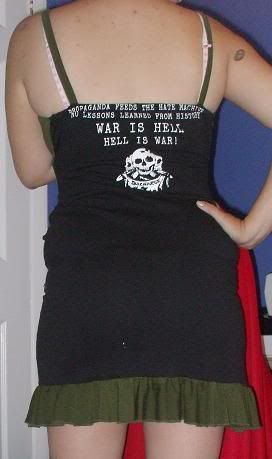 i have to fix the back. it's got elastic along the top and it keeps runching up the words and folding over.