I received from the talented and delighting Luinecu!
Please see the picheavy goodies below, which are mine!...... (calming down) ahem... as follows:
My own copy of Tiffany's! and it is so pretty matched beautifuly by yes: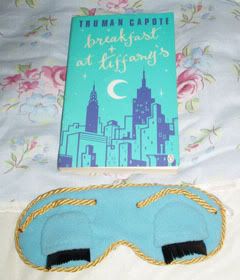 This is so well made, down to the vinyl? eyelashes and I slipped it on then slipped into bed and couldn't help giggling, it is so out there and good for putting a smile on your face while sleeping.
A really cute keepsake box of: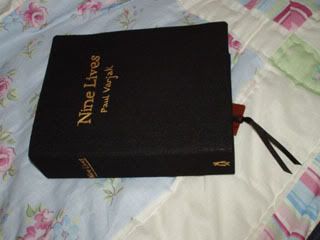 This looks so good and even has a smart bookmark coming out of it, in case you can't tell it is Paul Varjak's promising "Nine Lives"! she even added the Penguin logo! My sister thought it was a real book!
An adorable and really touching (she researched
) addition of 2 chokers & earrings which I adore and I am wearing the pearl choker right now.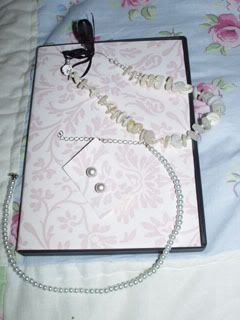 And le piece de resistance, this so cute dress from a Vintage 60's pattern, it's soft to the touch and looks ahhhh
Thank you very much Sophie, I am so glad you're my partner