Hi Ya'll!

One of my cousins and I made an upholstered headboard. Here's how.

Take measurements of an old headboard, her old one was too short so we made ours taller.

Go to home depot or what have you, find yourself a sturdy board, we bought particle board (cheaper). Have them cut it for you if needed.

Go to the fabric store and get you some foam or batting and desired cloth. While I was there, I thought we should find something to make our fabric stronger so the staples wouldn't rip our fabric as we stretched it around our board. The fabric lady told us to iron on this fabric stuff that resembled downy sheets sold at the fabric store. Please note this stuff we ironed on was not actual downy sheets it just looked the same. Sorry I forgot what she said it was called! Bad Lety!

Get home asap and staple them suckers to the board (foam first, then fabric, duh!)


All you need is tape measure, staple gun, iron with board, fabric foam and particle board.

WALLA! You're done. Here are a couple of pictures. Sorry they look bad, camera phone quality.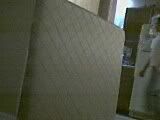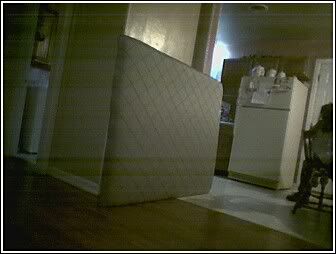 oxox,
Lety