Hey there everyone! I came up with this tonight for dinner and thought I'd share the recipe. Hubby and I both love Mexican food but eventually you get sick of the same old same old, so I threw some stuff together. We thought it was pretty good.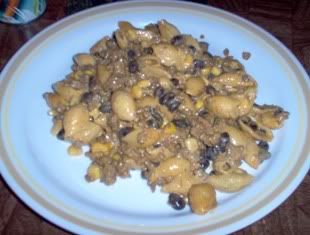 Mexican Mac & Cheese
1 pound (or close to it) ground lean hamburger
1 package of taco seasoning
1 box of pasta (I used shells because that's what I had)
1 jar of salsa con queso
1 medium size can of black beans
about 3/4 of a cup of frozen corn
Brown the hamburger and add the taco seasoning and water as called for on the back of the package. Meanwhile boil the pasta until it's done. In a colander drain the black beans and put the corn on top of the beans. Then dump the pasta on top to drain it and heat up the beans and corn. Put the pasta/beans/corn mixture back into the pasta pot and add the salsa con queso. Mix in the hamburger and serve. This made a LOT for hubby and I. Looks like we're both having leftovers for lunch tomorrow!