i knitted this penguin a while ago from the book Knitted Toys by Fiona McTague.
so it's not quite finished seeing (no pun intended) as how it doesn't have eyes, and i need to make a new nose since my dog chewed it while i was away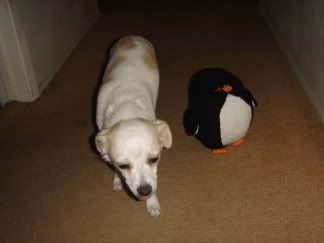 it's a great book, this is the first project i've finished entirely. the only thing i don't like about the patterns is all the sewing involved. i have the pieces of a pig waiting to be sewn together and stuffed, and i just started working on the zebra. this was supposed to be a present for one of my highschool teachers (our mascot was the penguin) but i didn't finish in time. oops....maybe i'll bring it to him next year!