Hey craftsters! I was recently in White House, Black Market and saw this really fabulous top with a boat neck and dolman sleeves. I loved it, but not the price ($68- ouch!). I thought "this shirt is rather simple, and I'm sure I could make it!" I was wondering if anyone had any patterns/ideas of where to start on this shirt.
Here is a picture of a
similar
shirt from WHBM. I would post the original, but it's not online. Basically, it's like the following picture, but with a boatneck instead of a V.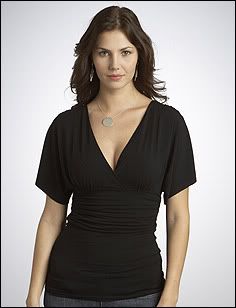 The fabric is a heavier weight rayon/spandex mix. Going by this information, does anyone think it would be do-able to create a pattern, or is there a tried and true pattern I could use?
Thanks in advance for any responses!!