One year, my co-worker, Suzette and I, went as
"Assault & Battery"
. I dressed up as a Morton's Salt can, and she dressed up as a Duracell Battery, hence
"A Salt & Battery"
. Get it? Hehehehe. Here's a picture of it: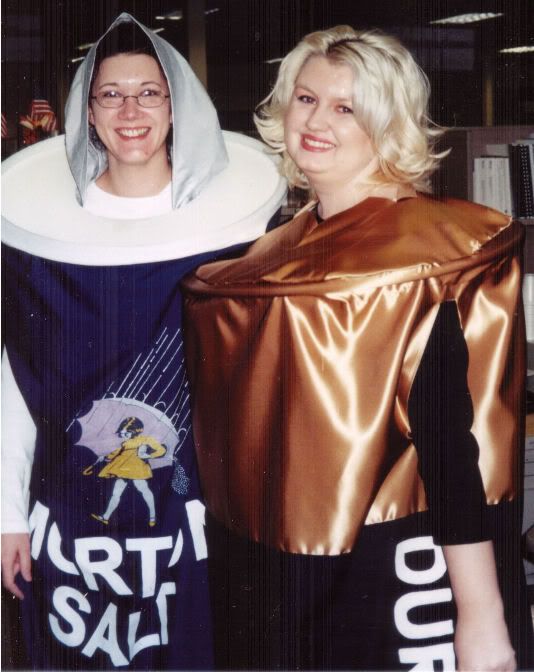 I'm the one on the left, with the glasses. It was pretty easy to make the 'barrel' costume, so if anyone wants to know how we did it, feel free to contact me through craftster.org.
Also, one year, I went as a
sunrise
. Yup, here's how I did it (sorry, no pics, was about 6 years ago). I had gotten a half sun mask at Goodwill that I wore on my face. Then, I wore black tights, and a black skirt, that I put glow in the dark star stickers on, up to my waste, with silver glitter glue throughout. Then, I got a white long sleeve cotton shirt (it was October, in NE, ya know?), and I painted on it the colors of a sunrise: dark blue at the bottom, then pink, then orange, then yellow at the neck and collar. If I remember correctly, I had gotten fabric dye to do this. I had blended them all together on the shirt, including the sleeves, to look like a sunrise. I had made one part stay white, where I had left a stenciled crescent half moon, right over my boob.
Then, I put my hair up, and spray painted it gold (with that gold hairspray that comes out for halloween, makes your hair really sticky), put the mask on and voila! a sunrise. Of course, I did spend the rest of the night explaining to people what I was, the conversation would go something like this: "So, what are you supposed to be?" asks non-right brained good ole NE boy, "I'm a sunrise, see dark on bottom, sunrise, then sun at top. Get it?" answers me so sweetly. "Oh, I see....so what's up with that gold stuff in your hair?" " Sigh," as I walk away to get another beer. But, no one else was a sunrise, so chalk that up to creativity, eh?
Kristina