Since my boyfriend just moved out of his house, he's had some extra time on his hands just like his 3 roommates. I sparked up the idea of using perler beads to create pixelated characters from video games awhile back when I made my boyfriend a hanging mirror ornament of a black mage for his car in spring. They went crazy over the idea and produced quite a number of creations...
IF your wondering who these characters are just google them I'm sure if you play videogames you'll recognize them quickly.
That's the gift I made my boyfriend that sparked the whole idea.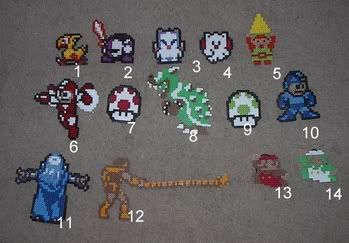 1-Chocobo, I think it's Final Fantasy 4 version.
2-MetaKnight, Kirby Superstar
3-Moogle, Final Fantasy III
4-Moogle, Final Fantasy FFVI?
5-Link, Zelda first game.
6-Megaman, megaman
7-Red Mushroom, Mario Superstar Coll.
8-KoopaKing, Super Mario Bros.
9-1up Mushroom, Mario Superstar Coll.
10-Megaman, Megaman
11-Magus, ChronoTrigger
12-Simon Belmont, Castlevania
13-Mario, Super Mario Bros.
14-Luigi, Super Mario Bros.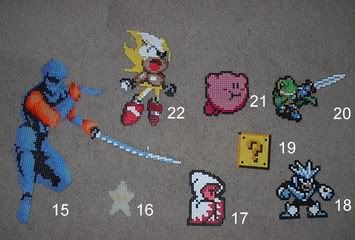 15-Ryu, Ninja Gaiden
16-Super Star, Super Mario Bros.
17-White Mage, Final Fantasy I
18-Gemini Man, Megaman III
19-? box, Super Mario Bros.
20-Frog, ChronoTrigger
21-Kirby, Kirby Super Star
22-Super Sonic, Sonic II
Detailed shot.