I made these for my cosplaying... they're more gothic lolita or EGL than anime
I just threw them together last night and finished right before the new year at 12AM lol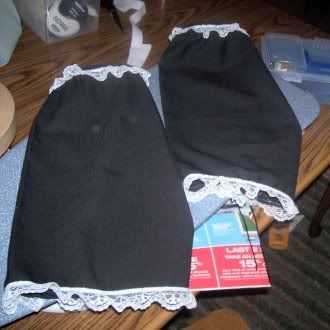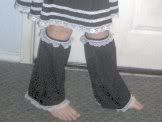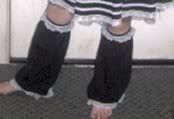 Please don't mind my feet and my dumb expression.... ALSO I DIDN'T MAKE THE DRESS... I wish I had lol but I'm working on one like it soon. I bought this one from hot topic.
Comments would be wonderful
Also.. If you've never seen these here's some pictures of what they're SUPPOST to look like :
http://images.channeladvisor.com/Sell/SSProfiles/10059403/Images/LW_002B_2.JPG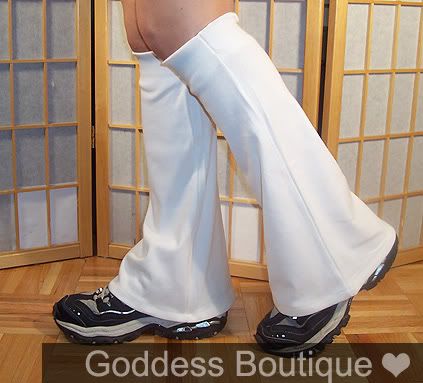 EDIT:::::::::::::::::::::::::::::::::::::::::::::::::::::::::::::::::::::::::::::::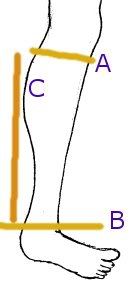 STEP 1 MEASURING
>>A<< Measure just below you knee, where its marked A on the picture above. Write that number down.
>>B<< There are 2 methods for getting measurement B. Either multiply what you got for measurement A by 1.5
OR
get a pair of bellbottom jeans that have the bell you like (the widened bottom) and just take a measuring tape and measure that. Write this down also.
>>C<< For measurment C simple measure from the bottom of your knee where you measured for A and then measure to below your ankle or all the way to the floor.
STEP 2 PATTERN
>>MATH<< Take the measurments you wrote down earlier and divide both measurment A by 2 and measurment B by 2. You need to add 1.5 inches to each measurment for your stitching.
>>PATTERN<< Get some newspaper or a paper bag and flatten it out. Get a yardstick or ruler and marker. Measure out a line just like the one in the picture above as long as what you measured for C. Then take the math anwser of A and make a line coming from the top of the line you just made. Take the math anwser of B and make a line coming from te bottom of line C. Finally make a line connecting A and B like in the picture.
STEP 3 CUTTING
Get 1 yard of material. Fold it once in half and then once again. So it looks like the picture above. Put the pattern with C on the fold. Cut. You should get 2 piece when your done.
SPANDEX--- Get some spandex waist, it doesn't matter what width and cut it to like 1.5 inches less then what you MEASURED A as.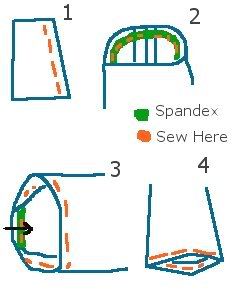 STEP 4 SEWING
1.) Make the ends touch and sew 5/8 down the edge.
2.) Sew the the spandex waisting on the upper part. Make sure to stretch it alittle while you sew it on the top and make sure you sew it on the WRONG side close to the edge.
3.) Fold in the spandex so its not showing and sew 5/8 from the folded edge. Fold in the bottom about an inch and do the same.
OPTIONAL!!!!! Use the measurements from STEP 1 to get the lengths you need for your lace, fur, ribbon, ect... and then sew it on the outside.