I found this hat in my finished-knits stash (less of a stash than a game of hide-and-seek around my apartment) to my pleasure, as I had forgotten I had made this and absolutely love it. I call it a sorta cloche because it is, in fact, not supposed to be a cloche, it's just supposed to be a regular ole-knit in the round hat.. but the crocheted edging in a thicker yarn (cuz Ahm intell-ee-jent) actually ended up adding a nice look to the hat. You can't really see it in the crappy pictures that I took at 3 am in my bathroom last night, but trust me. It's cool.
And as always, excuse my funny face.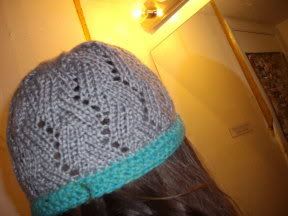 I got the pattern off of Kody May Knits, used silver Simply Soft and some unidentifiable tealy-yellowy-teal from my stash.