When I asked my 4 year old in Sept. what he wanted to be for Halloween he told me "nothing, just Quentin"... even after I told him he couldn't trick or treat and get candy as himself he still didn't want to dress up, so I let it go. We had a time last year getting him into the costume I worked so hard to make him, so I wasn't going to push it.
When Oct. rolled around I decided to ask again, he enthusiastically told me he wanted to be Spongebob. He loves Spongebob, what 4 year old doesn't. So OK, he will be Spongebob and I was ok with that.
Well I have been pretty sick (at almost 16 weeks pregnant I am only now starting to feel like I don't want to throw up all day), so I had been putting it off. I decided after last year's heartbreaking costume disaster (with him hating his costume that I worked for like 2 weeks on) that I was just going to buy him a Spongebob costume. Well that was not going to be an easy task... every place I looked at online (that was reasonably priced) was sold out of his size and NONE of the stores locally carried them (I was able to find 2 places that had sexy girl Spongebob costumes though... bleh). So back to square one.
I originally thought I would just make a costume like the store bought ones...
http://www.amazon.com/gp/product/B001V6JJ1S/ref=pd_lpo_k2_dp_sr_1?pf_rd_p=486539851&pf_rd_s=lpo-top-stripe-1&pf_rd_t=201&pf_rd_i=B000J5N7RO&pf_rd_m=ATVPDKIKX0DER&pf_rd_r=15D68HV9E7YCW2AP88ST
... would be the easiest, quickest... but I really don't think he would've liked wearing it... plus he wouldn't be able to wear it later and be comfortable just playing. So I pulled out my patterns and found this one...
http://sewing.patternreview.com/cgi-bin/patterns/sewingpatterns.pl?patternid=20693
, making a Spongebob jumper, that he could also wear to play in or sleep in and it would be snuggly and soft, made out of fleece.
First I made some enlarged copies of the jumper from the pattern and got out the colored pencils so I could sketch up what I wanted to make... I made to mock-ups, one with socks and one without, my son wanted the one with socks, so away we went.
In most cases I would have the whole week to get this done since Halloween isn't until Sat., but we are going to my mom's church for Trunk or Treat on Wed. so I need to have everything done by bedtime on Tuesday. So yesterday I cut out the jumper pattern pieces and this morning I got started on the sewing.
Here's the jumper right after I finished it
instead of using velcro for the closure on the back, I just put a zipper in (because I didn't have enough velcro).
And here it is with the bottom half details done...
Stripes on the tube socks are ribbon (sewn on), the belt is strips of ribbon (sewn on) and the tie and collar are fleece with black stitching around the edges to give a little contrast (make them show up better)
And here is the face cut out and ready to be appliqued tomorrow...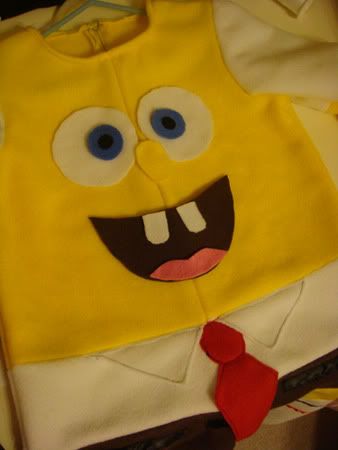 Everything will be stitched around in black and then the extra detail work (the holes, since he is a sponge after all... and the red cheeks/chin) will be painted on (the black part of the eyes is actually paint, too).
I am quite pleased with how well it's turning out... just like my picture!
My husband is even impressed, which doesn't happen very often anymore since he's seen me make some pretty cool stuff in the past... he even said that this was one I was going to have to show off on craftster. hehe.
I will be back tomorrow to post a picture of it finished, and hopefully an action shot, if I can get my kid to stand still long enough for a picture. YAY!
ETA...
Finished the costume on Tuesday just in time for Trunk or Treat on Wednesday.
Finished face applique...
Whole finished costume...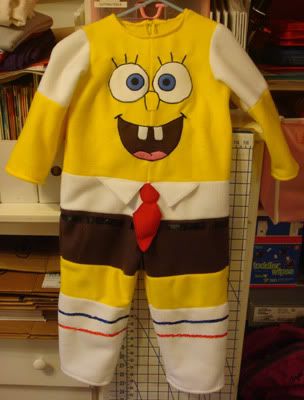 Action shot!
YAY! And Q loved it and didn't want to take it off, so all in all the costume was a success!
Thanks for looking!