Whew -- it's been a long time since i posted and i wish i could say i spent the time working on this project, but this has only been in my hands since yesterday. My son wanted an asian theme room, and asked for a comforter to that effect, but couldn't find one he liked. I volunteered, not realizing i've never made anything other than baby blankets and i knew this was going to be a king-sized job. It's actually a queen-sized bed, but my aunt conveniently gave me a king-size comforter with fish on it, so just pieced the top, used a black king-size sheet for the back and whipped that baby right up. It's a little wonky on one corner, but i doubt if my son will even notice. He's out this afternoon, so i went ahead and put it on his bed, along with his little dragon and the brocade pillows my mom and i made a while back.
any comments appreciated
edit--oooh, just realized the alexander henry tatsu fabric looks washed out on here, and the white japanese characters on the black background look like dots, and the red japanese characters with the chinese dudes look like dots too. those three are all alexander henry, though. and the bright red is brocade with little green dragons and big black flowers.
(and this is the first time i've done this photo thing, so let's all hope it works!!)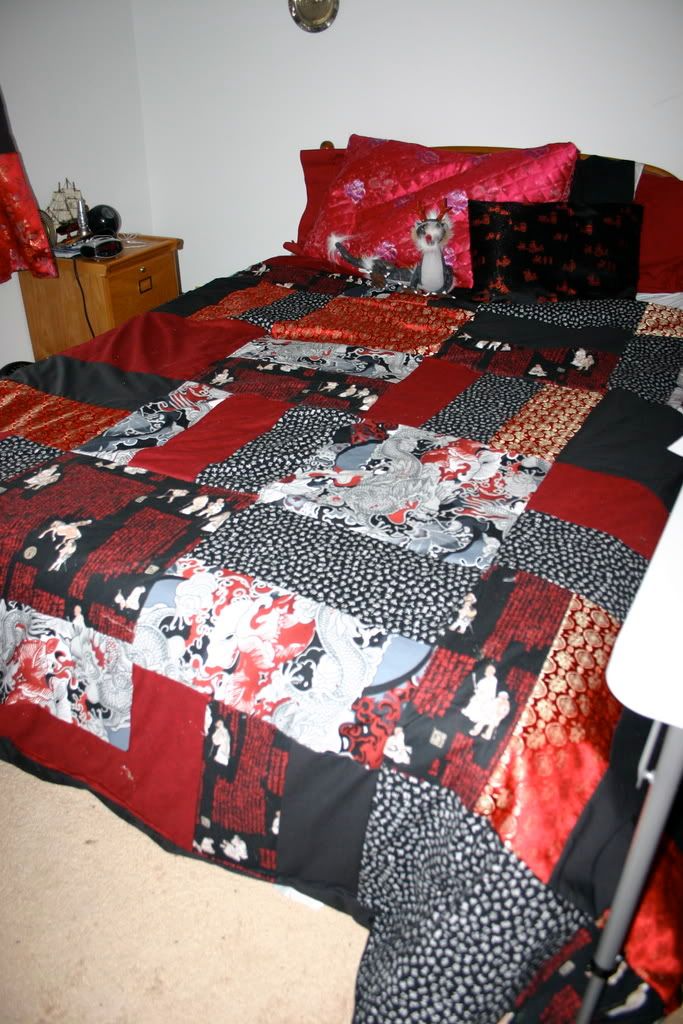 edit-- he said it was the awesome blanket of awesomeness. i thought he had a better vocabulary, but i'll take that as a compliment. Thanks for yours as well!!
Now my younger son wants one with comic book superheroes. great...