OK- the finished product- I'm so proud of myself. People at the event kept coming up and asking where we bought it, or rented it and how much it cost to rent a costume like this! I just told them "The cost is these circles under my eyes." The picture cuts off before the bottom of the coat, so you can't quite tell how impressive this piece is. The skirt on it is soooo full The sleeves have been lengthened, the waist was lengthened and brought in a bit and the shoulders and back were widened. It should work for a "normal" shaped guy, unless he has a belly. This seems to really accentuate that. The colors are way off in this picture. Maybe I'll try for a better picture later. The hat is dark purple and the coat is deep red. Hooray for a $20 set of curtains!
Tips for people making this in the future:
1.The sleeve might need to be slightly rotated toward the back of the coat to fit correctly, if the sleeves don't need to be rotated in your case , double check where you are placing the trim on the cuffs according to the pattern, mine turned out a bit too much on the "inside" of the sleeve instead of the top, where it can be seen well and the cuffs seemed to need a bit of rotation.
2. Do NOT loose the directions just before attempting to put the cuffs on. It will turn into an M.C. Eischer picture if you try to figure it out at 2 AM on your own.
3.The boots aren't in the picture, but we did boot covers out of black vinal and used the cuff patterns from the sleeves to do the cuffs on the boots and it worked great.
4.I didn't use the shirt vest or pants pattern from this. The tuxedo vest is from goodwill,karate pants are from the closet and I just made a simple pleated jabot that fastens in back with velcro and added circles to the cuffs of a long sleeved T-shirt. E-bayed for the buttons.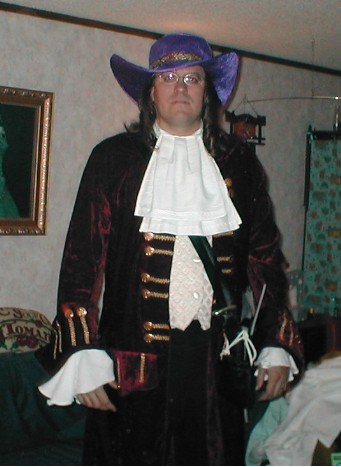 I wonder if I should have moved this post to finished projects?