Ok, I finally did it. I've been wanting to make something with shrink plastic for like, a year now, and the recent spate of beautiful projects got me inspired. So, after making a few things I don't really like, here's something I do: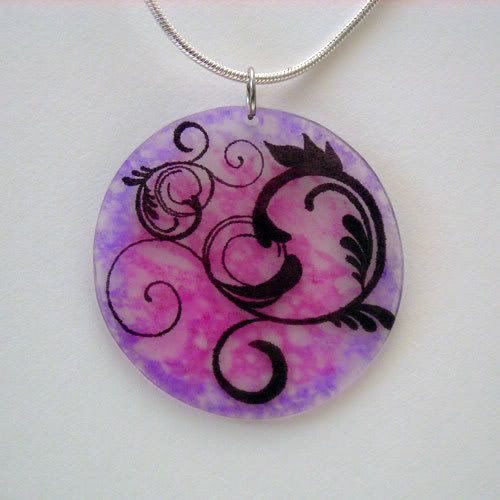 I designed it in Adobe Illustrator, starting with a set of free brushes from
http://createsk8.com/
and manipulating them until I got what I wanted. I printed it on regular paper and traced it with a black sharpie on the frosted shrinky dink plastic. I'm not thrilled that the sharpie kind of bled into the texture of the plastic and made the design fuzzy, but oh well, I'll use something else next time. I also had to sand it a bit to get it more round because it warped when it shrank, so part of my design got sanded off on the edge. Again, oh well.
When I baked it, instead of a paper grocery bag I placed it on waxed paper, so the back ended up with this cool texture. I sort of scribbled on the back with sharpies and wiped it off with a napkin as I went, (scribble, wipe, scribble, wipe) to try to bring out the wax paper texture more, and it worked!
Here it is with light behind it: