This one project is part of a much larger one: redoing the home office. It will get its own post once everything is done, but I am too excited to wait to share my curtains!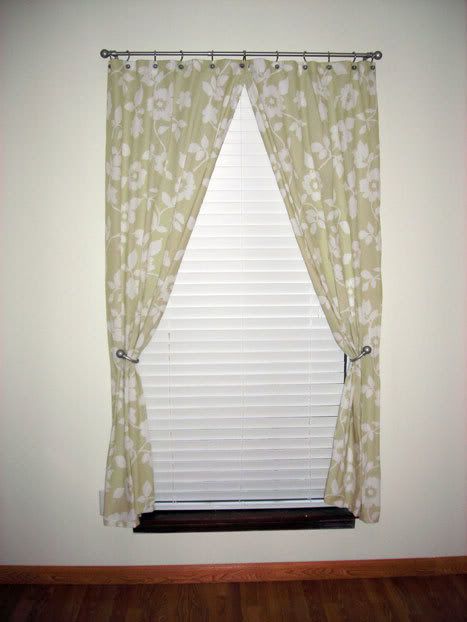 I also have the desk, chair (from Ikea) and wire shelves in, but so much more stuff has to go in here. But this shows how the curtains sort of go with the chair.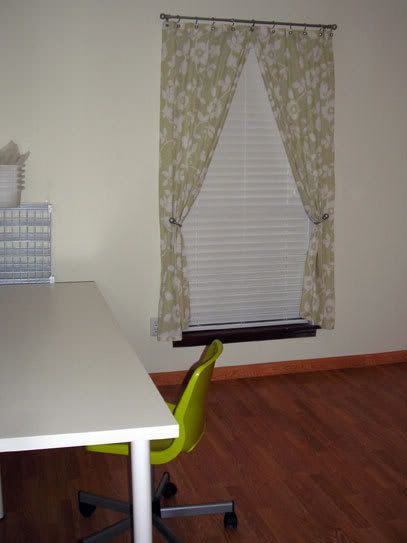 In real life, the green of the curtains is a bit more intense, it just doesn't photograph well.
Anyway, to make these, I found a fabric shower curtain I loved at TJ Maxx, cut it in half, got the curtain rod, tie backs, and shower curtain hooks at Target. I didn't finish the raw edges, just used them as the outside edges and wrapped them around and just barely caught the edge under the bracket. Ok, truth: my dad put them up and he's a professional drapery installer, but he showed me how he was doing it so I could tell y'all. He overlapped the hooks in the middle so they won't slide open, and ta-da!
And yes, getting rid of that too dark windowsill is on the to do list. Thanks for looking!