Hey, this is a prop for my steampunk costume that I'm working on in stages. I already posted the goggles
here
and I won't post anything else until it's all done. I just wanted to go ahead and show the gun, because I'm really proud of it, even though there are tons of guns like it posted all over the rest of the internet.
Here it is: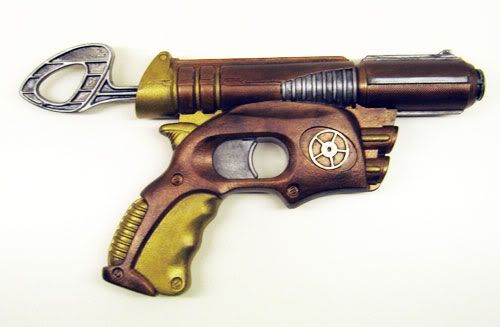 And here it is before, sitting on our old really ugly kitchen table that has since been replaced:
So, yeah, basically I repainted a Nerf gun. Simple, right? But, I wanted it to still work, so I had to take it apart to paint the pull-back piece. But then, every time I pulled it back, it scraped off the paint, no matter what kind of paint or sharpie I used. So, I sanded it down smaller, painted it again, then coated it with resin, sprayed it with WD-40, and that seems to have stopped the scraping.
There's lots of different kind of paint on it: base coat of black spray paint, then copper spray paint, gold and silver paint pens, metallic sharpies, metallic acrylics, and watered down black acrylic to make it look old and dirty.