I am making these as little goodies for Christmas.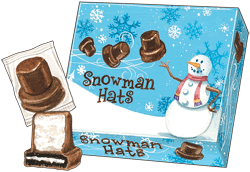 I saw them at Cracker Barrel and thought wow I could easily make those and get many more for my money!! So I bought all the supplies tonight...large marshmallows, chocolate sandwich cookies, and milk chocolate. I have a few questions though...
1. How far ahead of time do you think I should/could make them (as I don't want to wait until the last minute...I'll be making cupcakes then =P)
2. Should I put them in goodie bags or a tin/box?
3. Dip cookie and marshmallow separate and then stick together or attach with a layer of chocolate and then dip?
I'm also asking over at the Bakespace forums =D