Most likely no one is going to be able to help me, but I figured I would post here just in case. It seems my wheel has become displaced. I don't know what the issue is. I hadnt moved it in a couple months because I didn't have any time at all, but last night I spun for 7 hours straight. At first the wheel was perfectly fine, but after a while it started becoming wobbly, and then when i was trying to ply it was just knocking against the bar that connects the treadles.
I haven't touched the C clip since i originally put my plying drive band on, and I had used it several times since then.
Heres a video of me treadling so you can see what I'm talking about. The first few seconds are me treadling on the right only, and it seems more fine.. wobbly but not perfect. I can use it, at least. I tried with the left treadle only, but it wouldn't work.. it knocked too much against the bar and stopped the wheel completely.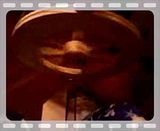 Any ideas? So sad..
I emailed gord lendrum and asked him how i should go about fixing it. I hope he gets back to me soon...