I'm posting this here because, eventually, it will be a finished project. I need some help first, though! I'm making a hat stand and I think I've got it all figured out, but I'm unsure about attaching my hat form.
First, I started with the basic idea that I wanted something sturdy: PVC. I was going to make right angles for my "arms" to hold the hats on because I didn't want the spokes to interfere with how my hats would sit on them. I couldn't figure out how to make the joints, though, so I went with angled pieces. I measured the PVC where I wanted holes and drilled them. Then I had to drill them on an angle so the arms would come out correctly. I cut some dowels for the arms and put them in. I thought I would need some liquid nails to keep the arms in place, but they really stay in the stand quite snugly.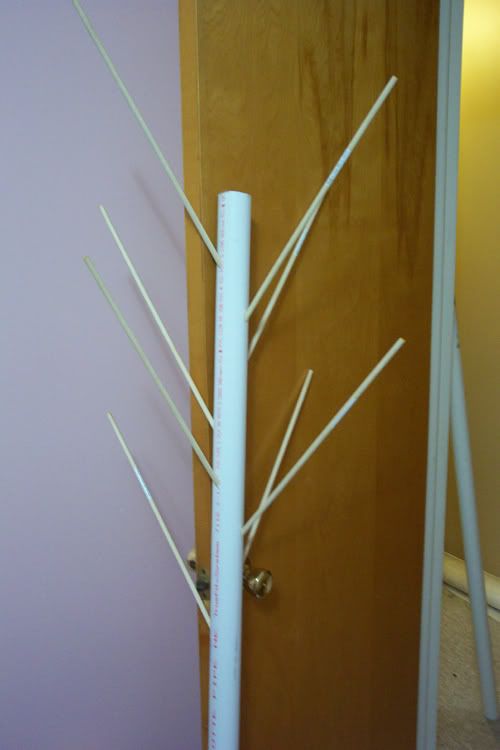 It was plain and ugly, so I decided I needed some spray paint. I went with black. Believe it or not, I've never spraypainted before (and I also dont own a glue gun. I know, I'm a heretical crafter) so this wasn't easy. My feet ended up with black splotches on them (as well as my legs and hands) but in the end it all worked out.
I dont have a picture of the "finished" spray painted stands, though, sorry. The paint is sort of drippy in spots and theres one smaaaall strip of splotchy paint on one of the pipes, but honestly.. don't care.
The base of the stand was another difficulty. I looked around a bit, and I finally decided on a toilet flange screwed to a plywood base. Turns out, the toilet flange in the size I needed was $21. For one. And I needed two. No. Way. So I went a different route when someone suggested I use pots/vases/etc. I picked up these two vases at Hobby Lobby for $2 each on clearance. They weren't my first choice, and the other one I bought is actually chipped on one of the flower petals, but they're okay. I really wanted this awesome drippy glaze red one, but they only had one left in stock. I could have gone with mismatched pots, but the only others that were around weren't really matchy, even for mismatched. I've also got a couple piece of fabric in the picture, but you can ignore those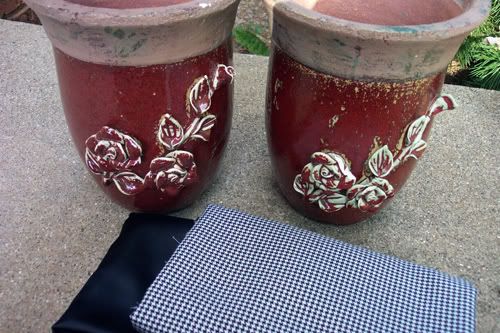 Now... how do you fit a 1.5 inch PVC pipe into a 6 inch hole without it moving around? I needed something to keep it in place, and the same person who suggested a pot, also suggested sand or some such to weight it down (I love my friends, so useful and helpful and good looking). Well, I bought some sand at Lowes (funny story about that, I went in and had to get some tiiiiny nails, some temporary pvc caps for the other end of this thing, and some sand, but the power had gone out! they were slowly coming back up, but their computers were still down so they were writing all their receipts by hand. I was honest about prices to the best of my ability because, ya know, as my 9th grade english teacher said, the guilt will eat you up inside and then you die. buuuut, I wasnt sure exactly on a couple things so she just gave me the lowest price I said. Sweet deal/) to put in the bottom of the vase, but I knew it wasn't going to hold it steady enough, so I made some frames.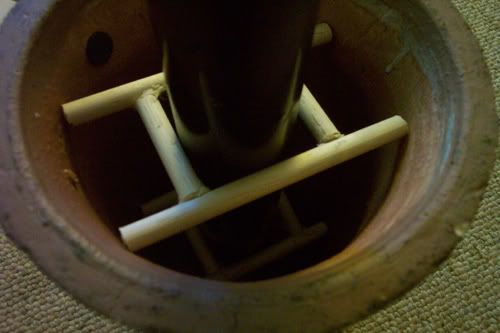 It actually worked! It holds up my hat stand! its actually starting to look like it could hold hats! I was very excited, and the boyfriend thought I was crazynuts. And not in the fun loving, cute way, either. eh.
Next step, possibly the most difficult? Making and attaching the "hat form" part of the hat stand. you know.. the little circley part that hats sit on to keep their shape and be supported. Yeah. I found some plastic mesh shapes (
http://www.darice.com/ecom/ProductDetails.aspx?it=33005&oid=12800
) at Hobby Lobby on the cheap and they were almost the perfect size. I decided after a day or two that they were too flimsy and pitched 'em, but not before tracing the shape onto some foam board. I found some wine-ish red faux leather (only about a yard, got it cheapcheapcheap as a remnant a few years ago) and attached it
to the foam board (via my ever wonderful Swingline stapler. i swear I use that thing more to craft with than to staple papers with... don't take my stapler. You knows what happens when you steal the Swingline stapler). The underside is very messy and I need to come up with a way to cover it to make it less messy, but right now thats the least of my problems.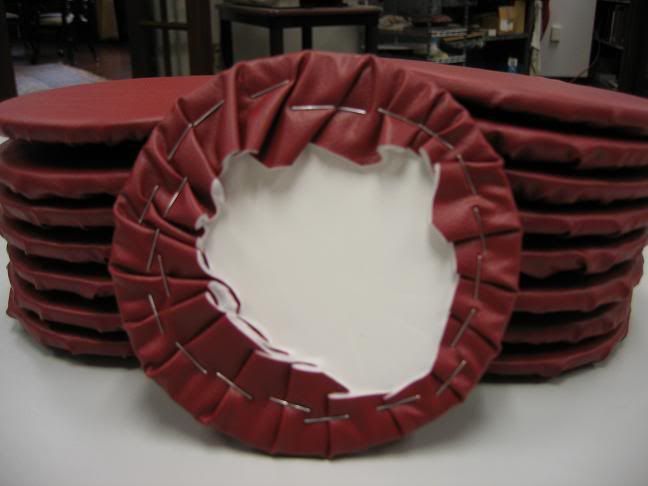 Now, FINALLY, heres my issue: how the hell do I attach these things?! My first thought was a little hole, some liquid nails, and a lot of balance. I dont think that'll hold up to the weight of some of my hats, though. Then I thought, sculpey. Make some sculpey forms and glue them to the base with liquid nails (gawd, have I mentioned how much I love liquid nails?!), then glue them to the stick with it, as well. But that would use a lot of sculpey as I need 16 (8 bases per stand, two stands) forms. Now Im thinking foam.. glue the foam to the base, and stick the foam onto the dowel to get the correct angle, then take it off, glue the dowel, stick the foam back on. but foam isnt very durable. I just basically need it to stay on the dowel without coming off. Obviously the dowels come out at an angle, and I need the form to lay horizontally, so the form won't be making a right angle with the dowel. ugh!
Suggestions? Maybe I could wire wrap something... not a bad idea, actually. then I would be able to continue the wire wrapping around the hatstand itself. I plan on decorating it as it is, but I dont know!
EDIT:
I used little wooden blocks (drilled into them on an angle) and glued then with liquid nails to the dowels. I also already glued the forms to the blocks and I think Im going to wrap bulky black yarn along the bottom (the idea in my head looks good, but I think it loses something iin translation...)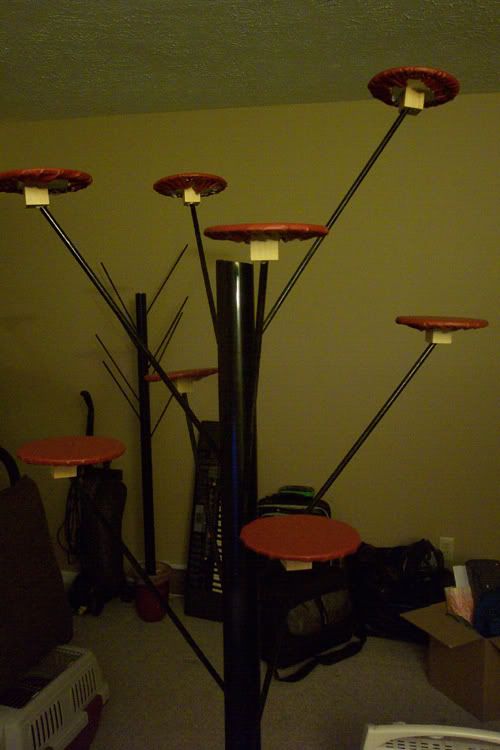 Still not done! it needs decoration