prepare yourselves for a picture overload...
ok, this is my hair now, i've never died it and i think it need a bit of a trim, but i'm looking to change it up a little.
here's another view of the side, what it usually looks like.
i want the new cut to be similar, i like the flippy part at the bottom, and the layers, and i was thinking about doing something more like this. i'm not sure if it will work that well, it might be too short, too much upkeep, i really have no idea.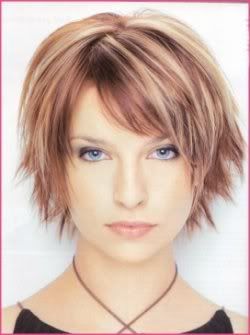 im not sure if the top will work though... you see i have these cowlick-ish things at the front
(excuse the friz) and i'm not sure what else i can do with it besides the top staying pretty much the way it is.
my part is very stubborn... if you try to move it over even about half an inch you get this big loop of hair... well, lets just say it's a bit scarry, and would never stay like that anyway.
i'd say my face is pretty square shaped, and it has to still cover my ears becuase they bother me, im convinced they are differnt sizes or something...
and just in case i don't have enough pictures (sorry!) here's one just to show how long my shortest layer is.
if anybody has any ideas i would greatly appreciate it!