Ooooof, I suppose it's time to show my journal to the rest of you lovely people. Princessblueberry, I've get pics of yours uploaded soon.
So. My theme is freedom. My journal is sketchbook sized. Hilarity ensued.
First page:
The poem in the center is called "Burden" by Peter Kane Dufault. Even though you'll see it at some point this year, I definitely encourage you to check it out; it's absolutely beautiful. The black and white is a picture I took and printed a couple years ago of the rain on the outside of my window. It pops up from the rest of the page when the book is opened. The rest is monochromatic magazine collagey stuff.
Und page 2: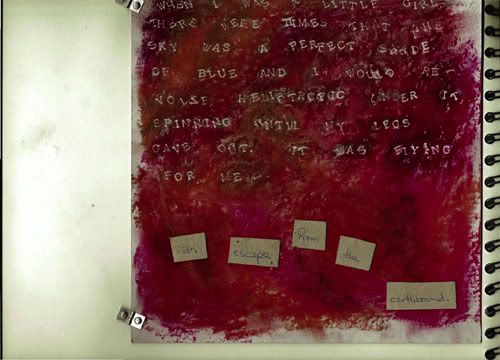 Pastels and letter punch. It says, "when I was a little girl, there were times that the sky was a perfect shade of blue and I would revolve, heliotropic, under it until my legs gave out. It was like flying for me--an escape from the earthbound". This is on hinges, and the inside says, "I've been searching for that feeling for the rest of my life. I like finding it in the little things." Incidentally, those red/gold/bronze/orange colors are my absolutely favorites, hint hint.
Page 3: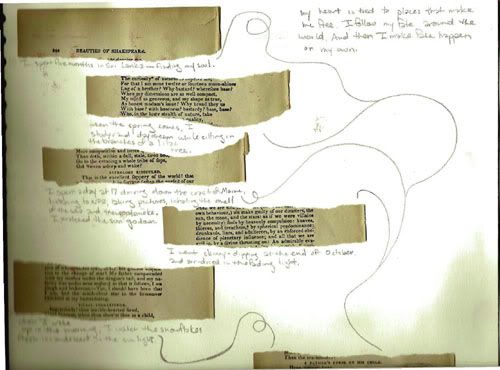 Some times where I felt most free. Coupled with a quote from King Lear about fate.
Page 4: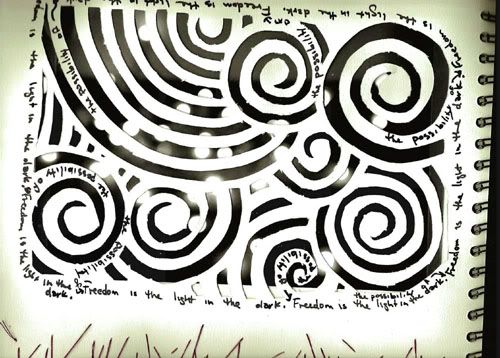 This is actually page four, five, and six, since I sewed two sheets together. The inside is another picture I took of fairy lights, and the words say "the possibility of freedom is the light in the dark". I then sewed up the bottom haphazardly. I like the effect, and may use it on many, many other people's journals. Heeee.
Page 5: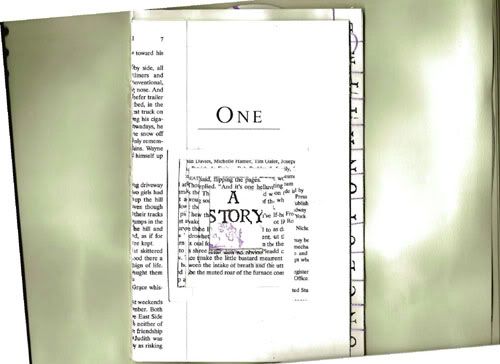 An altered book story I made a little bit ago about truth and freedom. It is actually straight on the page, I promise.
Page 6:
This is the freewrite on freedom I did for this journal. (and my signature.) Since that's normally how I journal, I thought I'd give you all a view inside my strange head. Let me know if you want to see the text.
That's it! Thanks for looking. I'm looking forward to seeing all of yours; what I've seen of other journals makes me really excited!