This may be my favourite dress I have made so far! I found the instructions to draft the pattern from vintagesewing.info. Drafting the actual pattern took me a few days on and off, since it was really boring and tedious to me...I bought the fabric from Jo-Ann's for about $25. I had a coupon for the plain black fabric, and the textured fabric was on sale already; so it was relatively cheap, which is always a good thing.
It's really supposed to have a cowl neckline, but it doesn't really hang that way on me. Despite that, I am so happy with the final result! It took me 9 days to complete from drafting to hemming... I spent most of my non-school time working on it
Back:
Back details: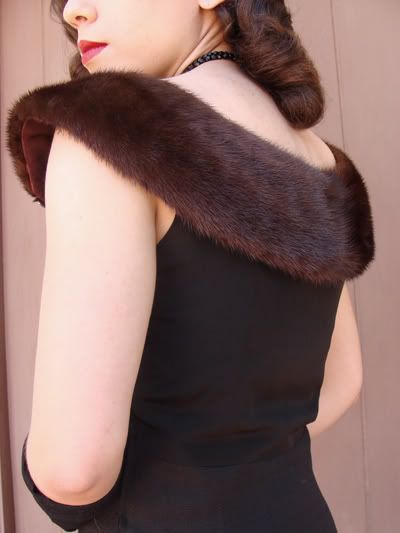 Front details:
The piece of fur was the inspiration for the dress. It just didn't look right around the waist; so I tried it draped around my back, and I thought it looked nice.. the fur is--of course--repossessed, so it was given another chance at life.
I don't buy new fur!
Here is a specific link to the pattern, if anyone is interested:
http://www.vintagesewing.info/1940s/4x-lgcm/lgcm-12.html#fig157