My first crochet FO. Inspired/Modeled after the softies of
mpatrizio
. I had no pattern and VERY little experience with crochet prior to making these, but I was set on making an octopus after seeing some of the adorable amigurumi animals out there.
My grandmother taught me crochet when I was a kid so my prior efforts consisted of a very long chain and a rectangle which were completed several years ago, but using a few webpages for a little bit of needed info (and memory jogging) I somehow pulled it off! I surprised my friends and myself when they turned out looking so darn cuddly!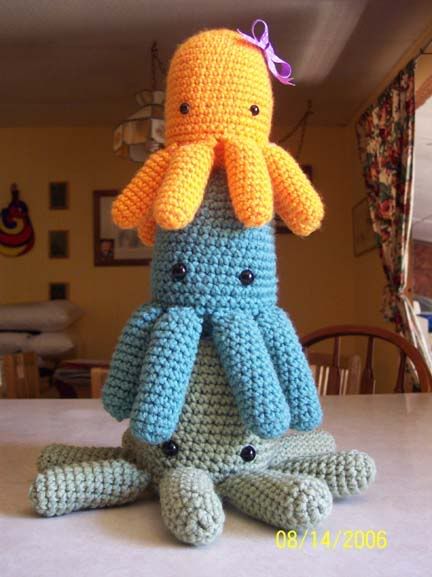 All 3 of my cephalopods. All acrylic. Large are 5.5" high and small is 5" high.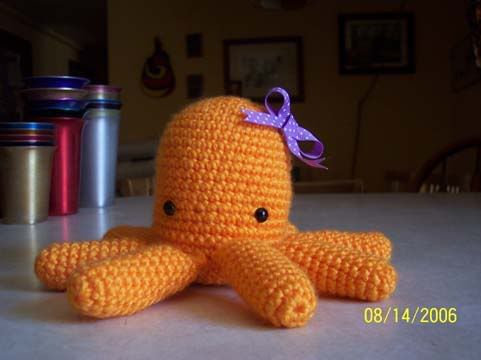 The one I made for my cousin. Features a little removable purple bow pin I made from some scrap.
*****
TUTORIAL
*****
*
MATERIALS
*
--Worsted weight yarn (I used Red Heart Super Saver for the two green ones and Caron Simply Soft for the orange one) One skein is plenty to make one octopus and might even make two...
--Size G or H hook (Simply soft was a bit finer yarn so I used a smaller hook, it doesn't really matter)
--Yarn Needle
--Stuffing
--Eyes (I used the snap on kind but they can be buttons or can be sewn on)
*
DIRECTIONS
*
(written without abbrev. for my own state of mind!!!)
TOP
Chain 2
Round 1: Single Crochet 8 into second chain from the hook (probably could magic loop it, just make sure there's eight!!!) (8 total stitches around)
Round 2:
*1 Single Crochet in one, 2 Single Crochet in 1*
around (12 total)
Round 3:
*1 Single Crochet in one, 2 Single Crochet in 1*
around (18 total)
Round 4:
*1 Single Crochet in two, 2 Single Crochet in 1*
around (24 total)
Round 5:
*1 Single Crochet in two, 2 Single Crochet in 1*
around (32 total)
Round 6: *1 Single Crochet in three, 2 Single Crochet in 1* around (40 total)
Rounds 7-18: Single Crochet around
Fasten off leaving a long tail (this will be used to join the top and bottom)
BOTTOM
Repeat top but stop when ROUND 9 is completed (40)
Fasten off leaving a sort of long tail (this will be used to close stuffing hole)
LEGS
Repeat top directions until ROUND 2 is completed (12)
Round 3-12: Single Crochet around (add more rounds for longer legs, take away for shorter)
STUFF LEG NOW!!!
Make sure it's stuffed so it's firm.
Round 13: Single Crochet Decrease (Crochet 2 together) around
Fasten off leaving a long tail (will be used to attach legs to body)
MAKE 8 (or don't and have a UNIPUS, I don't care
)
FINISHING!
Line up edges of both TOP and BOTTOM sections with their RIGHT SIDES facing IN. Using either the yarn needle or hook, join sections using the tail from the top portion, but LEAVE A 2 INCH GAP. Turn right side out.
Pinch the top of each LEG flat and, using needle, stitch closed, then attach them to the body underneath the seam the TOP and BOTTOM have made. **HINT** Attach them diagonally (e.x. "twelve o'clock", then "six o'clock", then "three o'clock", then "nine o'clock", etc.) to get them spaced evenly. When the LEG is attached, fasten off and draw the tail into the inside of the BODY.
Now is a good time to attach the eyes. Pick a spot where the legs are about the same size and put them centered above a place where the legs meet in a "V," not centered above one singular leg (look at my pics to get what the heck I'm talking about) otherwise it will look like your Octy has a trunk.
You can weave in the ends if you'd like but I kept them all inside so I just stuffed them in there.
Stuff the BODY until it's firm (if you don't the head will feel squishy and get "dented" when you handle it).
Use the tail on the BOTTOM to close the gap, with a needle or with a hook.
TA DA! You've got an octopus friend!
---
Enjoy!