Yes, I loaft with posting. I'm just getting over my post-Halloween burnout. This party and my having been planning it since June is why. Hopefully it shows!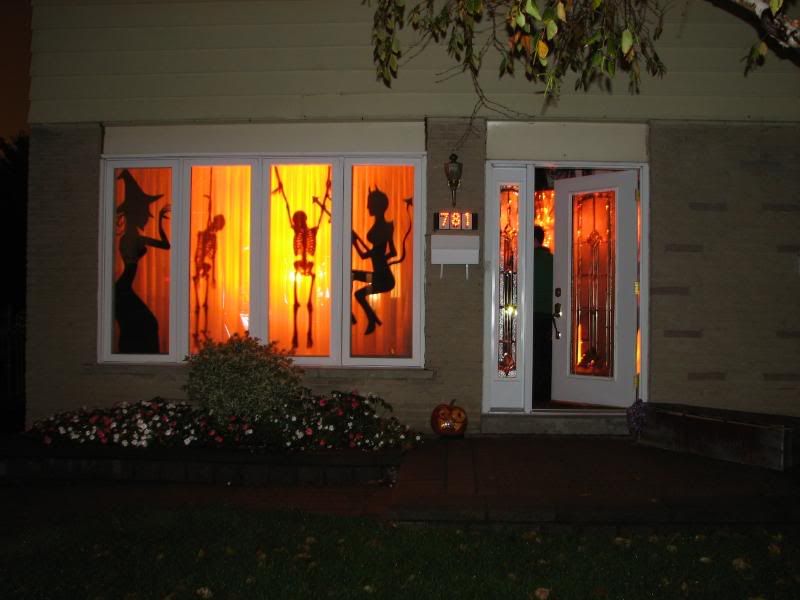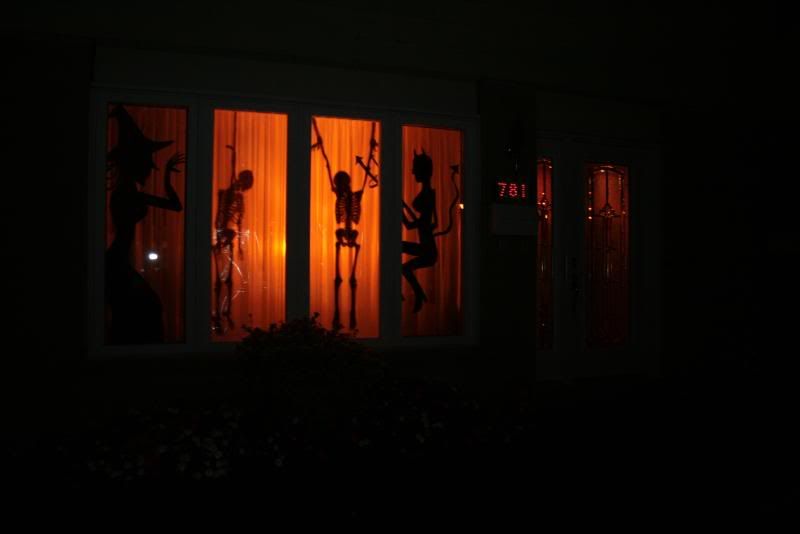 Evil lady cut-outs by my wonderful friend Talia who also did Mr. O-Lantern here: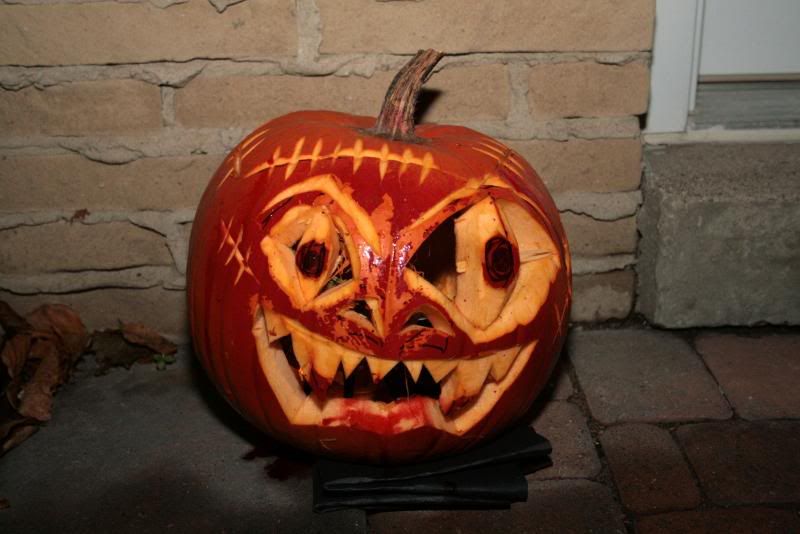 Yeaaa picture this without the beer bottles... Old shipping crate, spray-painted by moi.
MY FAVOURITE! <3 The flesh Wall! This is actually floor-to-ceiling, made entirely of plastic skulls from dollarama, newspaper, kleenex and papier mache! Here's another shot of it, in the foyer where it stood, and an action shot avec party-goer:
The hallway which I like to call "A vagina of spiderwebs" Complete with many-a-sheet of rasturbated trees!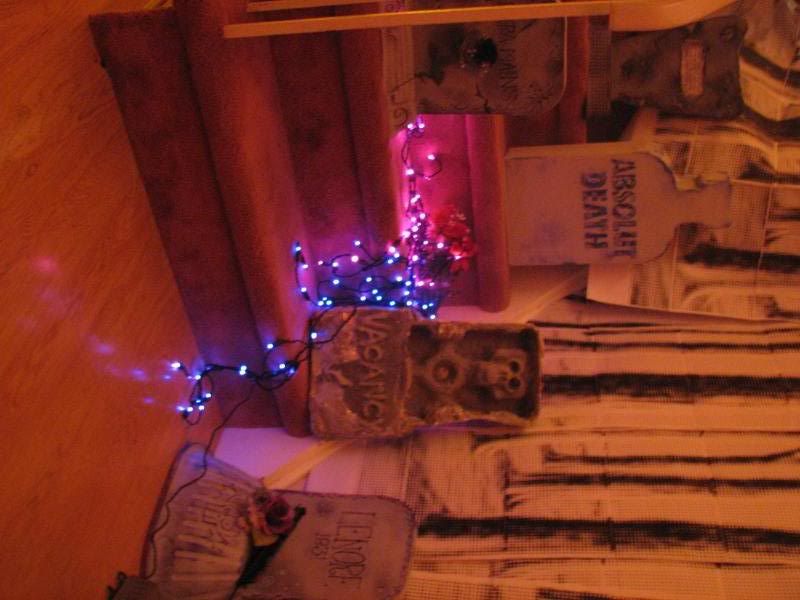 Some of the down-the-stairs graveyard with my home-made gravestones which was supposed to look a lot cooler than this...
A view of the whole front with some idea of the fog machine's effect... and my friend's highly offensive priest costume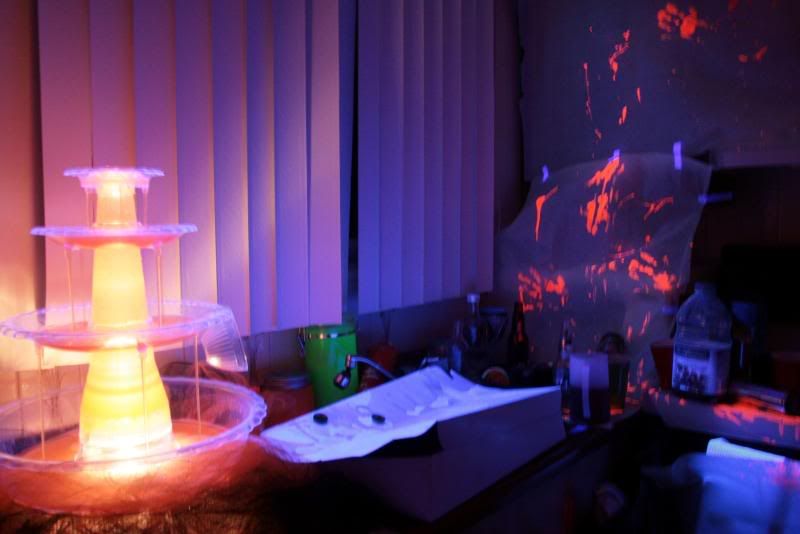 At the end of the hallway is the food side of the kitchen, black-lit and full of delicious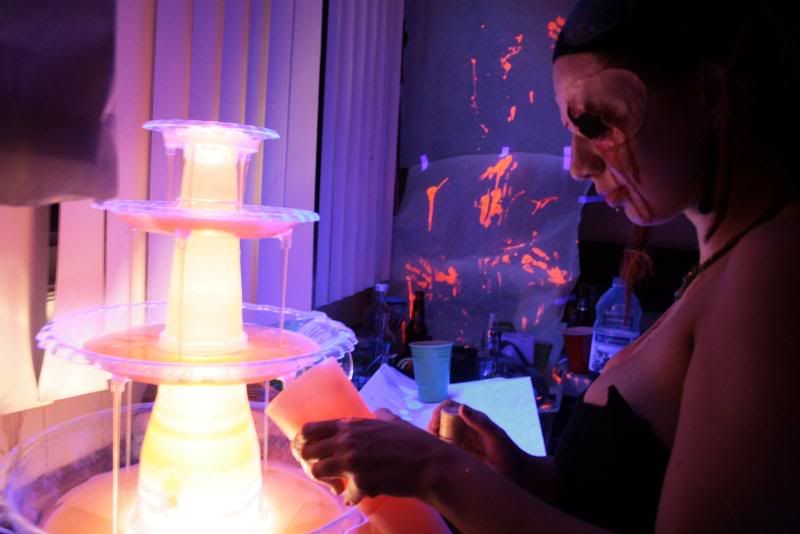 My meat-head, which PEOPLE ACTUALLY ATE THIS TIME! yay!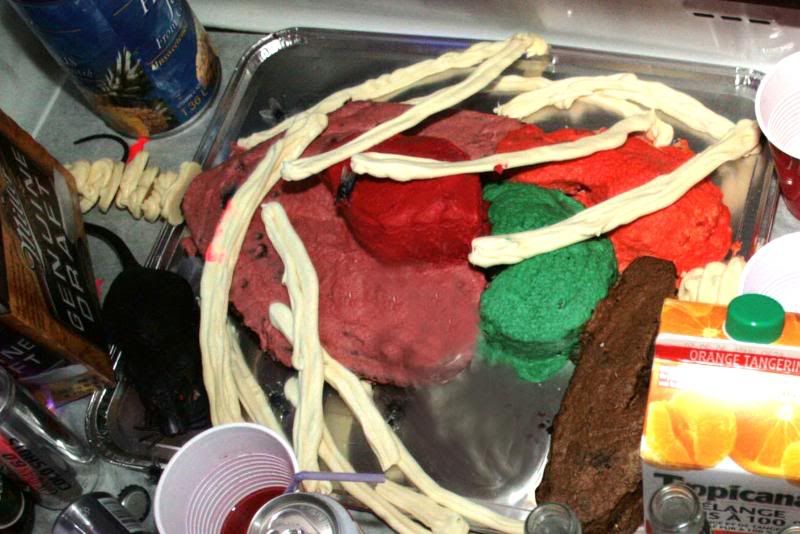 Thorax cake by my friend Bon! Highly delicious ribs, better than Tony Roma's!
The Dungeon side of the kitchen! With walls that promptly fell down once the party started
You see, we had to change the location of the party last-minute and this house required no holes in the walls from thumbtacks or peeled paint from strong tape, so we did all we could, but some things ended up crapping out prematurely...sigh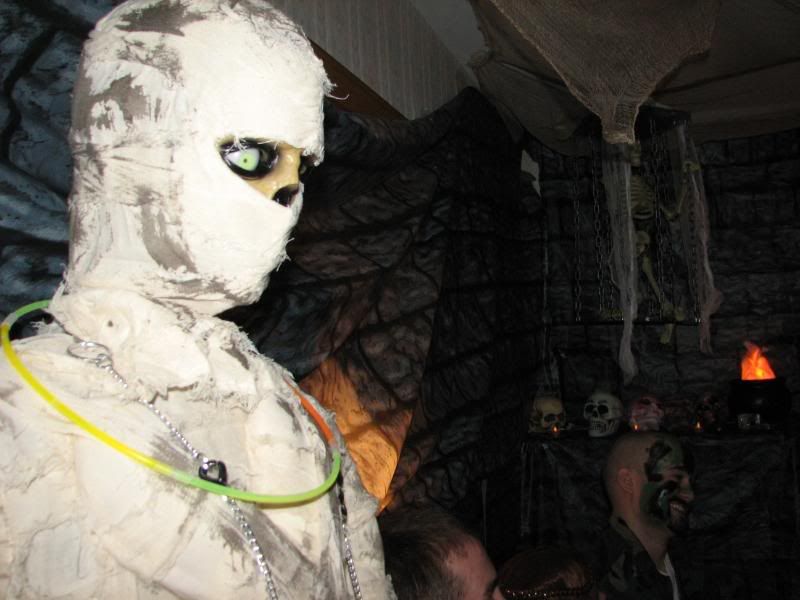 6-foot mummy from michaels! not crafted, but still cool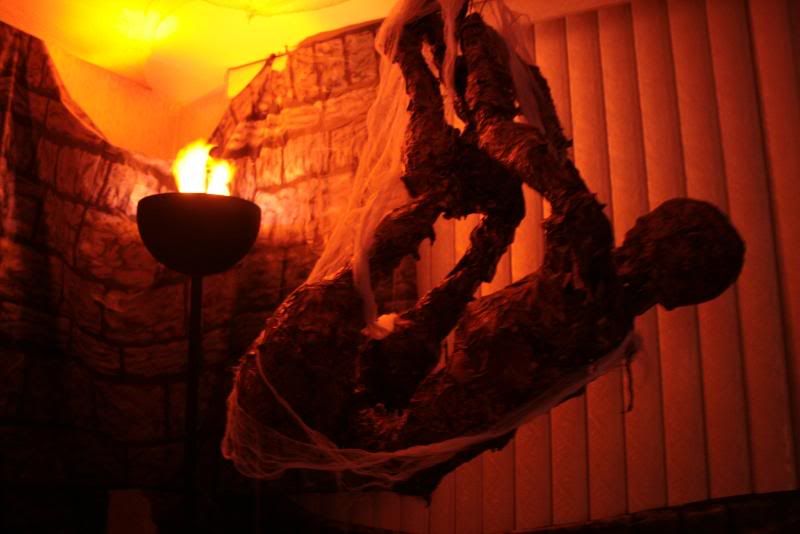 hanging and shaking dungeon victim #1 - made of coat hanger, newspaper, duct tape and paper mache, and a re-purposed $3 shaking skull decoration for the head. I kind of heart him.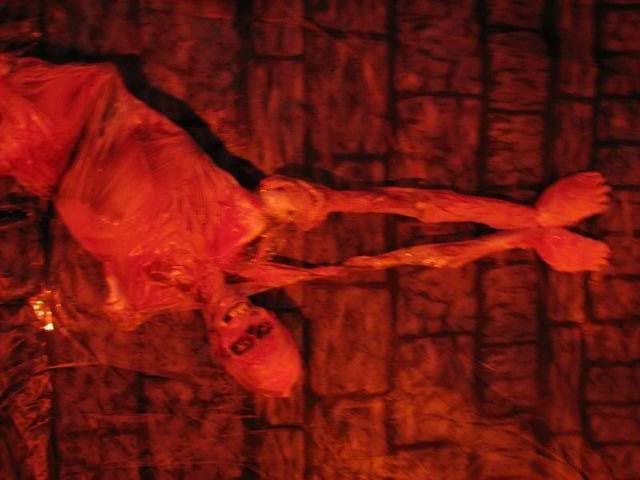 hanging and shaking dungeon victim #2 - blucky skeleton, with head replaced with another re-purposed $3 shaking skull decoration, corsified kind of crappily with plastic wrap and spray paint.
another silhouette
Some of my many corpsified skulls, scattered about the grounds: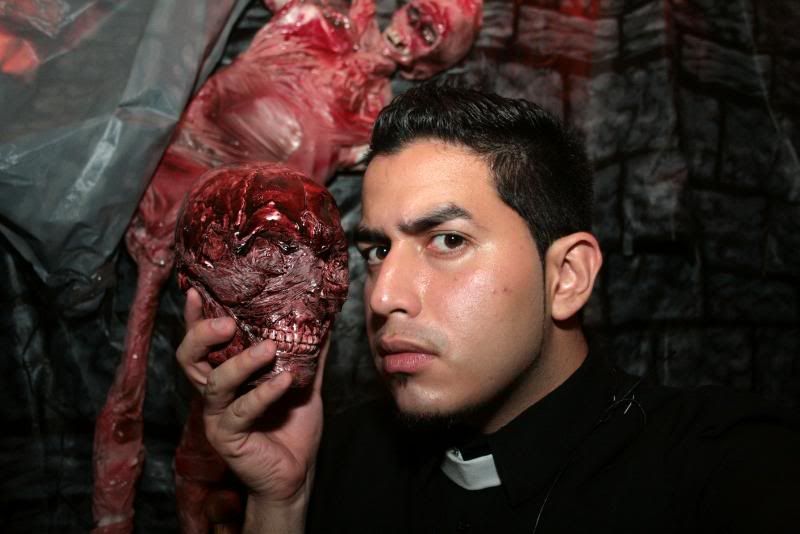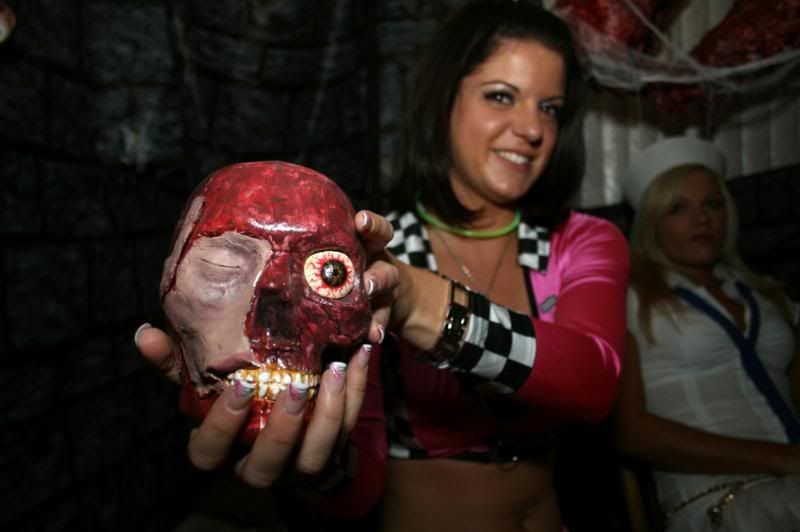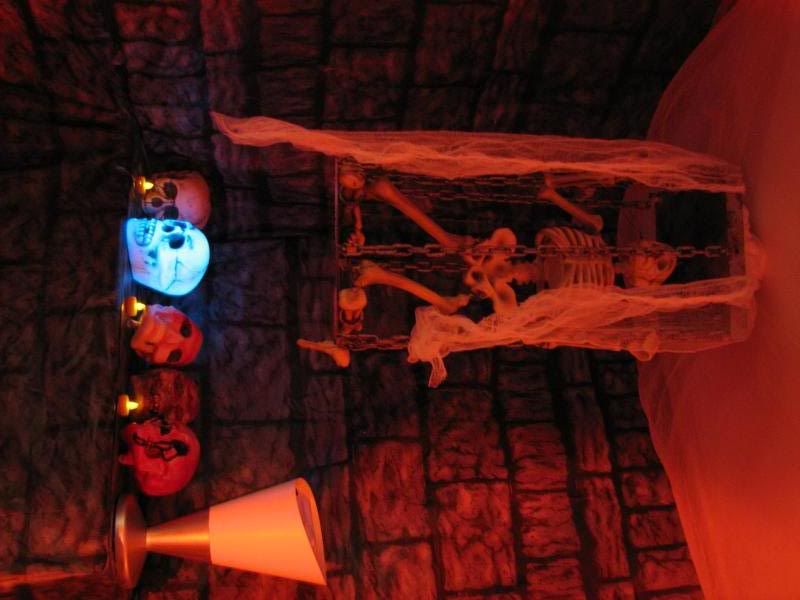 with another Michael's buy, skeleton in a cage!
Aaaaand I'm so relieved to have pulled it off. I told myself that was the last time and there's no way I'm doing it again next year... but I already have some plans for next year... sigh... Hope you've enjoyed!