It's probably been about 3 years or more since I've posted on Craftster. I've had 2 baby boys and not much time to do any decent crafting
However, I have started a new hobby making temporary, recyclable artworks within a 30 minute time limit (due to my newest baby never sleeping for more than 30 mins at a time!) out of ordinary household items and miscellaneous bric-a-brac. I don't use any glue so I can re use the materials. These rules I set for myself can make it quite tricky sometimes.
I've actually been taking requests from people on Facebook and Instagram, it's hard for me to keep up, but I get around to all of them eventually. I make the art, take a photo of it and post it so they can see what I made for them, it's a fun hobby. Some are quite silly! Here are some examples of what I've been playing with....
A request for 'a millipede' - made from a cable tidier and hair slides
A request for 'something on the theme of Steven Spielberg' - made from rice and seaweed sheet and some capsicum (he produced Memoirs of a Geisha)
A request for 'something by Vincent Van Gogh' so I did a version of Starry Night - made from beads, matchsticks, rubber bands, scarves, buttons and paperclips
A Bee - a request from a 3 year old girl. Made from a seed pod, rubber bands, baking paper for wings, a banksia brush, teddy bear eyes, straws and some apple
My 2.5 year old boy requested a picture of a lion eating his baby brother, so of course I had to do it- it's just made from sheets, blankets and pillows with a couple of plastic plates for eyes.
An owl - seeds, ice cream cones, lasagne sheets, nuts and dates.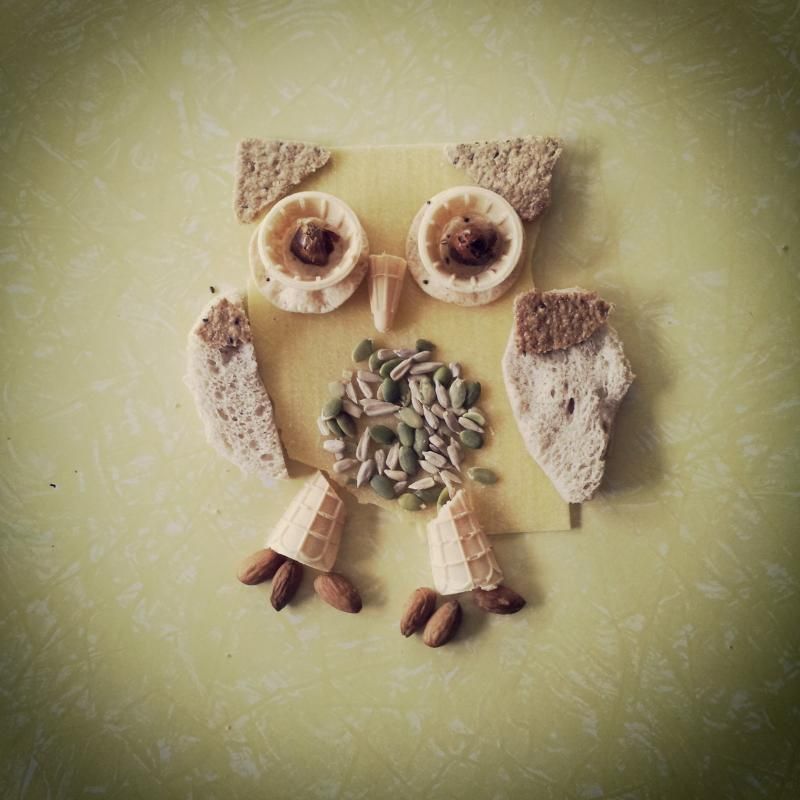 This list is growing!! I have done many more. Everything can be packed away and re used (or eaten!) It's so much fun you ought to give it a try, and if you do, please share it with me. OR if you want to request something you can go to my Facebook page or Instagram and request away. It doesn't cost anything, just a bit of silly fun and a way for this creative mama to keep herself sane
Facebook page is called George Can Create It and Instagram username is @george_can_create_it if you are at all interested in following.