A while ago I did a painting for my mother and my stepfather, they love it, the way I've included all sorts of things from around their home, and they're in it, and their dogs too! This is it here......the photo is small but its a huge painting!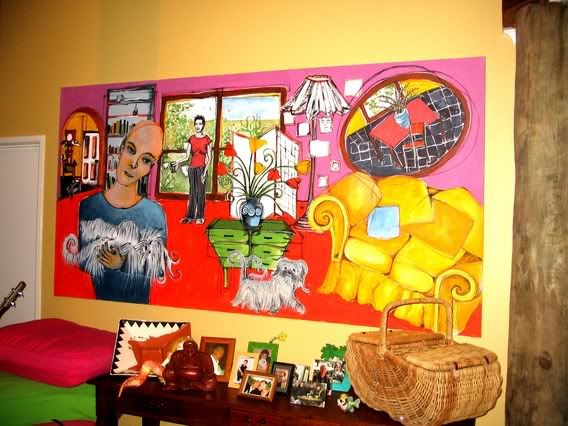 They loved it so much, they actually commissioned me to do another painting for their bedroom. I included the dogs again, and the outside of their new home....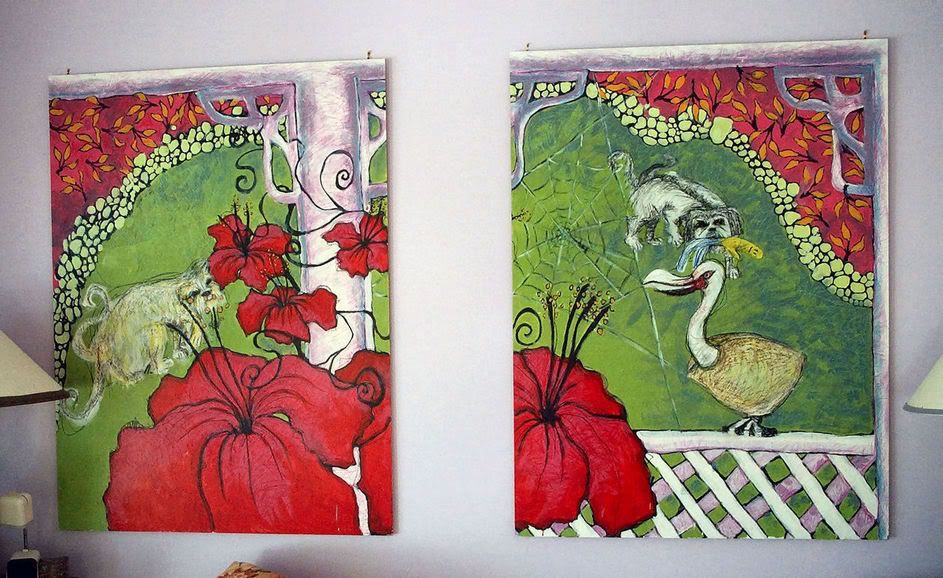 My parents and step parents are very good friends, and every time Dad and his wife went to Mums house to visit they'd stand and stare at the paintings wishing they had one too. With them in it, and their little dog, and the things in their house. So I spent ages painting them a picture. They had to send me heaps of photos of the things in their new house and what it looked like, because it was so new, I hadnt even been to it!
Here's what I came up with..........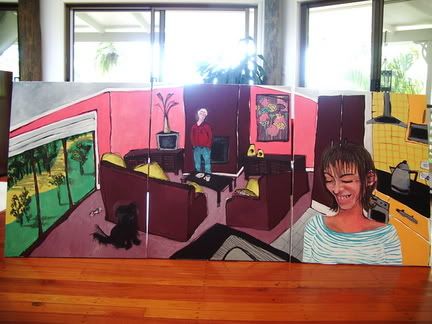 I was really happy with it, I'd spent ages on it! But when I sent photos of it to them via email, my stepmother was shocked. She started saying "I dont look like that at all!" "what is she trying to say?" "I'm not paying her for that" "I look like something out of a horror movie!" "get her to change it" "if I look like that I may as well slit my throat!"
And I actually nearly cried at one point, I was so upset, because she was insulting my art, and I really didnt think I made her look ugly!
Anyway, after saying 'I'm not changing it, how dare she get angry at me' I ended up changing it. Here is what it ended up looking like.........
A sad story I know. But at least she was happy with that. And I dont think I'll be doing any artwork for them EVER again!
Does anyone else have any stories like this? Please share!