A few years ago the lovely MrsFlibble made a sock blanket for her daughter. I've been wanting to do something similar for quite a while.
I went through my sock drawer and any that had holes in or had been previously repaired got sent to the blanket fund.
I cut the tops with the pictures into 2, one for each side. I used the elastic tops as hair bands, and the foot also got cut into 2.
Then, i patchworked them together really simply in squares. I had 51 pieces (some of the bottoms had really gone too far to use). So i made a 10x5 thing. It's too small to be a blanket, and too small for a rug. I plan to add to it whenever I do a sock drawer clearout.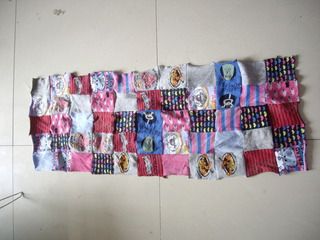 The whole thing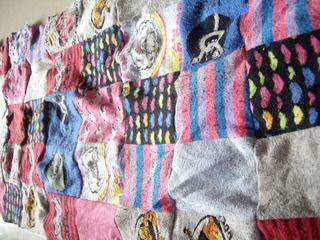 Some detail
More detail.
I hope eventually to make it big enough to back with rug backing for the floor. I think it'll make an interesting rug.