As promised here are pictures of the freshly washed, very awsome T shirt that gkswife reconstructed for me.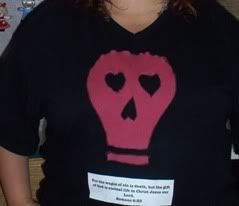 the verse on the front is Romans 6:23 "For the wages of sin is death, but the gift of God is eternal life in Christ Jesus our Lord"
the back, there is also a verse which sassy missed in the picture is Ephesians 2:8 "For it is by grace you have been saved, through faith - and this not from yourselves, it is the gift of God".
Both of these verses I love and Romans is one of my favorite books.
Not the best pics so if you have better ones please post.