I've been experimenting with collage since I have a box full of random scraps of paper. I discovered that my lovely inkjet printer can print on tissue paper without smearing. You can then glue it on magazines, paint chips, etc.
Printed tissue paper on magazine ads adhered to paint chips
Printed tissue paper glued to paint chips and then water colored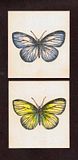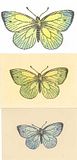 I'm thinking about framing these!