Meet Cyril, the Postman Hedgehog, knitted from the pattern in Jean Greenhowe's Knitted Hedgehogs. I had a bit of money from a relative at Christmas and I decided that I wanted to get Knitted Toy Collection and Knitted Animals but when I saw Knitted Hedgehogs I knew I had to add that to my basket too.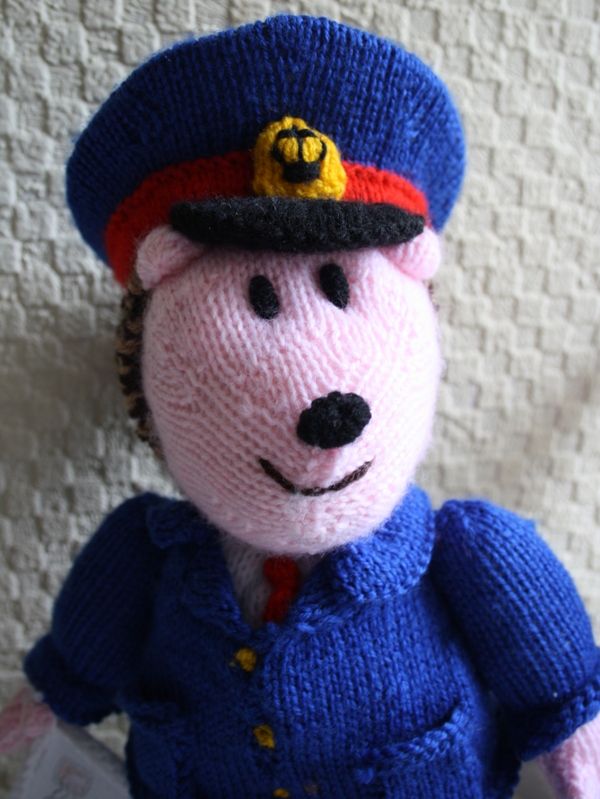 As I'd knitted a Puss in Boots for my Nan and Grandma Humpty Dumpty for my husband, my husband made noises that he was feeling a bit left out. I'd originally planned to do one of the baby hedgehogs in cute pastel green and purple so I'd have a ready-made gift next time someone announced the imminent arrival of a sproglet but as soon as he saw the Postman he announced he had to have him. And as I'd been considering that pattern myself, who was I to refuse him?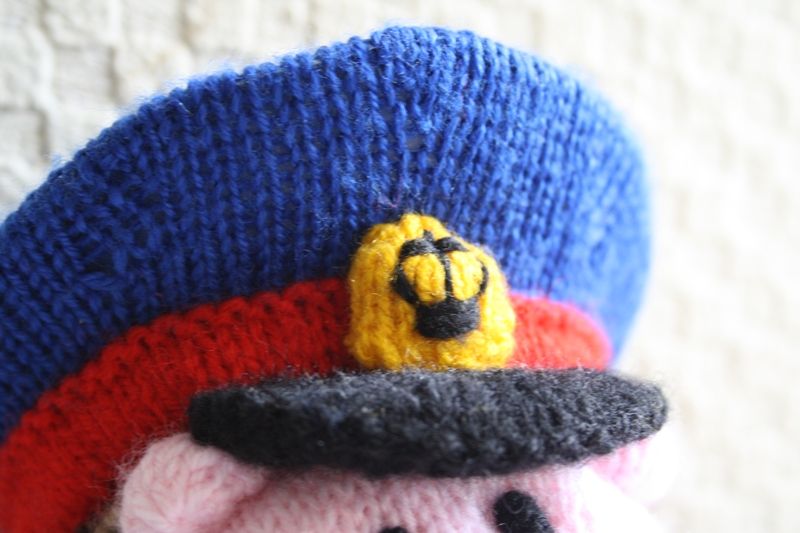 I don't really do embroidery so I was tempted to leave the badge blank, but Jean Greenhowe's instructions are so clear that it was actually really simple to make the crown. I'm really impressed that you can actually tell what it's meant to be!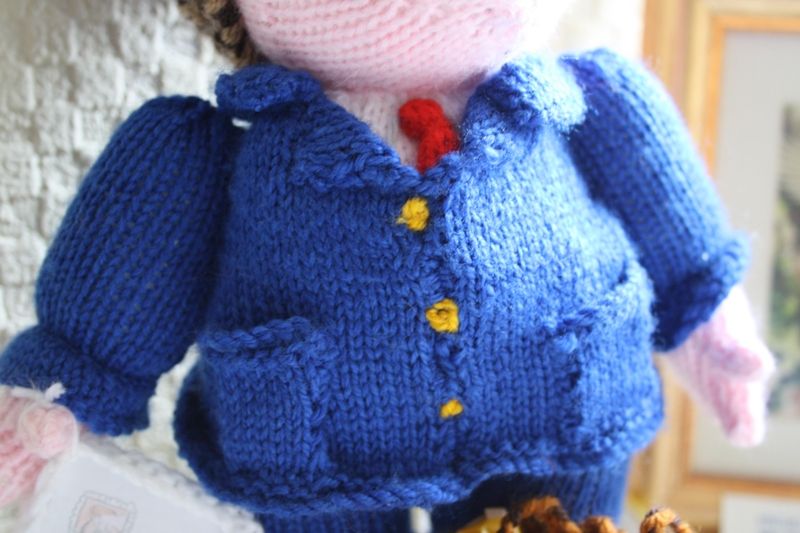 I love those little pockets. They're actual pockets that you can put (very small) things into. I love that level of detail!
I'd actually pretty much finished him well before yesterday (which was why I'd moved on to knitting Great Uncle Angus). Cyril himself was finished but not his little accessories - the tie for the postbag, the tag and the postcard. I wasn't too bothered about making them, but now they're done I think they really finish him off well.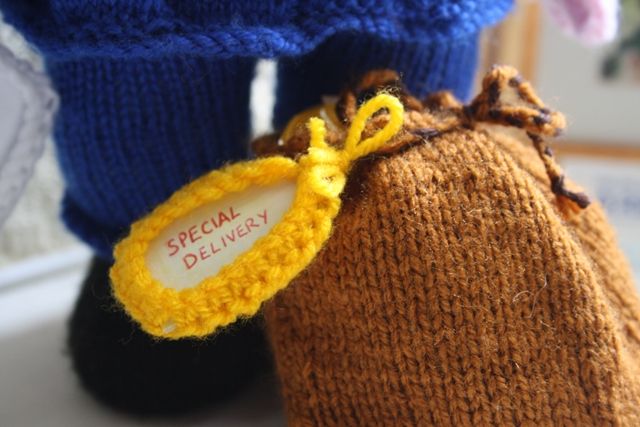 The tag is double-sided because I felt like it needed something more on the other side. I also should have made the tie by doing a twisted cord, but I hate doing long ones and this should have been 30cm long. In the end I measured out three stripes of wool (two light brown and one dark to make it look interesting) at 45cm each and plaited them together; the end result is just over 30cm long and I think it does the job just as well as a twisted cord. Given the way I make twisted cords it's a lot neater too!
As a reward for getting a new role at work my husband bought me a box of miniature Heroes this week so I picked out all the caramel ones (which I'm not keen on) and stuffed Cyril's postbag with them. If I'd had a bit more time I would've actually bought some treats to go in the bag for him, it's a little bit cheap giving him chocolates that he bought, hehe, but I wanted to give him Cyril as soon as he was done and I felt like he needed something in his postbag.
It's a little bit ironic that one of my favourite bits of Cyril isn't even knitted! I spent a good bit of time yesterday making this postcard: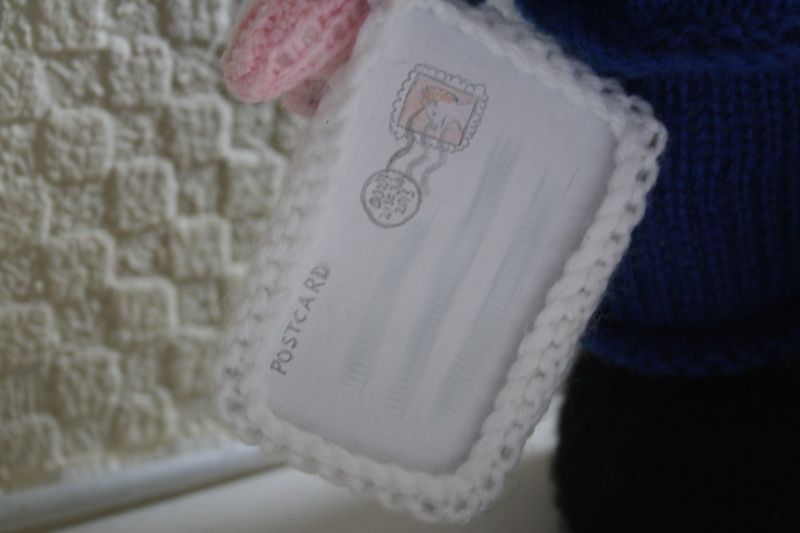 The picture in the pattern booklet had a little crown on the stamp but I thought a hedgehog would be more appropriate. I've blurred out the address but it's addressed to my husband (and postmarked the day before so that it would have arrived by yesterday's post
). On the other side is a little note to my husband telling him how wonderful he is at taking care of me and how much I love him (he's just treated me to a Kindle Fire so I think he deserves a hedgehog bearing gifts
).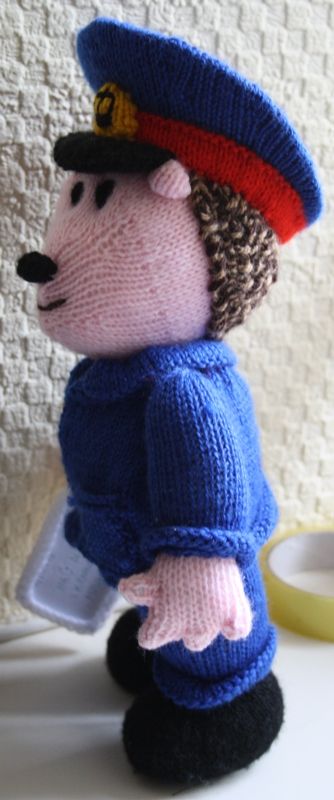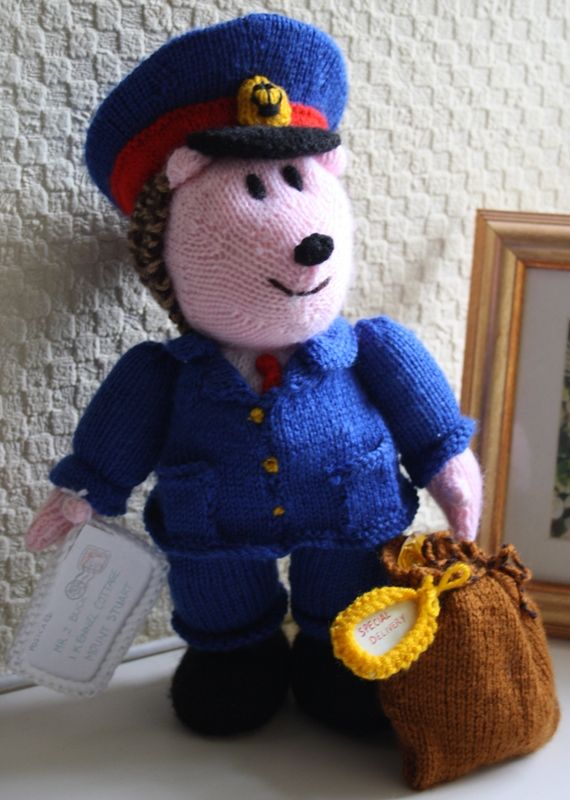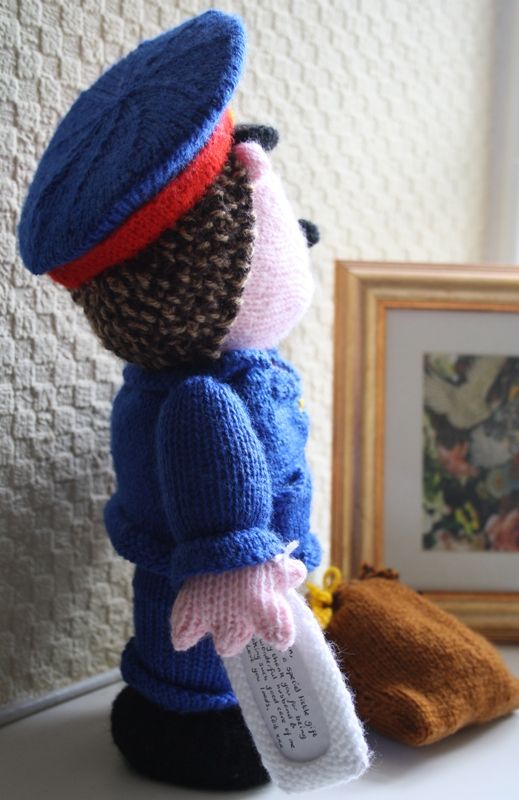 I really enjoyed this pattern. It was so detailed and fairly quick to knit up (I started him back in May I think and had a course and an exam which slowed me down). I've decided that the next one I do from this book will be the Town Crier, who will be named Cedric (because I kept on accidentally calling Cyril, Cedric). I think they'll make a good pair.
Has anyone else made any patterns from this booklet? I'd love to see photos of your little hedgehog guys.