I got my lovely tote bag from crazy_bc_jen!
I gave her tons of suggestions based on things I like, and she went with a nature theme (always good with me):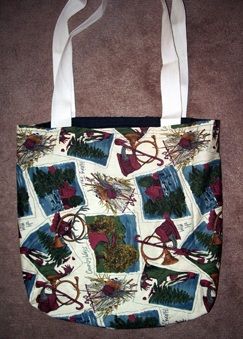 Neat fabric huh? I like the colours, and I think the fabric is sort of retro-looking, which I like because (like most of your Craftsters) I'm a big secondhand-shopper.
And, it's reversible!!!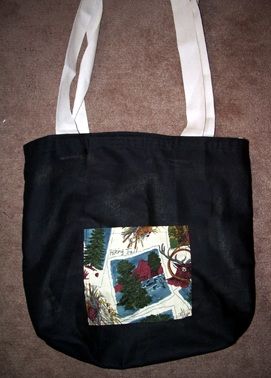 which is SO GREAT because, during the cold months when I usually wear a black coat, I can use the bag print side out! And in the spring and summer, when I'm more brightly dressed, I can wear it black side out and still have my customary touch of black.
Close-up of pocket:
And, it's the perfect size for everything I need to take to and from work, or the library, or wherever. So, THANK YOU JEN! I love it, I'll be using it every day, and I'm really pleased at what I've received in my first swap!
(Now I'll just be biting my nails 'til the package I sent gets to Singapore!)