Hello all, I am so excited about teaching myself to sew. I've had my mom's sewing machine on long-term loan for a while but I only just figured out a few weeks ago why it wasn't working for me (didn't know the presser foot lever existed. Seriously.
) But I've just been zooming along since then! So far I am restricting myself to stretchy fabrics because it seems way easier.
I'm a big fan of comics of all sorts, so I was super excited to find this cool Japanese T-shirt second-hand (I actually exclaimed, "Yoink!!" out loud as I grabbed it in the store). The shirt was too big for me, and I badly wanted it to be a dress. I took two other shirts that I never wore and threw this together. I'm so proud that it actually fits me, even more proud that it actually looks cool.
(I'm not photogenic but, since I personally prefer to see Craftsters enjoying their crafts, I'm sucking it up...)
(I'm wearing a long sleeve Tee under it. And apparently something unsettling is happening just off to my left. So bad at posing.)
Here's my half-mannequin Elizabeth wearing it. It looks better on her because she's, like, 36-20-34 with a 7-inch neck.
(And that's one of my helper-cats, the "good" helper who likes to curl up quietly on a pile of scraps and sleep beside the sewing machine.)
Close-up of awesome fabric. Little kids versus biker gang, apparently.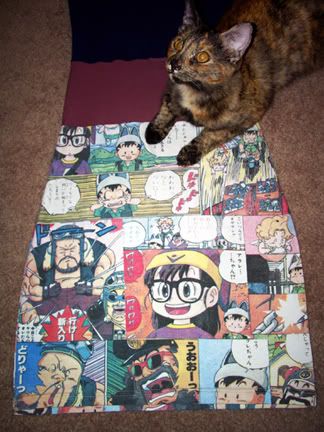 (That's the "bad" helper who likes to wrestle with clothes that I'm trying to pin and run off with the measuring tape. So cute though.)
This sweater is a combination of two Value Village items--the pink top I loved, but it was a bit too snug (it's a child's shirt.) The brown sweater was way too big.
On me
On the floor.
I didn't actually sew in the zipper, I just cut that whole strip off the other sweater.
Sorry about the ridiculously long post, can you tell I'm just super excited about sewing? It's so much easier to make clothes than I thought it would be!! Now, I just have to learn to read patterns...
thanks for looking!!