I am truly ashamed for posting so late. It's true that sometimes things come in threes, whether negative or positive.
This is the lovely chunky page sent to me by Little Green Dragonfly. It's stunning, and I love Pan's little sculpted face. He arrived with his head floating around in the package but that's nothing a little E6000 can't take care of.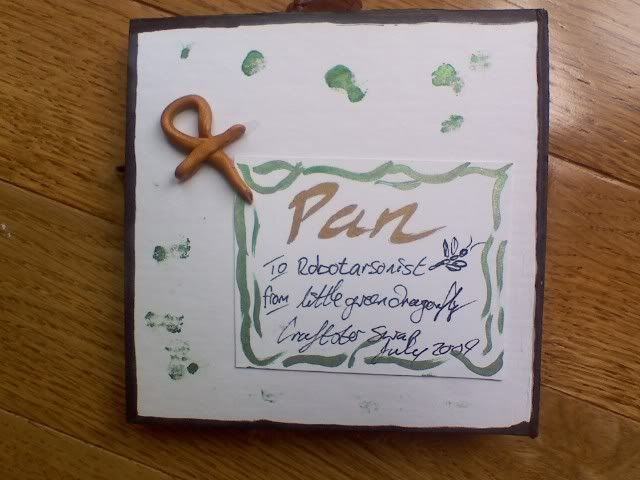 To answer your questions on how I did the batik type colors on my pages, I used a combination of watercolor, wax, india ink, and rubber stamps. I used a layering technique and first saturated the page with water to allow all the colors to run into each other. Then once dry, I only filled in selected areas with color. If you drop regular candle wax on wet watercolors it will not adhere to the page fully. This allows for you to paint around the edges of the wax once more, and then lift the wax from the piece later to reveal a small void of color. I don't think this makes much sense buuut it's all my brain will allow me to express currently.
I hope to join you amazing ladies again soon, but for now can't afford to. On top of all the other mess I very recently got into a car accident which totaled my vehicle and I'll be needing to save for a new one. I'm still here and it is my hope things will be looking up soon. I thank all of you for your patience and kindness.
Gentle Breezes and Blessed Be.