The first time I carved a stamp was in the 5th grade and it was some sort of monkey for a school-wide "Save the Rainforest" campaign. Anywho I'm now a sophomore in college and suddenly got the urge to carve some more, partly due to my discovery of "letterboxing" thanks to this post:
https://www.craftster.org/forum/index.php?topic=157748.0
So here are some stamps I've carved!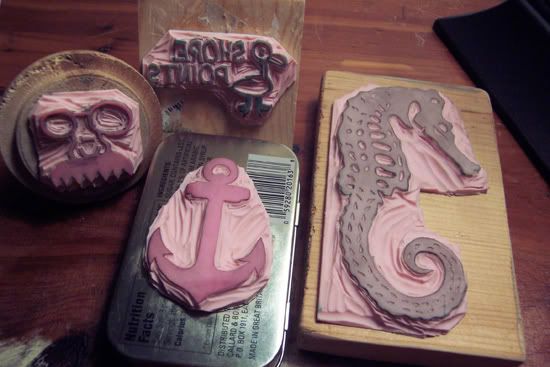 Here's all 4 of them together.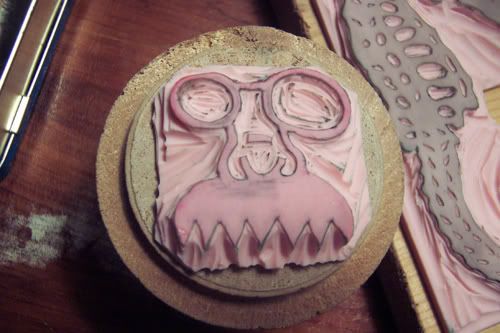 A close up of the mustache stamp. There was no real reason for me to carve a mustache stamp...I just felt like it. The little guy is a dingbat from a font on this site:
http://fonts.tom7.com/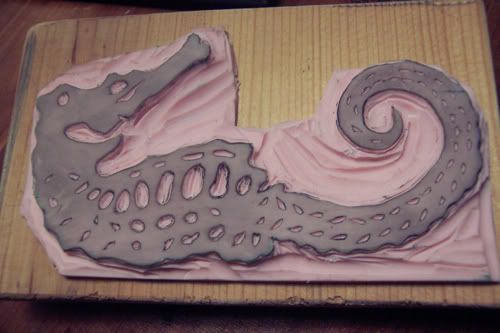 A close up of my personal favorite, the sea-horse. I traced the design myself in illustrator based off of a couple sea-horse skeleton pictures.
And now for the actual prints of the stamps...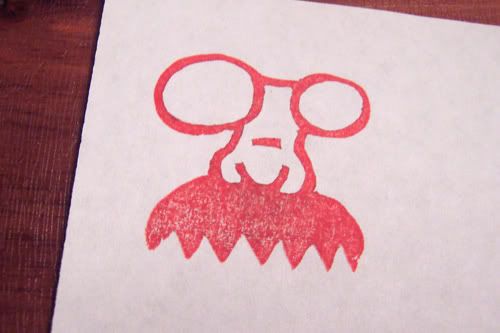 Mustache man. I enjoy him because you can draw in his eyes and hair and mouth and stuff depending on how you're feeling.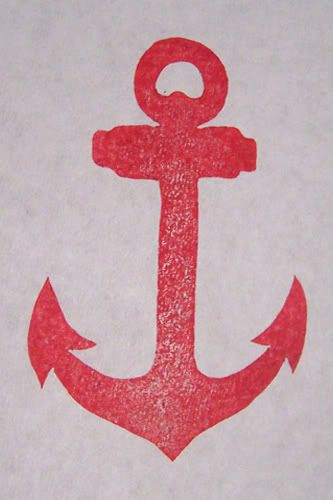 Anchor. I'm into nautical things as I live right by the beach and have this same anchor stenciled onto a bag of mine.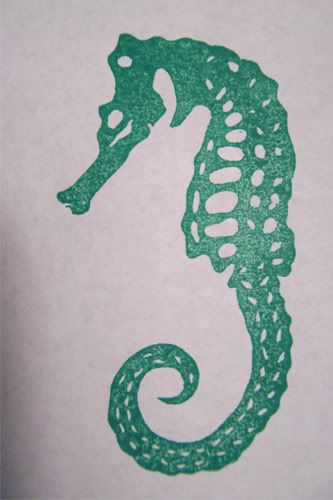 My favorite sea-horse. I really love this one. Don't know what I'll use it for yet, but I love it.
My friends and I came up with this design for our letterboxing name. If you're from the Jersey Shore like I am, you know we're often referred to as "shore points" on many road signs, thus our "team name." This was the first stamp I carved so it's a little rough, but I love it anyways. The duck is another dingbat from a font from the site listed above.
All the stamps are mounted on pieces of wood, except for the anchor. I just glued that to an altoids tin cause it was the right size and it does the job just fine.
If anyone wants a tutorial, feel free to ask! Enjoy
EDIT: Added my little tutorial!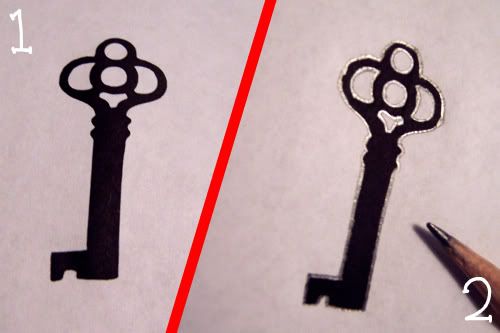 Step 1:
Print out your image so that it will fit on the piece of stamp material you're going to use. I did a skeleton key that I traced from a pic I found online.
Step 2:
Trace all the outlines of your image using just a regular pencil. Easy peasy.
Step 3:
After finished tracing, cut around the image so the area around it is smaller. Lay it, traced side down, on top of the stamp material. I usually tape it down so it doesn't move around.
Step 4:
Using a pencil again, scribble all over the back of the image making sure to scribble on top of all the pencil lines on the other side.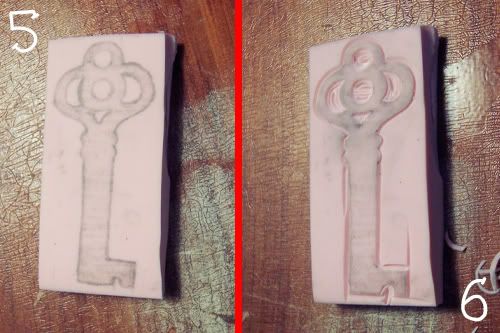 Step 5:
Voila! Your image should be transferred onto the stamp material. At this point I cut away any excess material with scissors
Step 6:
After the image is transferred, I use the smallest blade that I have to carve an outline around the entire image. I also carve out any tiny areas that require detail.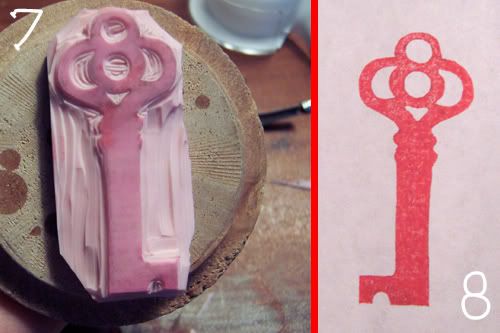 Step 7:
Once detailed areas are done with smaller blades, I switch to larger blades and carve away any other unnecessary areas. I trim with scissors then super-glue it to a piece of wood.
Step 8:
Finally, push it into some ink and stamp it!
A few notes on supplies
As stated above, I use Speedball's Speedy Stamp (also called "pink stuff") to carve my stamps into. Great stuff! It's not crumbly and is really easy to carve:
http://www.misterart.com/store/view.cfm?group_id=3553958&store=003&AID=10273655&PID=1606362
I use Speedball's Linoleum Cutters with different size blades / cutters to carve the stamps with:
http://www.misterart.com/store/view.cfm?group_id=3553401&store=001&AID=10273655&PID=1606362
I use Versacraft Ink Pads (
http://www.blockheadstamps.com/ink_versacraft.html
) for stamping onto fabric but for paper I just use any old ink pad that I can find. I have some from Wal-Mart, Rag Shop...any brand will do. Also littlehands, I think the way the ink thins out was just a fluke, but I like it as well
Thanks for all the compliments. Carve some of your own and post em here!