Preview time!
This item will be going up in my shop as soon as I can re-open (not tonight, maybe tomorrow, maybe longer).
"The Little Calorimetry That Could."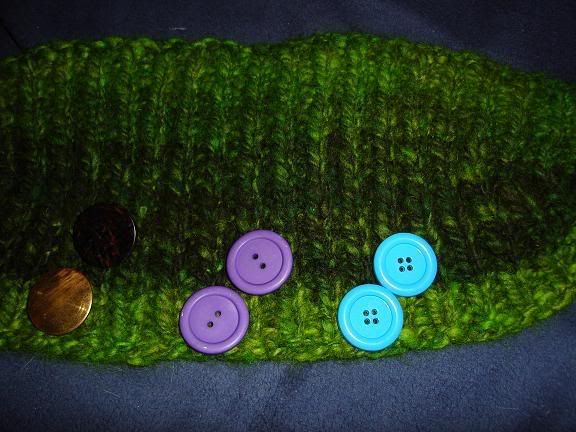 This is a handspun
Calorimetry
made out of 100% wool yarn. It was a chunky yarn, so the gauge is bigger, with a funky chunky texture. The buttons you see are bigger than a quarter! It fastens with two buttons (a modification that I believe pixiefarts came up with, see
here
The picture shows your choice of buttons, but the purple and blue ones are kind of washed out by the flash (strangely, the colors in the calorimetry are pretty true). The buttons are all some kind of vintage, and I know the brass one on the left is decidedly old. I'll send whichever buttons you choose loose and you can stitch them in place to custom-fit your head, or I can sew them on for you if you're completely hopeless with a needle and thread.
This will definitely take three points, because it took hours. and hours. and hours. and hours. and hours. It's called "The Little Calorimetry That Could" because it gave me so much trouble. I carded the wool by hand to spin it! The staple is a bit short, so be aware that there's some risk of pilling.