~ Msviolaceous' Den of Iniquity ~



I am located in the United States, and I have a really fluffy dog, and a cat who likes to jump on whatever I'm working on.

~ I am open to custom orders! PM me! ~



Handdyed Spinning Fiber!
I take custom orders! Available fibers:
Merino Wool
Faux Angora (nylon)
Firestar (sparkly nylon!)
Silk Noils
Two points for two ounces.

Love Study. 2 oz lofty merino roving in light and dark magenta and pink tones. Two points.
http://img.photobucket.com/albums/v472/Msviolaceous/Craft%20Projects/lovestudy.jpg



Hand-Dyed Yarn! Dyed by me with food coloring and possibly some kool-aid.
PM me for custom orders. 100-gram skeins of Patons Classic Merino dyed to order. 2 points per skein. Limited stock of KnitPicks Bare Merino Laceweight (2 points) and KnitPicks Bare Sock Yarn Dye Blank (3 points) for custom requests!

Angel. Base yarn is Reynold's Blizzard, 65% alpaca, 35% acrylic, 100 grams, 66 yards, super bulky. This is a fun, fluffy yarn! Yarndex describes it as "plied" but it's more like a chunky single. Soft blue with lilac highlights. Three points.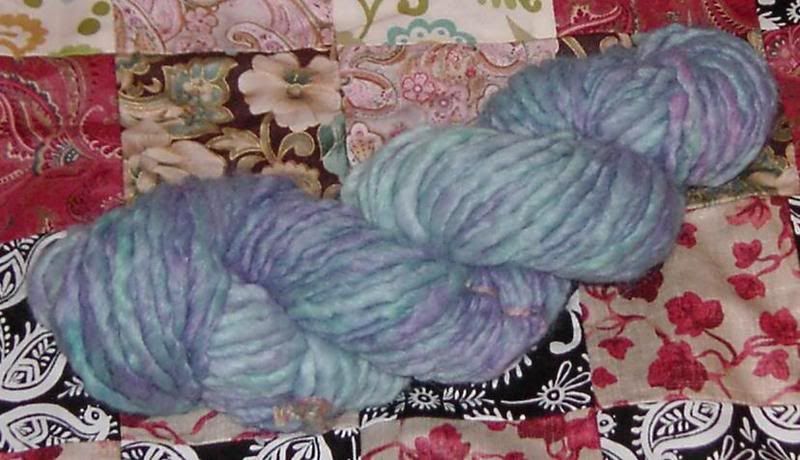 Handspun Yarn! Have an idea or a project in mind? PM me for custom commissions, with all of the same fiber options available as for custom-dyed roving (above), but possibly more if I can find it in my stash. New option: Navy and silver merino/silk. Three points for a ~50g/2oz skein.

Lime Soda. 47 yards worsted-to-bulky domestic wool yarn. This photo looks weird because it's color-adjusted, but the vibrant crayon-esque green color was getting lost in the wash-out. This isn't perfect, but think "cartoon grass green" or "green apple candy green". It has a little halo because it got slightly fulled in the process of setting all that green. Two points.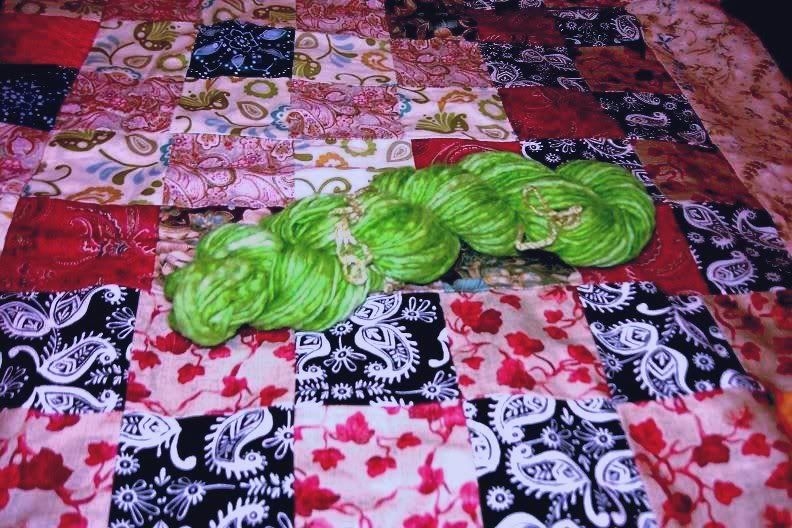 Brown Bag II. *mumblemumble* ounces of coopworth wool, 2ply, 53 yards of super-bulky. It's warm, chunky and fun! Three points.
http://img.photobucket.com/albums/v472/Msviolaceous/Craft%20Projects/brownbagtwo2.jpg

Georgia Peach Gone Twisted. 2oz, 7 yds of supercoil art yarn. Made from lapoli's "Georgia Peach Gone Batty" batt with wool and a bit of sparkle. What to do with such a ridiculously impractical yarn? You could use it to accent a felted piece such as Booze Bag (though if I were to knit it, I'd snip the holes afterwards rather than knitting eyelets in, since there is so much variation between coil yarns). You could also wear it as-is, to make Wooldancer's Collier. Or you could just add it to your stash to look pretty, because it will! Three points.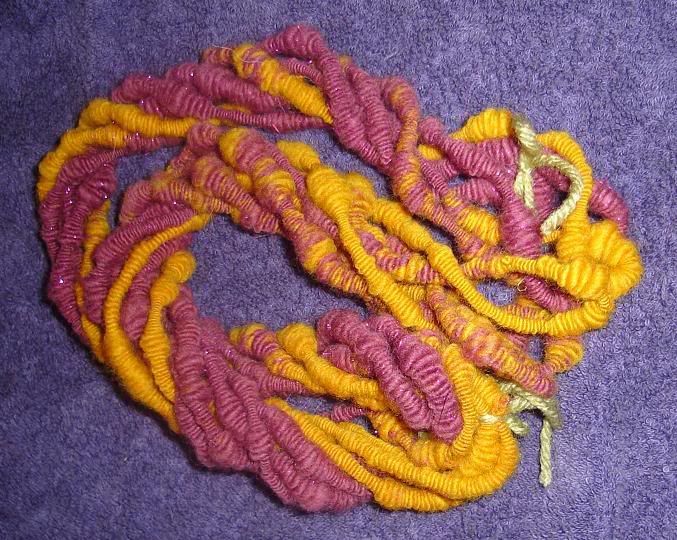 Knitting Service! I will knit a project for you out of yarn listed anywhere in my shop, just claim the yarn and the knitting separately! PM me beforehand. Negotiable points depending on size of project.




Knitting Kit. I will add needles required for a project and any tools I have from my stash of vintage/used knitting stuff, when you claim yarn from the Supplies section. If you like, I can also make up some cheat sheets with photos for techniques used in the pattern you are going to use. Subject to availability, PM first. One point.



Wine charms. Put them on wine glasses at gatherings so that people don't get their drinks mixed up! Set of six with glass and metal beads on memory wire. Choose from silvertone or goldetone. The photos are color accurate, except that on the silvertone set there are light pink beads that got washed out because the flash interacted badly with their iridescence. Try and imagine a pale pink that looks lovely next to the green! Even if you have no use for them personally, they are great to have on hand for "in case of emergency" gifts, especially as a host/hostess gift alongside a bottle of wine. One point per set.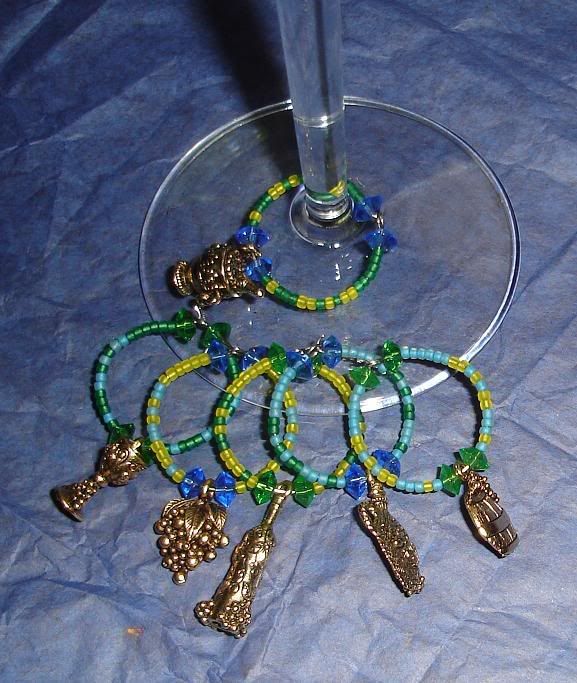 I can accomodate custom wine charm orders, but PM me first!



Rhumba bracelet/choker. Wooden beads on memory wire. The memory wire will conform to fit any size wrist (modeled on my tiny arm.) It can also be worn as a choker, though it's not exceptionally comfortable that way. .5 point.

Newly Reduced!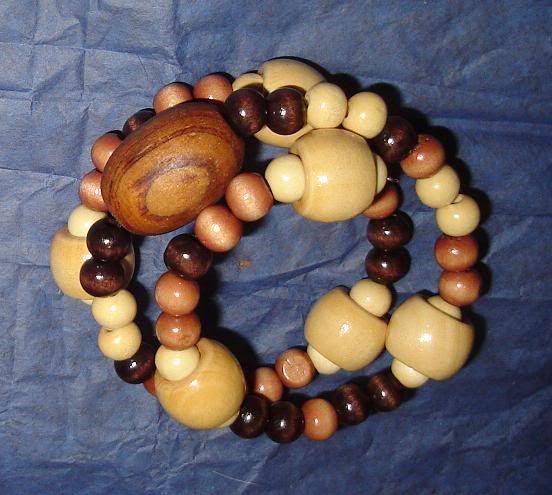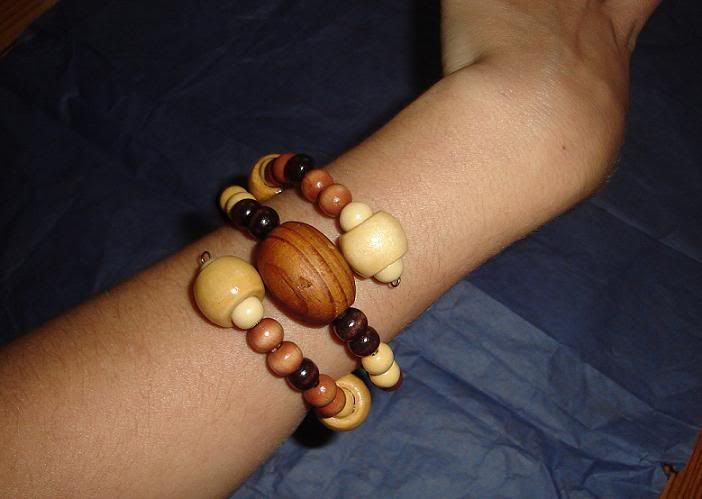 Pirate Clip. Pirate head bead securely glued onto an alligator-style clip for the hair. I don't remember whether the bead is acrylic or ceramic, and it feels kind of halfway between the two. His earring is metal and swings freely! Claim this cutie before too long, because if I have to look at him in my shop for a while I may regret posting him and take him back for my own collection. b]One point.[/b]





Oddments Button Bobby Pins. I was going to make these mismatched bobby pins and have them claimed individually, but in the end I liked the pairs I was able to put together. Choose from royal purple, earth tones or zebra. These are vintage buttons glued securely onto the standard heavy bobby pin finding. They are thicker and stronger than the standard hide-in-your-hair type of bobby pin. One-half point per pair.





Ladybug Anklet. Sterling-plated chain, wire wrapping, and lobster clasp, with glass beads. Adjustable from 9 to 11 inches. Custom sizing (and conversion into a bracelet) available upon request. One point.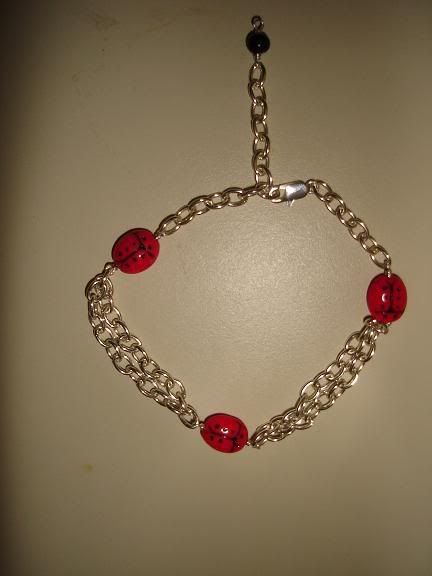 Jean Blue Button Bracelets in two sizes. Though they are each adjustable, one is sized and proportioned for a 5-6 inch wrist (modeled on my 5-inch wrist), and the other for a 7-8 inch wrist (modeled on my mineral water). The bracelets feature vintage buttons attached to a silver-plated chain with silver-plated wire wrapping and a silver springring clasp. The buttons may look black in some of the pictures, but the only colors involved are denim blue, cobalt blue, navy blue, and white. .25 point.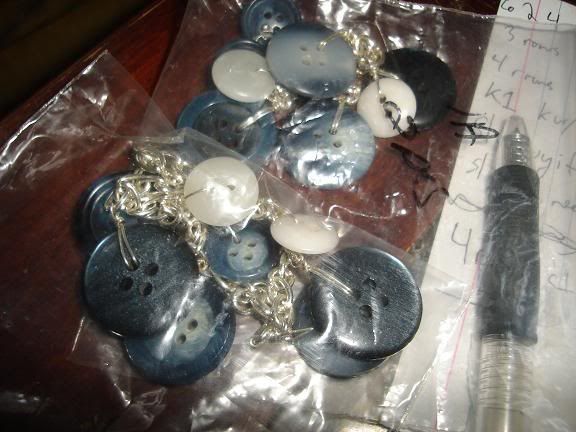 Small: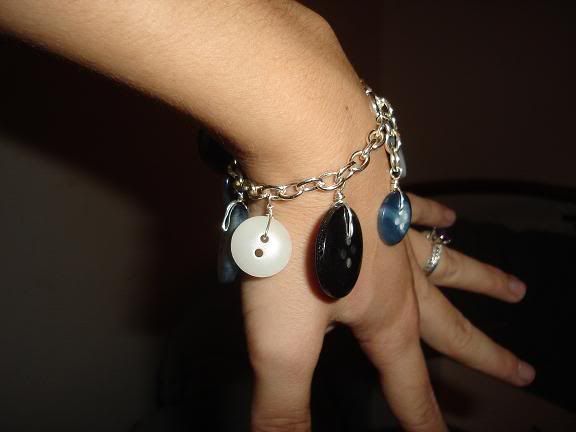 Supplies!

Louet Roving. 2 oz hank of beatiful navy merino shot through with silk threads that shine and look like silver against the wool. It's soooo beautiful in person that I must share it! I can also do custom handspun with this roving, and a skein of non-custom handspun will almost certainly show up soon. Picture yanked from Louet's website because my camera is on the fritz. Two points. (Two available.)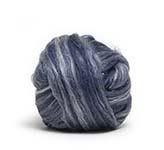 Brown Bag Roving. Big bag of 8 oz. 100% coopworth roving. It is good for practicing new techniques, but I've gotten all the practice I can stand out of it and I still have two bags full that came with my wheel! It drafts nicely and isn't overly coarse. The color will appeal to the boring men in this life. Three points per bag. (Two available.)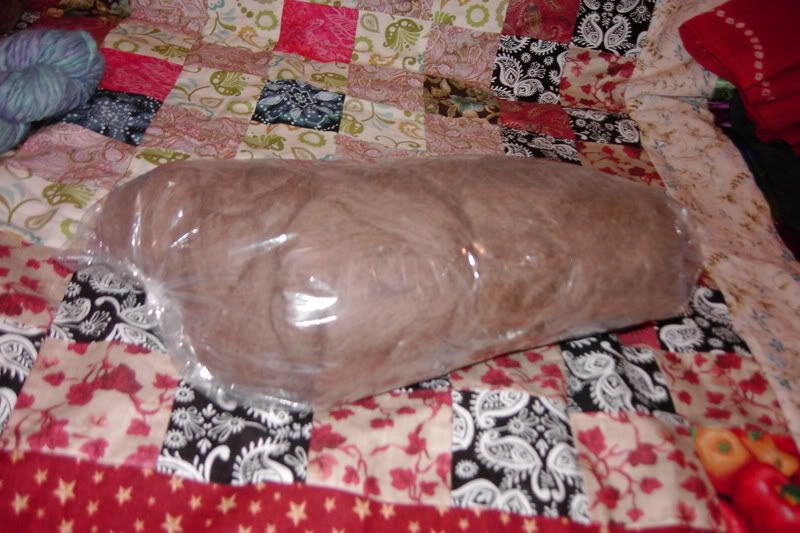 Gourmet Ribbons. These short lengths of ribbon are from the amazing desinger ribbon store Mokuba. If you ever get a chance to go in one of those stores, do it... it's like a crafter mecca. I was going to sew these into headbands, but it still hasn't happened and I don't know when my sewing machine is realistically going to come out of storage. Choose from brown chenille, swiss miss, marshmallow rope, and faux tatting. The brown chenille is shorter than the others at 19.5", while the rest are approximately 21". Also, this picture muted some of the gorgeous subtlety of tone-on-tone color in faux tatting. It's really my favorite of the bunch, and I held back a similar one in green for myself.
.5 point each.


Araucania Quellon Yarn. A brilliantly soft viscose rayon and cotton chenille yarn. 161 yards per big 100 gram skein. Colorway #2, with varigated peach tones. The second photo is pretty true to color, but I left the first photo up so you can see the subtle varigations in the yarn. I have two extra skeins, but note that they have already been wound into balls. Also, this yarn has no dye lots. The two skeins I have should be pretty close to each other, but alternate balls to minimize striping if you want to use both on one project (no need to break the yarn, just carry it at the edge.) I made the ruffled collar from No Sheep For You from one skein with plenty left over. One skein would be enough for an ascot, two for a scarf. See also: add-ons Knitting Service and Knitting Kit, above section. Two points per skein, or three for both. Newly Reduced!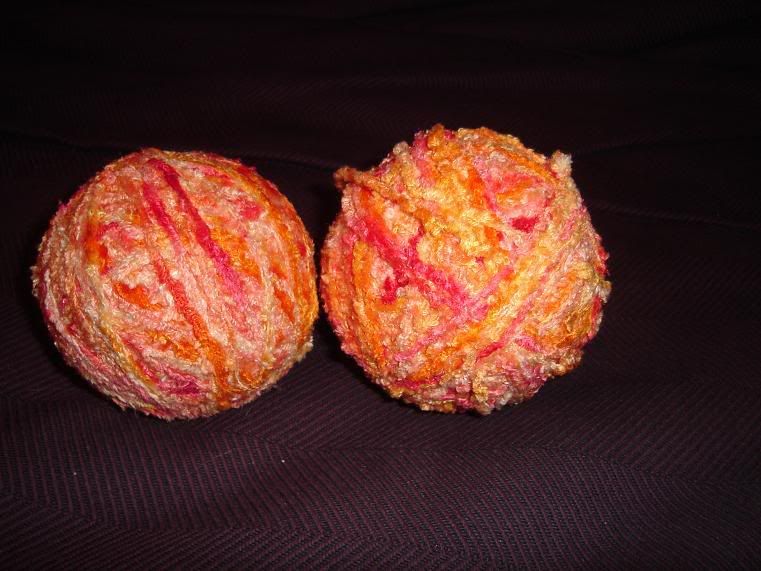 Thanks for visiting!



Wishlist: Hairpin lace loom, stenciled shirts (Dr. Who, custom ideas), Pretty Puff Slouchy Hat (crocheted pattern found on Craftster), Maiden's Glory crocheted headdress, other interesting crocheted stuff.


Starting points: 5

Current points:1
Pending points: 0
Total points: 1

November Claims:
Miss Violaceous to mullerslanefarm - Brown Bag Roving - 3 points.
AsphaltQueen to Miss Violaceous - Drops Alpaca Yarn (white) - 1 point.
lapoli to Miss Violaceous - Baby Cake #1 - 1 point.
lapoli to Miss Violaceous - Baby Cake #4 - 1 point.
lapoli to Miss Violaceous - Baby Cake #5 - 1 point.
Miss Violaceous to KatyMai - Love Study - 2 points.
lapoli to Miss Violaceous - Baby Cake #7 - 1 point.
lapoli to Miss Violaceous - Baby Cake #8 - 1 point.
Miss Violaceous to lapoli - Brown Bag II - 3 points.
loudxmouse to Miss Violaceous - vino fleur de lis necklace - 1 point.
lapoli to Miss Violaceous - morocco - 2 points.
lapoli to Miss Violaceous - attitude adjustment - 3 points.