~ Msviolaceous' Den of Iniquity ~



I am located in the United States, and my house is smoke-free but definitely not pet hair free!

Spring Fever Chunky Calorimetry-type headband with

handspun

, handdyed domestic wool yarn, plastic lei flowers, and

vintage buttons

(with small amounts of other fibers used to attach the flowers.) There's a lot of me in this piece, having worked it up from plain white roving, but I'm hoping it'll speak to someone. The way the flowers stick out kind of reminds me of old-school bathing beauty caps! It is completely adjustable because it has two buttons and a series of eyelets up either side. Last picture of just the yarn is the most

true to color

. Three points.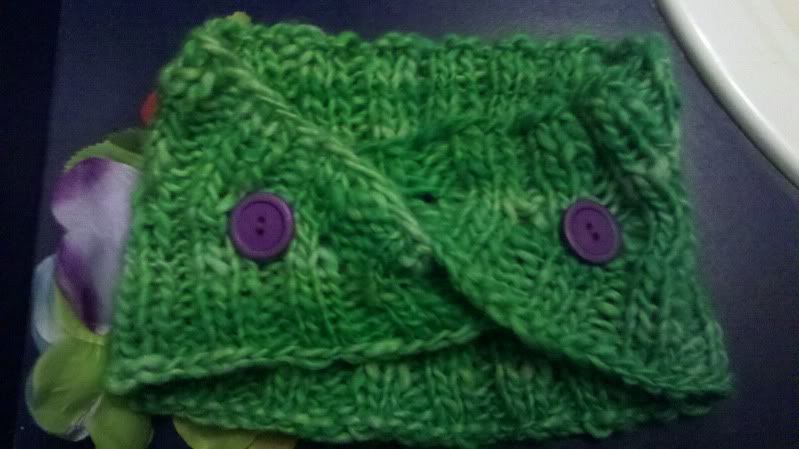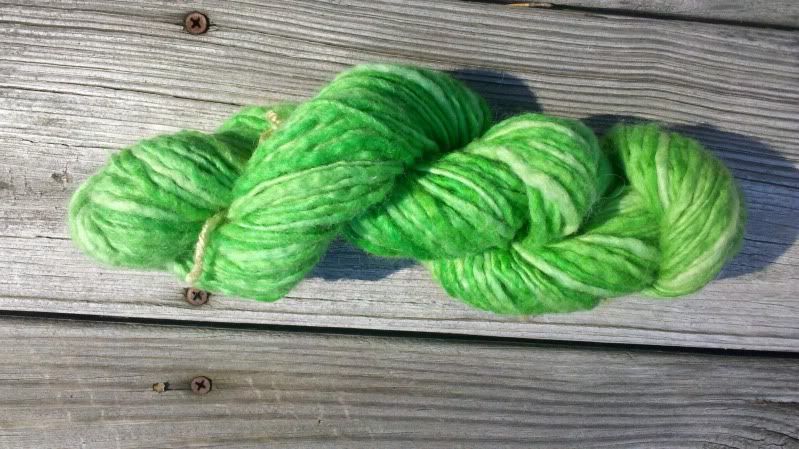 Custom Knitting Kit.
I have a stash of vintage and well-loved kntiting needles, so I can probably put together a kit for whatever you want to knit. PM me to work out the details, or to claim needles alone as a supply. Variable points.

Swirl Hat. I knit this for myself and I've worn it a few times, but it has been in the closet for a long time because I think it might work better as a child's hat or maybe for someone with a lot less hair than I. It has a ribbed edge and biased swirls, with alternating shiny and dull stripes and iridescent purple glass beads. It is a lightweight hat, made of non-wool fibers (cotton and some kind of synthetic for the shiny spots). Claim it only if you love it, because I still think it's extremely pretty and I want it to be worn! Two points.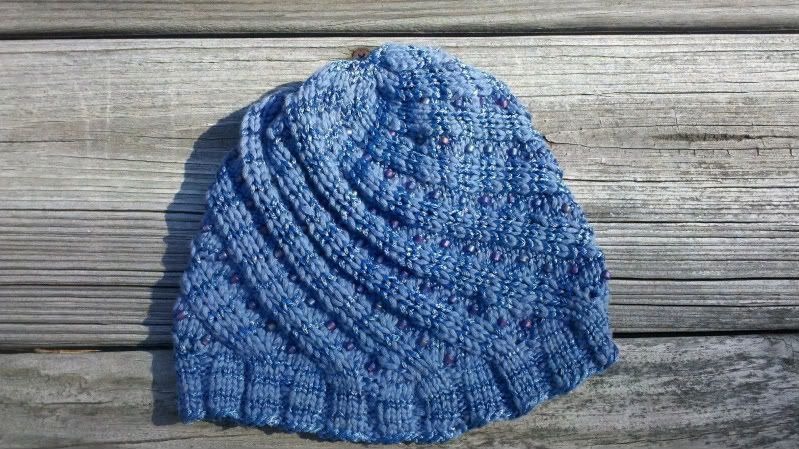 Twine. I tried spinning some "blanket" grade alpaca, and the results were... uncomfortable. I gave up on it pretty quickly. But I thought it would make a nifty alternative to raffia for wrapping christmas presents! 16 yards of strong 4-ply in mixed tan tones. .25 point.



Wine charms. Put them on wine glasses at gatherings so that people don't get their drinks mixed up! Set of six with glass and metal beads on memory wire. These are gone, but PM me for a custom set! Even if you have no use for them personally, they are great to have on hand for "in case of emergency" gifts, especially as a host/hostess gift alongside a bottle of wine. One point.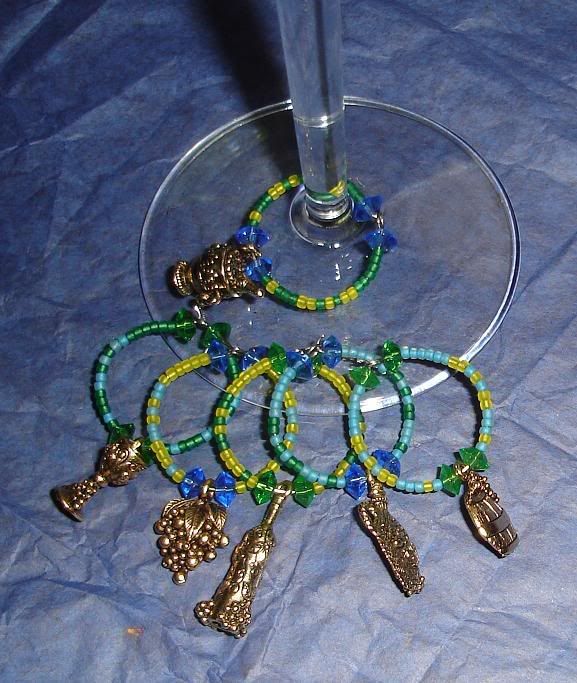 Rhumba bracelet/choker. Wooden beads on memory wire. The memory wire will conform to fit any size wrist (modeled on my tiny arm), and it's pretty durable so it would be great for kids too. It can also be worn as a choker, though it's not exceptionally comfortable that way. .25 point.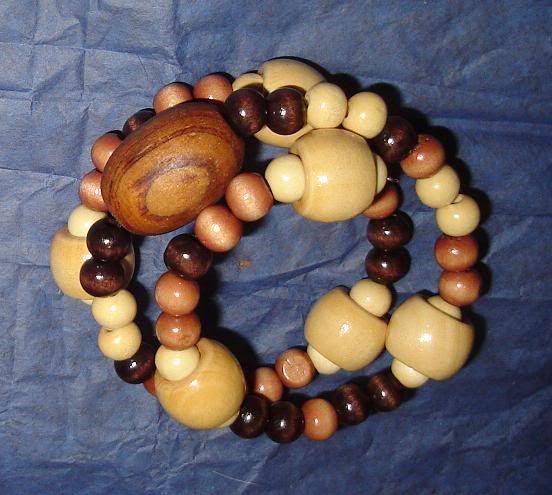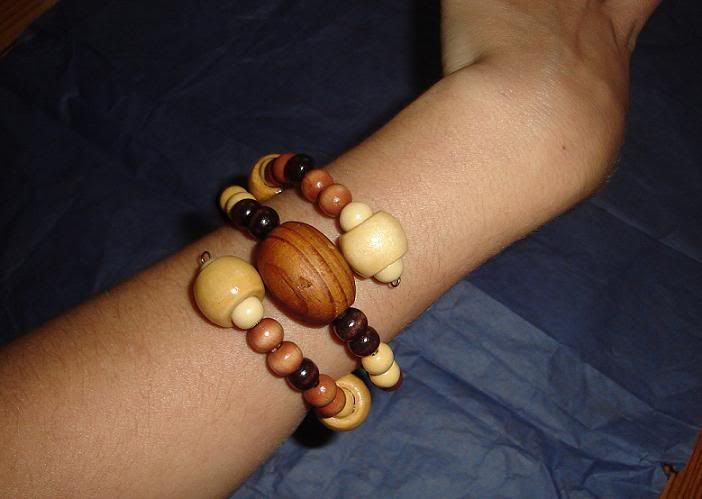 Pirate Clip. Pirate head bead securely glued onto an alligator-style clip for the hair. I don't remember whether the bead is acrylic or ceramic, and it feels kind of halfway between the two. His earring is metal and swings freely! Claim this cutie before too long, because if I have to look at him in my shop for a while I may regret posting him and take him back for my own collection. b]One point.[/b]



Oddments Button Bobby Pins. I was going to make these mismatched bobby pins and have them claimed individually, but in the end I liked the pairs I was able to put together. Choose from royal purple, earth tones or zebra. These are vintage buttons glued securely onto the standard heavy bobby pin finding. They are thicker and stronger than the standard hide-in-your-hair type of bobby pin. One-half point per pair.



Ladybug Anklet. Sterling-plated chain, wire wrapping, and lobster clasp, with glass beads. Adjustable from 9 to 11 inches. Custom sizing (and conversion into a bracelet) available upon request. One point.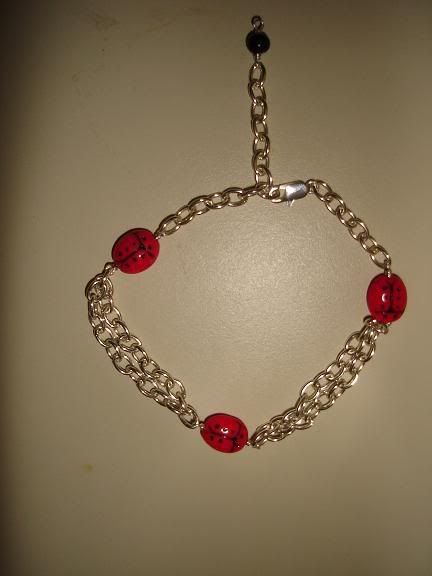 Jean Blue Button Bracelets in two sizes. Though they are each adjustable, one is sized and proportioned for a 5-6 inch wrist (modeled on my 5-inch wrist), and the other for a 7-8 inch wrist (modeled on my mineral water). The bracelets feature vintage buttons attached to a silver-plated chain with silver-plated wire wrapping and a silver springring clasp. The buttons may look black in some of the pictures, but the only colors involved are denim blue, cobalt blue, navy blue, and white. .25 point.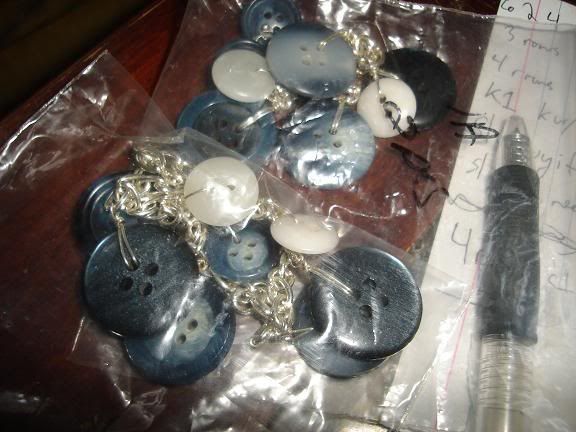 Small: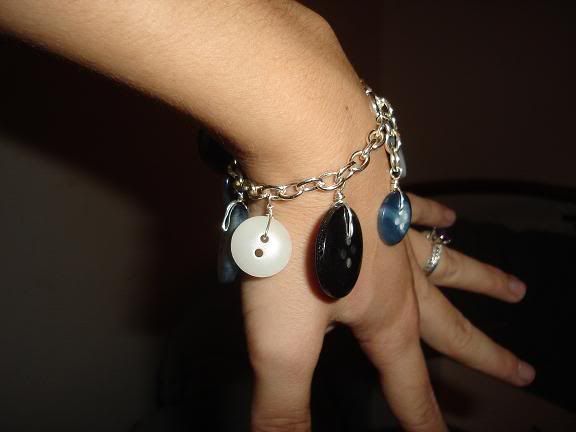 Supplies!

Stone leaf pendants. Some kind of jasper maybe? Three small (1" long) and three large (1.75" long). .25 point gets the lot.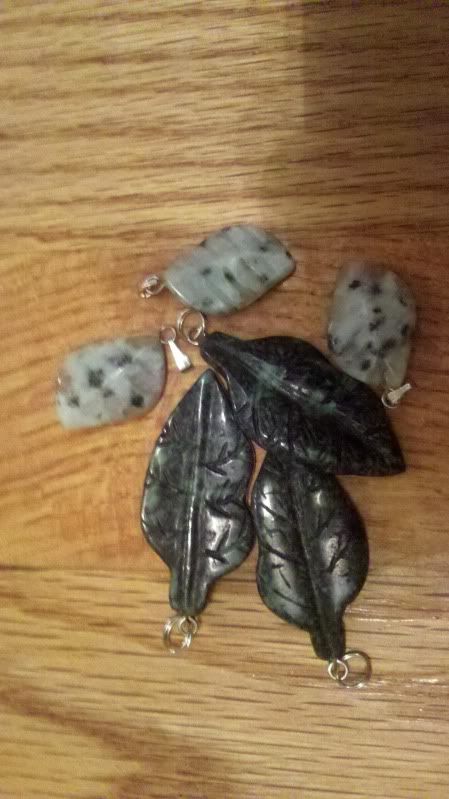 X Iron-on. Iron-on applique, large and nifty, roughly 5" by 4.5". .5 point.



Base metal charms. Bargain mixed lot. Five suns, six locks, four fishbones, three "love" keys, two "clover" keys, a penguin, an anchor, and a dove. 1" long. .25 point.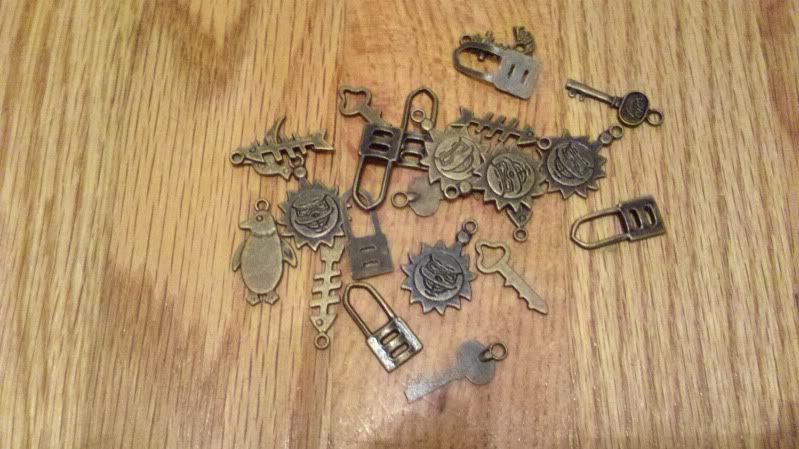 Hair barette. This is not the best quality, just a random base metal doodad I've never found a use for. Note the curve, it is designed to fan out the hair a bit. 2" wide and 1" deep. .25 point.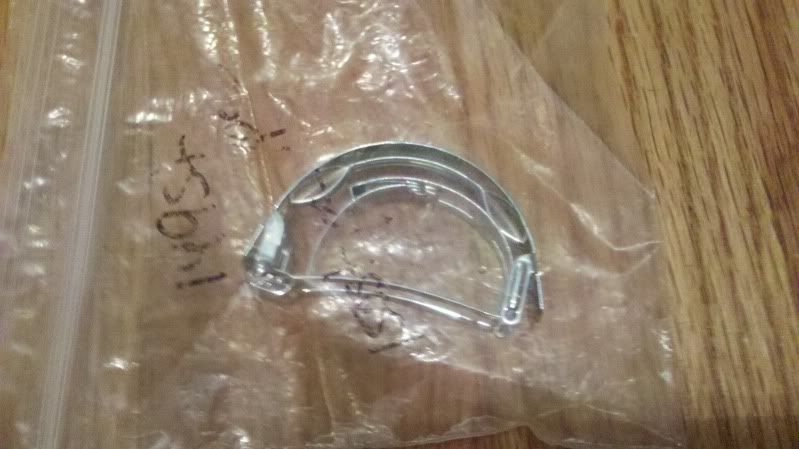 Candy tin. A bit smaller and shallower than an altoid tin, but it's the same idea. The pink edge of the box top is raised, but other than that the tin is unembossed. 3.25"l, 2.5"w, .75"d. .25 point.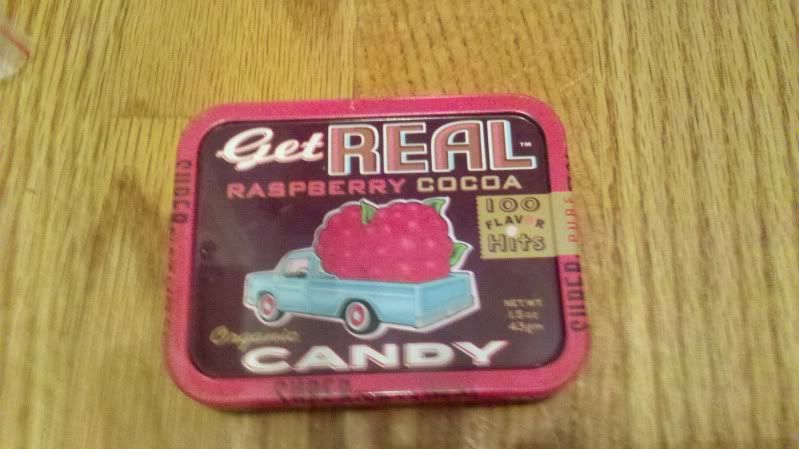 Tea tin. For decoupage or recovering. 4.5"h 3.5"d, base metal. Has an inner lid with embossing and an outer lid. It makes a pretty good seal when both are on, to keep your tea fresh. Still smells a lot like tea. .5 point.



Tea box. For decoupage. 4"h 2.5"w 1.875"d, made of nice sturdy paper/cardbord with a tight-fitting lid. Still smells a little like tea! .5 point.



Un-Altoid Tin. These boxes are the same dimensions as an Altoid tin, smooth and unembossed on all surfaces. Artwork varies. .25 point, two available.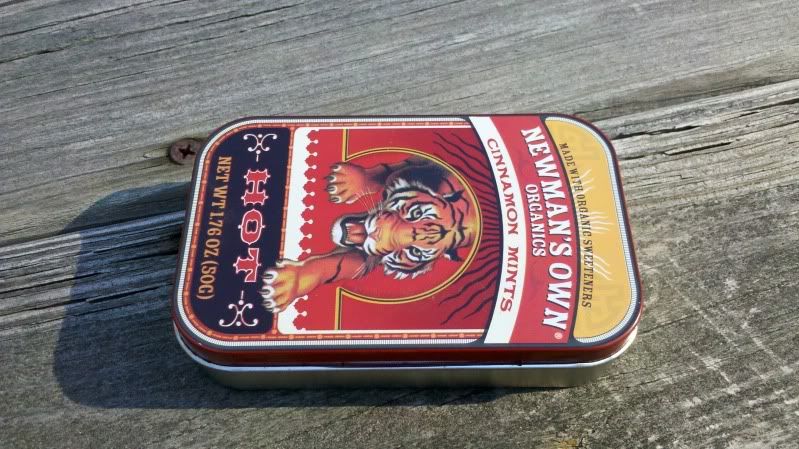 Western Charms. Set of six plastic charms, new in package (package on some of them is not in great shape though). Three sets available. One point per set.



1963 Smocked Pillows Pattern. I'm pricing this high because after perusing the internet I can't find any others actually for sale, and it looks like some have sold quickly for $25 and more. Plus, it's simply amazing, unused, uncut (though I didn't unfold it all the way so it wouldn't get messed up). It contains patterns for four different smocked pillows that I can totally picture sitting on my deceased grandma's couch, or winding up on the set of Mad Men. Three points.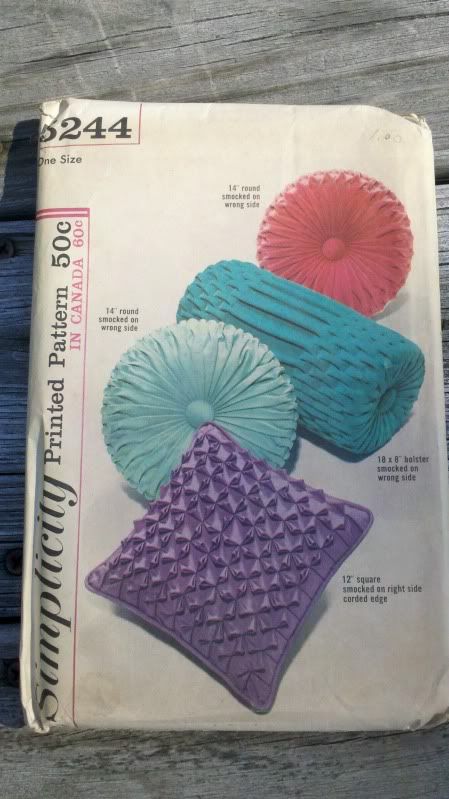 Gourmet Ribbons. These short lengths of ribbon are from the amazing desinger ribbon store Mokuba. If you ever get a chance to go in one of those stores, do it... it's like a crafter mecca. I was going to sew these into headbands, but it still hasn't happened and I don't know when my sewing machine is realistically going to come out of storage. Choose from brown chenille, swiss miss, marshmallow rope, and faux tatting. The brown chenille is shorter than the others at 19.5", while the rest are approximately 21". Also, this picture muted some of the gorgeous subtlety of tone-on-tone color in faux tatting. It's really my favorite of the bunch, and I held back a similar one in green for myself.
.5 point each.


Vintage Knitting Pattern Books. I inherited a litle old lady's stash, and these gently loved pattern books were among them. I won't be sad if nobody claims them, because when I went to photograph the contents I kinda got wistful! Choose from baby book or basics book. The baby book dates from the early 90's, and the basics book dates from the early 80's. I captured all of the contents of the baby book in this slideshow but only got a sampling of the basics book. Baby also has a couple of crochet patterns. The basics book is neat because for each sweater pattern (various styles for men, women and children) it has directions and gauge in three different kinds of yarn (maybe fingering, sport and DK?). If you have a stash yarn you're trying to match up with a pattern, this will make it much more likely that you'll find a good gauge match. There are some accessories thrown in there, too. .25 per book.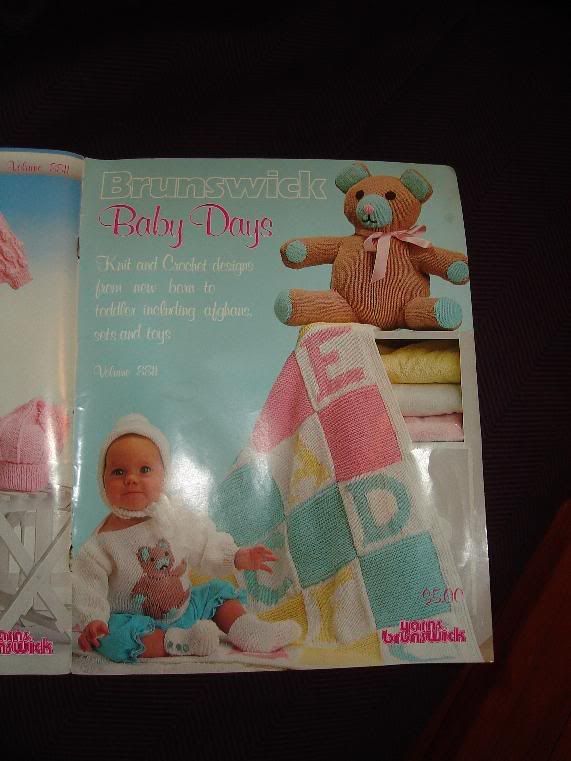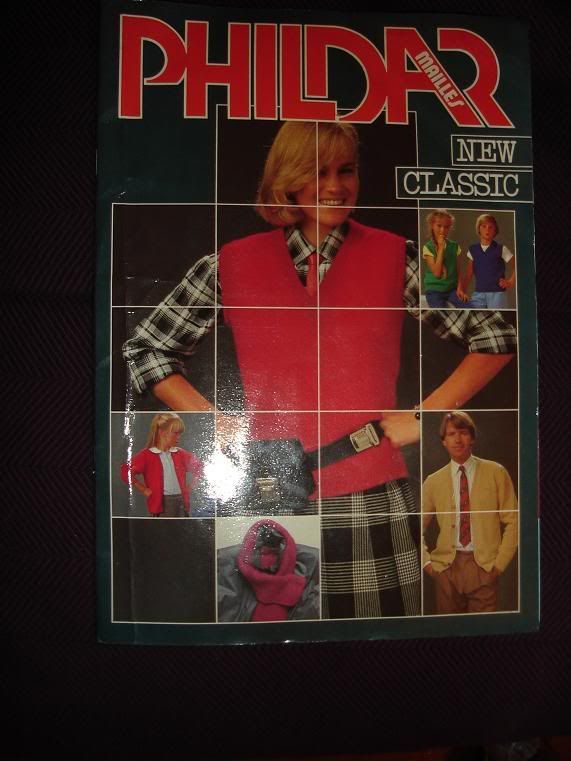 Thanks for visiting!



Wishlist: Jewelry holder, hairpin lace loom, stenciled shirts, Pretty Puff Slouchy Hat (crocheted pattern found on Craftster), Maiden's Glory crocheted headdress, other interesting crocheted stuff.


[/color]
Starting points: 3

Current points: 3
Pending points: 0
Total points: 3

December claims: