I found the greatest(?) painting in a thrift store. It was just calling for a little touch up! Here's the before shot:
Lovely, huh? But what
really
intrigued me was the story on the back: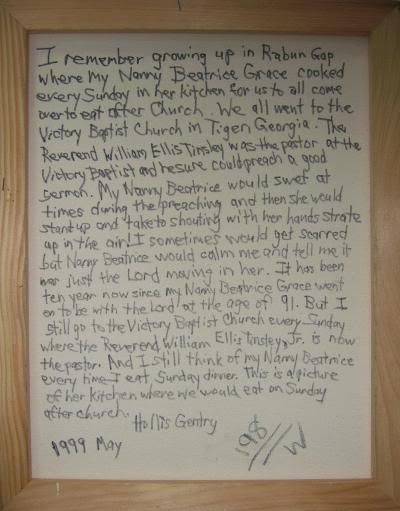 (1.98 was the price. What a bargain!)
Anyway, I took it home to do as a joint project with my daughter, BananaAmbush. We thought it would be fun to work together. SOOOO, we touched up Nanny Beatrice's wallpaper, and added some fun rhinestones. We added in Nanny Beatrice (and her dog), set the table, and put a host of heavenly angels coming through the window. The portrait on the wall is of Noel Fielding, of "The Mighty Boosh" fame. Banana loves him and thought Nanny Beatrice might too. Here's Nanny's redecorated kitchen, all ready for the family to come over for Sunday dinner:
Here's a closeup of the heavenly messengers: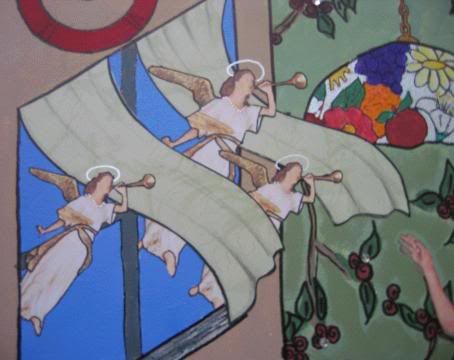 And of Nanny Beatrice Grace and her dog, with their arms "strate" up in the air! Look at all the yummy food. Who wants dinner?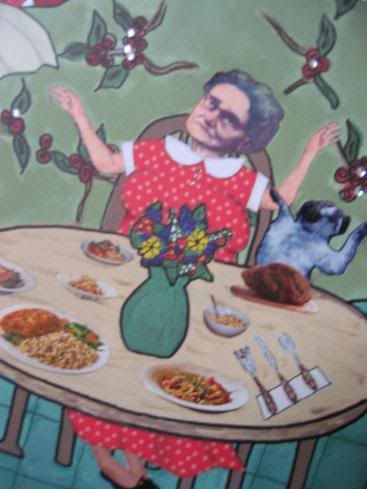 Hope you like it. We think it's fun.
this is so inspiring. I always see sad paintings in thrift stores waiting to die. I think I'll give this a try. that painting was so perfect and you really gave Nanny B a new life.
Awesome Art,
Purrrrrr