Of course, it is still very much a work in progress. It probably will be "in progress" for quite sometime, due to the very limited budgets and time constraints of students.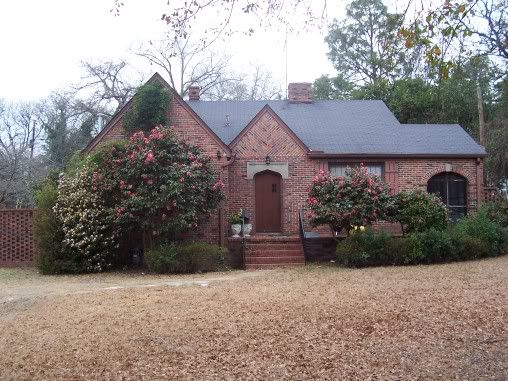 Here is the house from the outside (back in january, when the Camilla's were in bloom!)
And here is what you see when you walk inside and turn towards the dining room.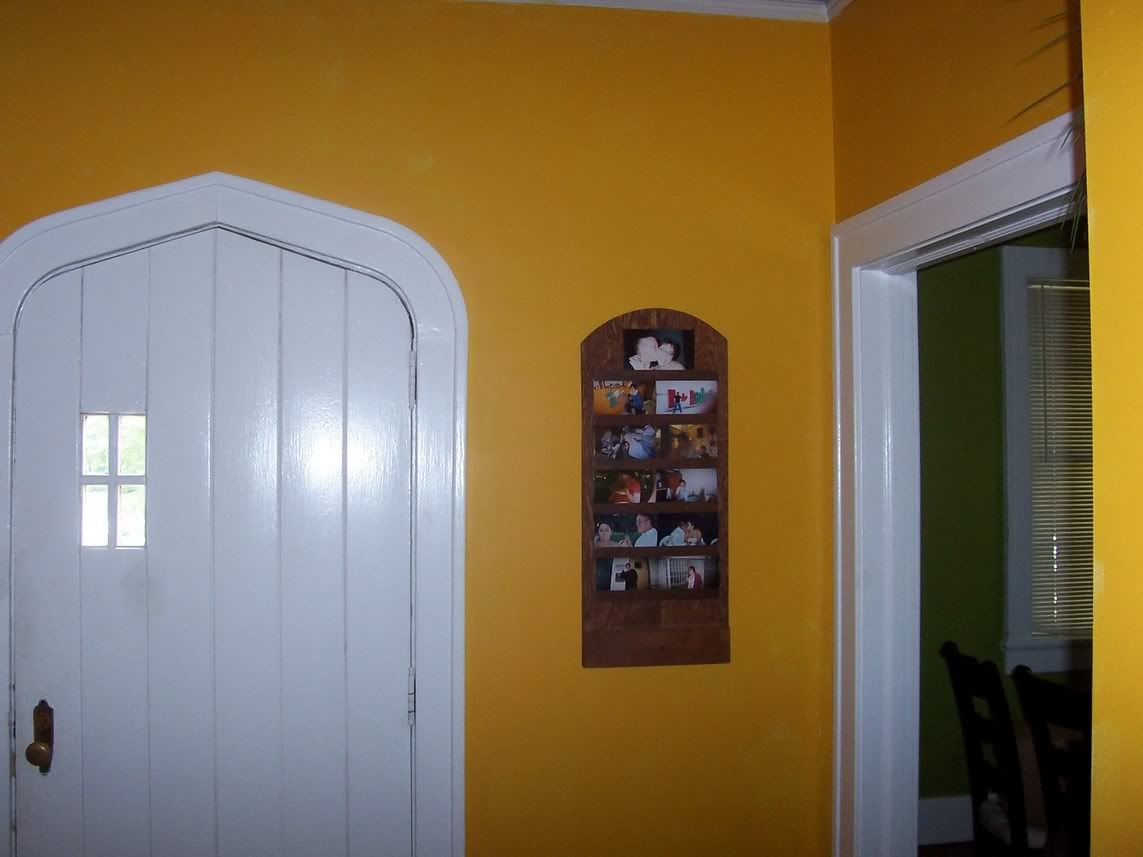 Hanging next to the door is a thing that my husband's grandpa made, that originally held the hymn numbers that would be sung that day, and as you can see it has found a new life as a picture frame.
Speaking of, here is the dining room.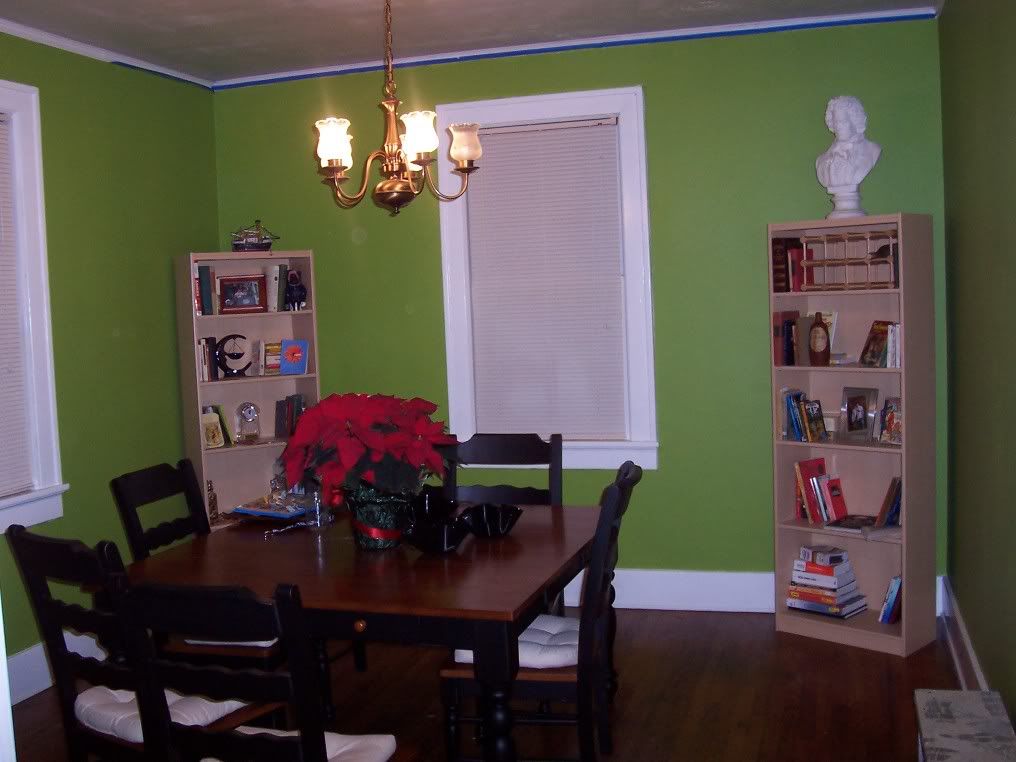 And no, that poinsetta hasn't been alive since christmas, it is another old picture- though little has changed. This room hasn't really recieved much loving yet. It needs some art and the chandalier definately needs a revamp. And we could use a rug. Sorry, I didnt mean for this to turn into a to do list.
Now, back to the living room.
This is along the wall going towards the hallway. They are self portraits I did in an art class. It feels wierd to walk by them daily, but I would rather look at them than an empty wall.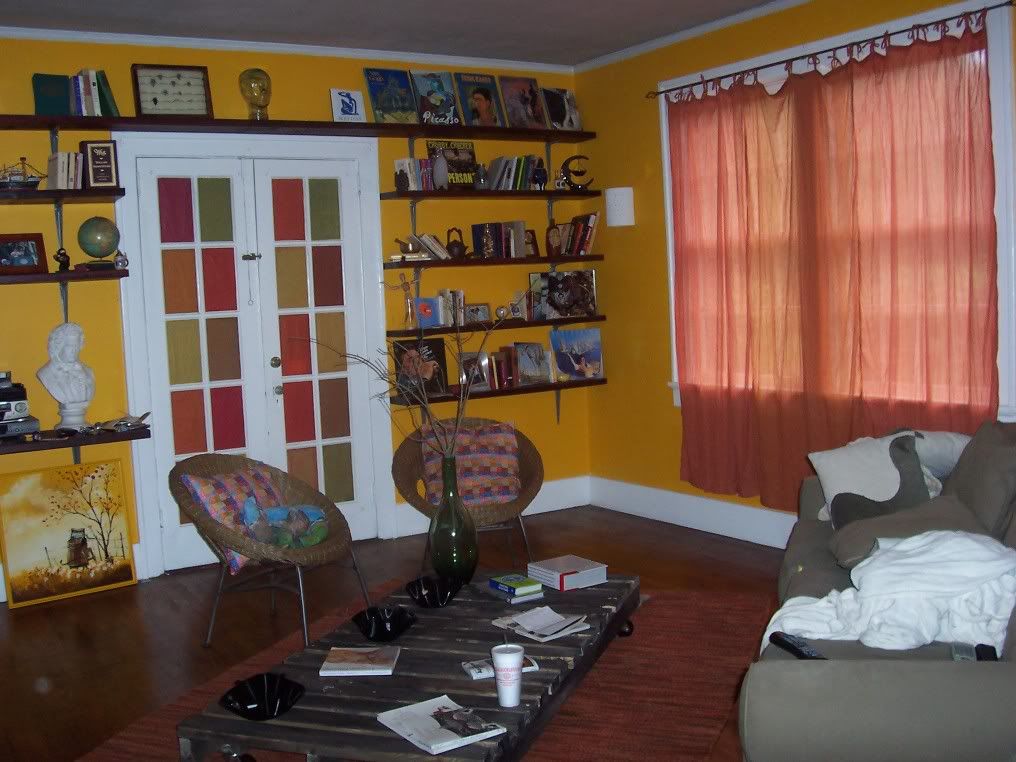 And this is the living room. Those doors open onto a cute little patio, but unortunately that patio is overlooked by our neighbors ugly garage add on, which I couldn't look at for another second, so I covered the window panes in tissue paper. It blocks a little bit of the light, but the price was right so I am not complaining. I know the single curtain looks ridiculous, but... work in progress, ok! I am just waiting for the perfect fabric to call out to me, before I can make some real curtains. oh, and of course the money to buy that fabric.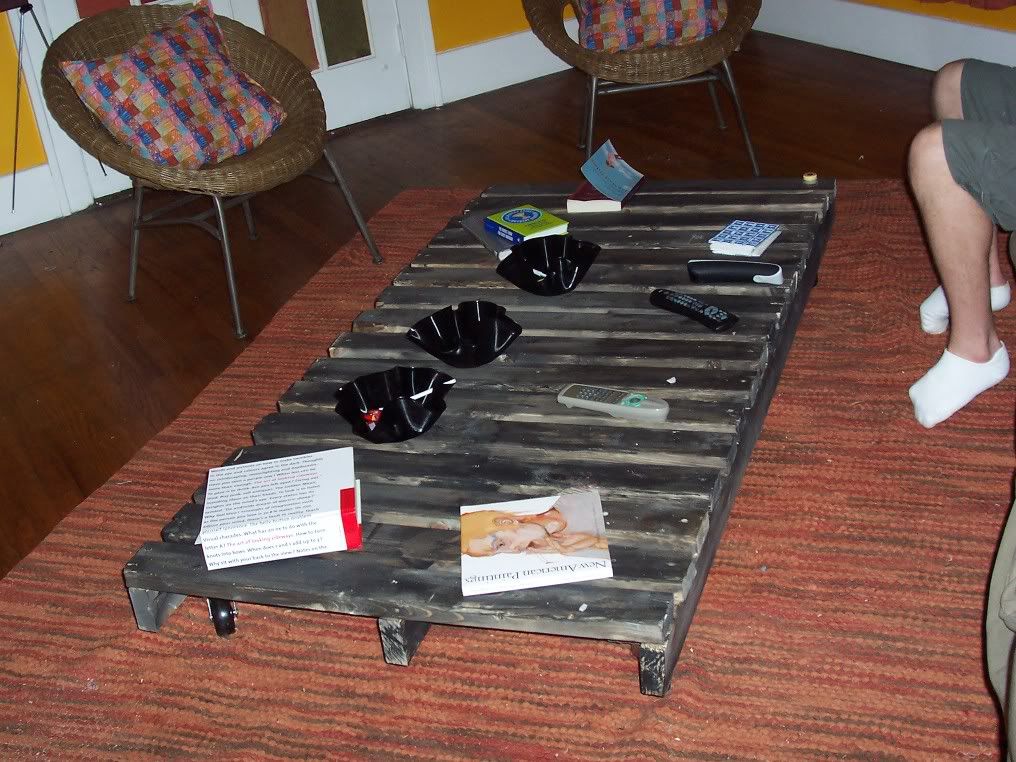 Here is a close up of the coffee table, which was a collaboration between my husband and I. It has castors on the bottom instead of legs for mobility (a 6 foot long coffee table made with studs is not light!).
Alright, here is the kitchen.
I made the curtains myself, they adjust somewhat to block the light by pulling on them (think those cloth loops in old bathrooms). Ignore the mangled curtain to the right, I need to make a bigger border so it actually fits. It isn't pictured, but the walls are actually chalkboard paint. The counters were in terrible disrepair, so we painted the tiles to spruce them up. This is of course a tempoaray fix, but has held up wonderfully thus far, and we definately have abused them.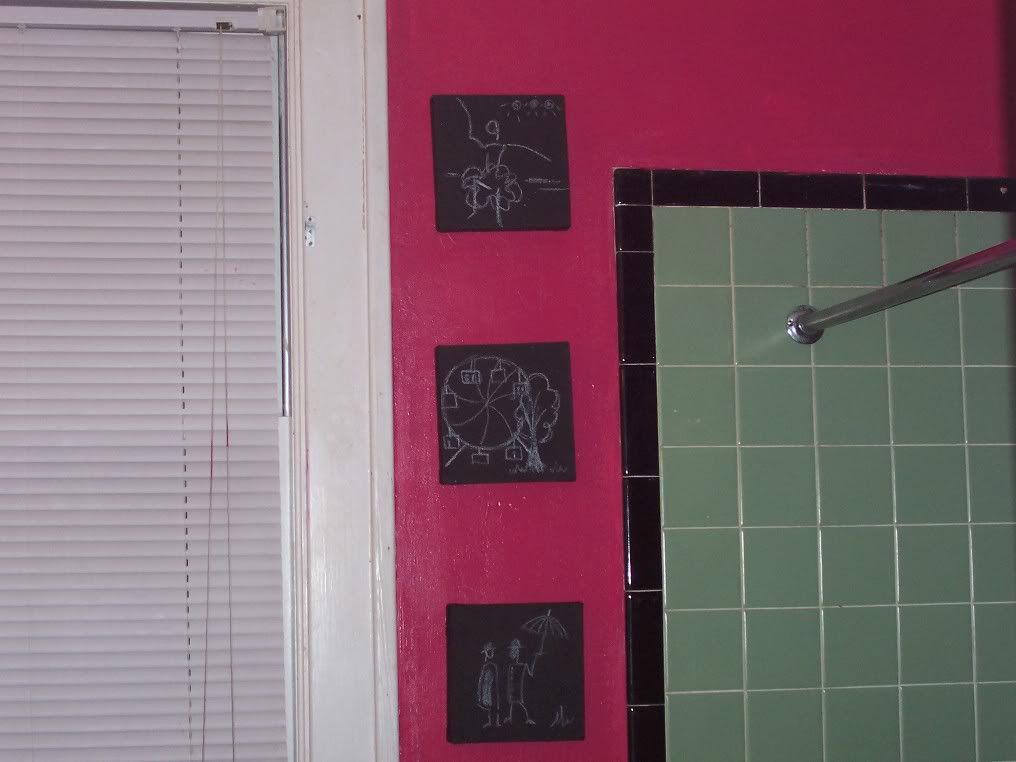 And here is the bathroom. We haven't done much to it besides paint. The tile is authentic to the house, but the grout looks terrible and a few are cracked. The tolet and sink SEEM original- meaning, they are past their prime... we aren't sure exactly what to do with the bathroom yet though. Hmmm, I guess time will tell. We did, however, add crown molding, which we painted black to go with whatever the themish thing we have going in there.
Alright, thanks for looking! I am open to any suggestions as to what could spruce the place up. Also, look for a post on the bedroom and craft room/ painting studio/ spare bedroom in the near future as we pull those together.