Bag Embellished with Guitar Picks.
I'm generally a Cons and Lee jeans girl (easiest to dance in), but this bag is for going glam...without losing the "rock" factor.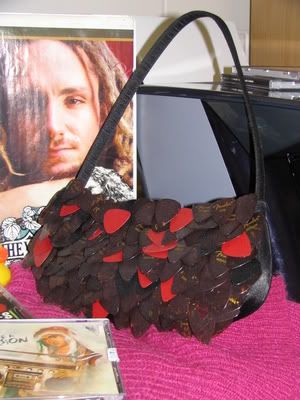 I brought a black bag from Target. (Couldn't find a clutch made out of material in my dodgy little regional town.) It had beads all over the front. I unstitched them. And I unstitched the bag's lining. I brought guitar picks (Approx. 130) @ 60cents each (AU $). I spray painted some California Clears red. Most guitar picks had holes poked into them with a hot needle. Others had beads glued into the middle. I was aiming to disguise most of the holes etc. Then I stitched and glued the picks onto one side of the bag. And restitched the lining closed.
I'm in a band, know so many musos, and go to so many gigs; so I anticipated being genuinely asked for a pick. So, there is a pocket inside, which I store 3 emergency picks. (On the Pick Bag's Uni Club debut, I was asked for a pick by a fellow muso...[That was before he saw the pick bag!])
Pick Bag with Patch Jacket (Back):
And for when I need to look mature and all..
Pick Bag with Red Shoe: