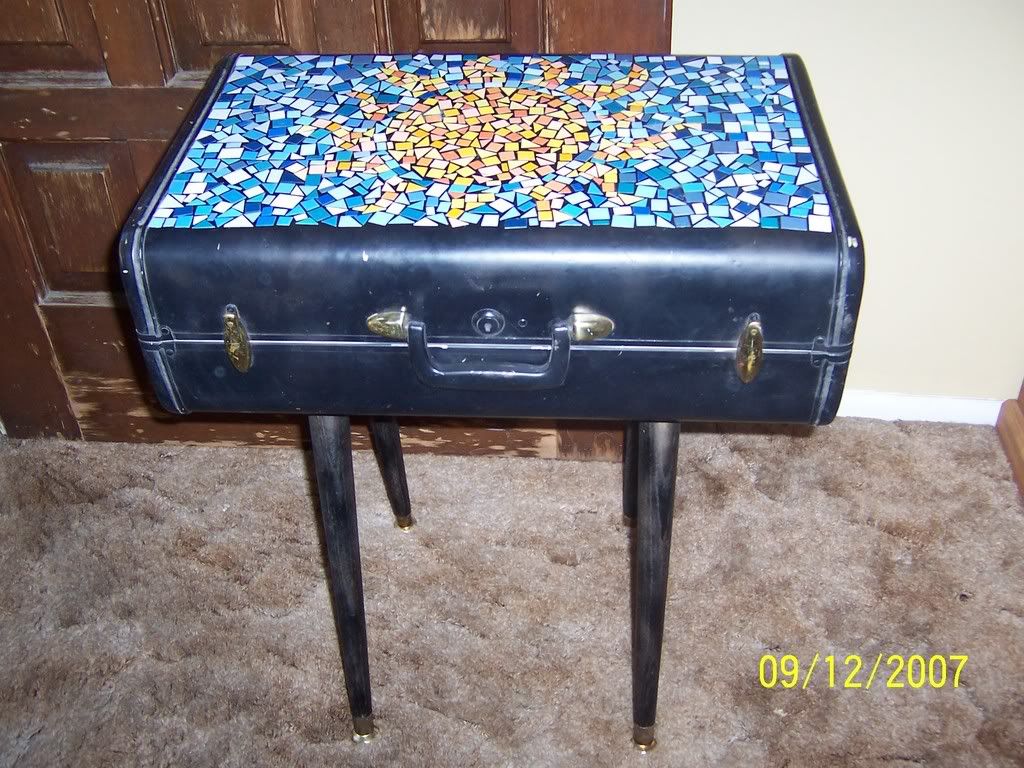 Technically this isn't done yet. I still have to screw the suitcase to the base and do something with the inside but it's sat this way for months and months so I figured I'd brag about it. I'd seen people make cool tables out of suitcases so I wanted to try one too. I've also wanted to try mosiacing. And then I also wanted to get in on making something out of paint chip samples so I decided to combine all of that together. It turned out pretty good if I do say so myself.
totally awesome! never thought to do a mosaic with paint chips! did you use the same grout then that you would for tiles? what did you use to put the suitcase on? just 4 legs or did you use a small table underneath?

What I did was take a ugly suitcase from the thrift store and painted it all black. Then I decided on a design for the top and went and collected paint chips in those colors. Then I cut off the names and numbers from the chips and then cut lots and lots of squares and triangles. I drew the design on top with a white pencil and then started to glue down pieces to fill in the top. I just used regular old elmers glue for this. This part took a loooooong time. When I was finally finished I coated the top a few times with mod podge. Because the paint chips were just paper no grout needed! The base for the table is just a scrap piece of wood also painted black and then I got the legs and the leg hardware at home depot or lowes I can't remember now. I put the legs on the scrap wood. I still have to screw the suitcase onto the wood, right now it's just sitting on top. Pretty easy really just a little time consuming.
And thanks everyone for the nice comments!