So the Jo-Ann's in my hometown had a corduroy sale. I'm in love with corduroy. And this insanely stripey stuff just jumped out at me. Later, I found a soft purple remnant that would make a decent lining .. and here it is.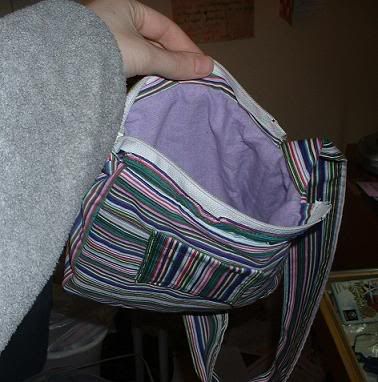 Unfortunate thing .. a little error in planning out my pattern led me to make the little flaps on top that attach to the zipper .. well .. inadequate
So there's a ton of the white zipper exposed, because if I sewed it so the zipper was covered, the bag kinda puckered at the top. Oh, and I can't sew a straight line for the life of me *sigh* Perhaps this should have gone in "Stitch and Botch".