My friend makes these and sells em on ebay, but not in *ahem* big butt sizes, so i finally made my own:
Heres the front:
It has a patch made by honeyshop13 (on ebay...) on the front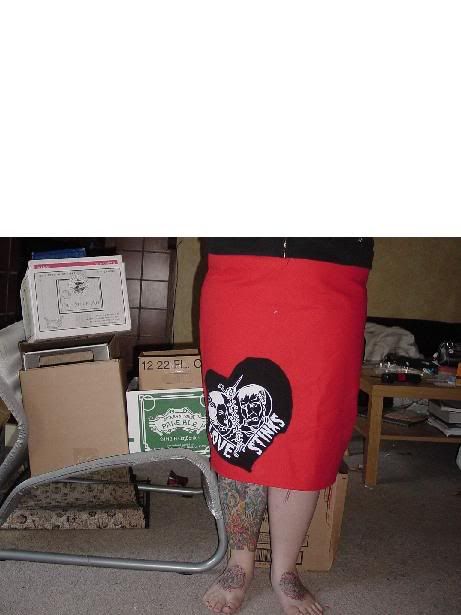 Heres the back, you can kinda see the black spider webs on each side: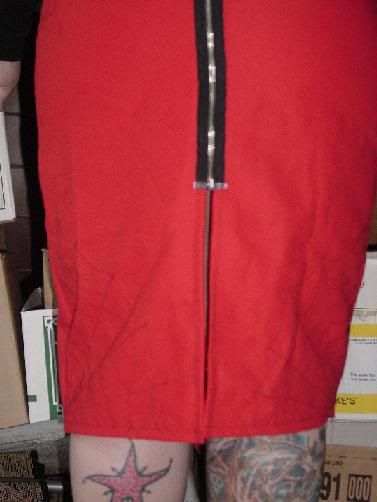 The pictures didnt come out as good as they should have, maybe some fishnets and high heels would make em better! HAHA!
Anyway, you get the idea...the fabric is a bit stiff too, so it needs some loosenin up time.
Oh yea, and im not sure if i like the heart patch on it now or not...what do you think?
Okay, so heres the little Tutorial You all wanted: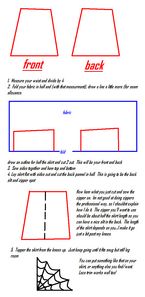 Well, theres the pictures...haha, cant read it much...i'll type it out:
1. Measure your waist and divide by 4
2. Fold your fabric in half and (with that measurment), draw a line a little more (for seam allouance).
Draw an outline for half the skirt and cut 2 out. This will be your front and back
3. Sew sides together and hem top and bottom
4. Lay skirt flat with sides out, and cut the back pannel in half. This is going to be the slit and zipper spot
Now hem what you just cut and sew the zipper on. Im not good at doing zippers the professional way, so I shouldnt explain how I do it... The zipper you'll want to use should be about half the skirt length so you can have a nice slit in the back. The length of the skirt depends on you...I make it go just a bit past my knees.
5. Tapper the skirt from the knees up. Just keep going until it fits snug but still leg room.
6. You can add spider webs or whatever you want...cherry patches...i dunno...lace trim is fun too!
***Next skirt I make, I'll take pics and make a decent tutorial!***