Just so you know, I know I posted something like this a while back. I'm not loony. I noticed everyone posting Wicked things lately, and decided to post these. I made these pants in honor of the fact that I was going to see Wicked on tour in Atlanta. I liked my old pants, but not well enough to stop me from making more. I used smaller brushes so the words would be smaller and I could have more quotes. I used plain acryllic paint and went at it with the Wicked lyric book and whatever quotes I could remember from the musical. I left space for more after I saw the show...but I unfortunately didn't get to see the second half. That's enough about the pants, so here they are:
The entire "Unlimited" glows!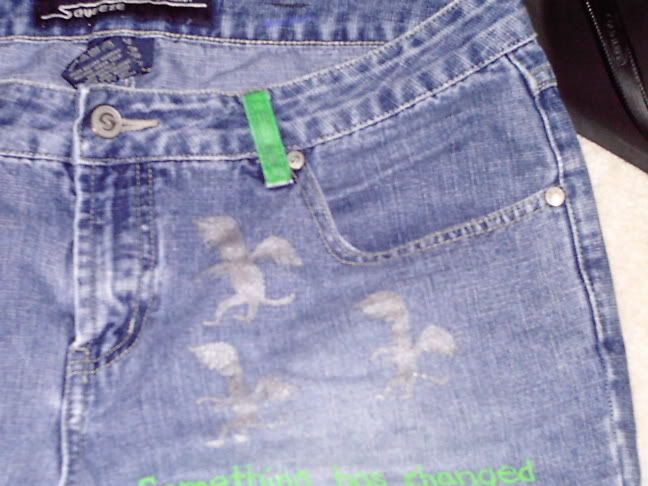 My favorite detail: The FLYTING MONKEYS.
Here's the complete list of quotes (because I know you're sooo interested...):
"I don't cause commotions- I am one."
"Life's more painless for the brainless."
"Be yourself...within reason."
"Wishing only wounds the heart."
"Y'know black is this year's PINK."
"We're just two friends..."
"Together we're UNLIMITED."
"Something has changed within me; something is not the same."
"Are people born wicked or do they have wickedness thrust upon them?"
"She's tragically beautiful, and I'm beautifully tragic."
"I hope you're
happy
."
"...and if I'm flying solo, at least I'm flying free!"
"It's time to trust my instincts, close my eyes, and leap. It's time to try DEFYING GRAVITY."
"Because I knew you, I have been changed for good."
"You'll be POPULAR just not quite as popular as me!"
Thanks for looking!